Disclaimer: Salads aren't my top pursuit when I'm headed to Trader Joe's. I'm usually after a fresh (and surprisingly, inexpensive) bouquet, a bunch of bananas whose price inflation will never touch, and if it's between the months of September and November, their famous fall-ified collection of treats. But if I'm in a pinch for lunch and am looking for something 1) veggie-packed 2) satisfying and 3) even better than the classic combo of ingredients, only the best Trader Joe's salads will do.
When it comes to my daily meals, I'm a creature of habit. Don't get me wrong: I love keeping up with food trends and look to my favorite recipe developers for a little creative flair. But Monday through Friday, the basics of my eating patterns don't shift much. A smoothie for breakfast, a salad for lunch, and some sort of seasonal bowl for dinner. (Though recently, I got fancy and made Camille's stunning roast chicken—run, don't walk, and make it now).
Featured image by Michelle Nash.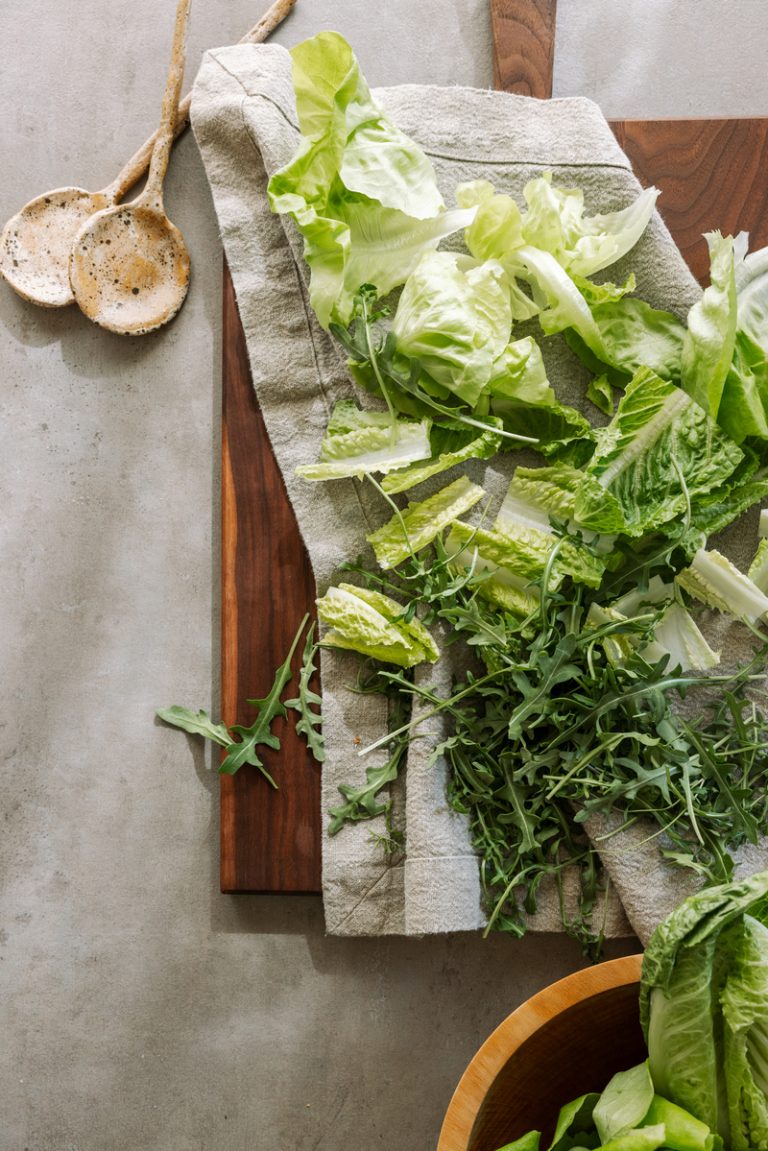 Our Favorite Trader Joe's Salads, Ranked
Clearly, my routines could use some shaking up. And what better time to do it than while traveling? If you've read my stories before, you'll likely know that I have a thing for being a bit of a digital nomad. (While I don't like the moniker, it's nonetheless a perfect description of my lifestyle.) So, on a recent two-week trip to Washington DC, I got inspired to give Trader Joe's salads a lunchtime shot to see if they stood up to the store's millennial hype.
In the spirit of consistency and keeping myself attuned to the fresh green flavor, I picked up one of the salads below for lunch every day over the course of a week. And while I thought that a constant stream of Trader Joe's salads would send my tastebuds to sleep (and my sugar cravings into overdrive), I'll give you a spoiler: I found myself hooked.
Of course, I don't plan to be a pre-made salad gal for life. So, with the following salads as inspiration, I'll be making my favorites at home. So without further ado, let's get to the nutrient-packed, full-of-flavor goodness, ranked from my least fave to the one that's completely changed my view on eating vegan. (Spoiler: for the better!) And if there's a store or product you'd like us to review next, we're all ears—sound off in the comments!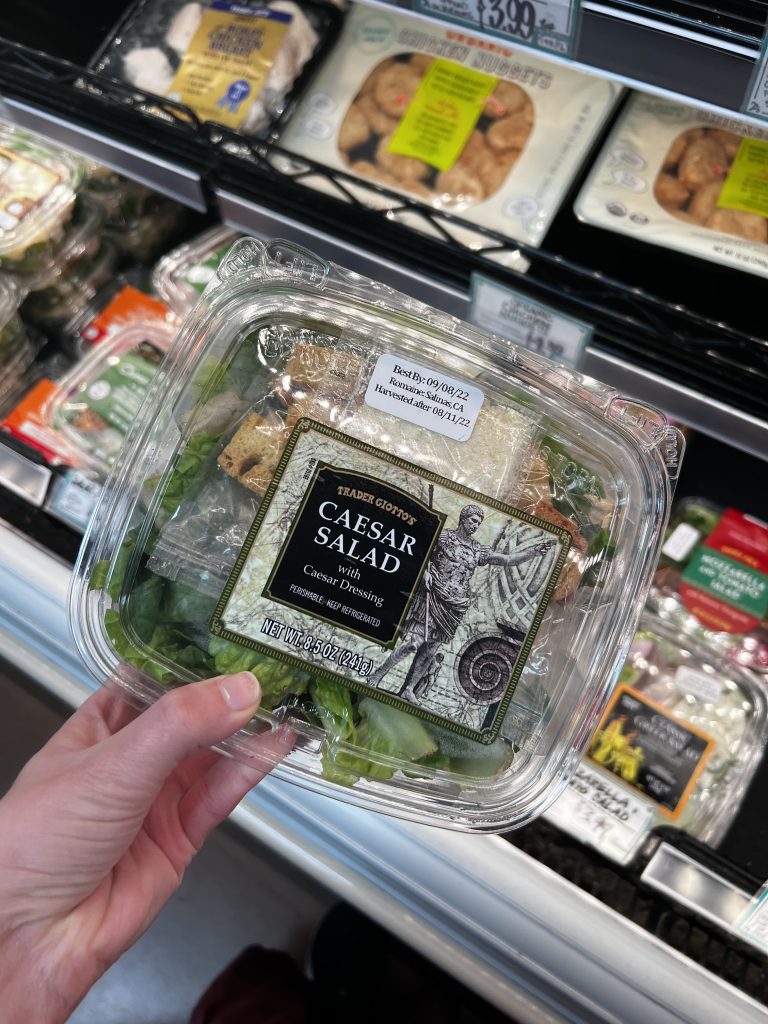 #7: Caesar Salad
Caesar salads are always hit or miss. I have yet to find one that toes the line between stellar and sad desk lunch-worthy. Unfortunately, Trader Joe's offering fell into the latter category. But it's possible that I had some preconceptions because I didn't go into this one with high hopes. While many packaged salads can surprise me with their unexpected goodness, caesar salad is rarely one.
I need a freshly-made, heavy-on-the-anchovies dressing that perfectly coats the crunchy bits of romaine. The croutons have to give an audible crunch, and if there isn't a heavy-handed serving of shaved parmesan, then I'm quick to ditch it. While all the components were there, this was more of a good-in-theory option. You have my permission to skip.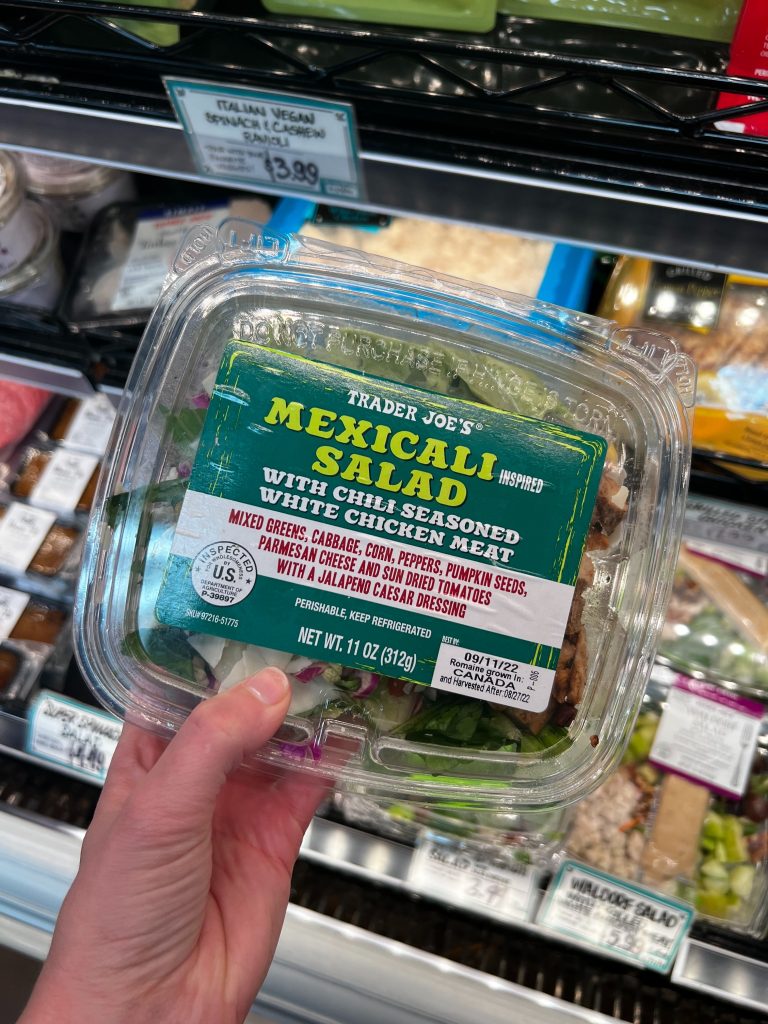 #6: Mexicali Salad
When I read through this salad's ingredients, my eyes were alight with excitement. There was clearly a variety of texture and flavor at play, with crunchy cabbage, nutty pumpkin seeds, and the viral summer favorite—corn!—contrasting the creamy, jalapeño-spiked dressing. But while the hype was there, this one sadly fell flat on the delivery.
The chicken simply tasted like chicken, and I couldn't detect any of the promised spicy, chili bite. And while the ingredients' varied colors offered a visual delight, I can't say that the flavor matched it. If you seasoned your own protein and used the caesar dressing as inspiration for your own creation, the other components might have been nice mixed in. But then again, if you went that route, this wouldn't really count as a pre-made salad, would it?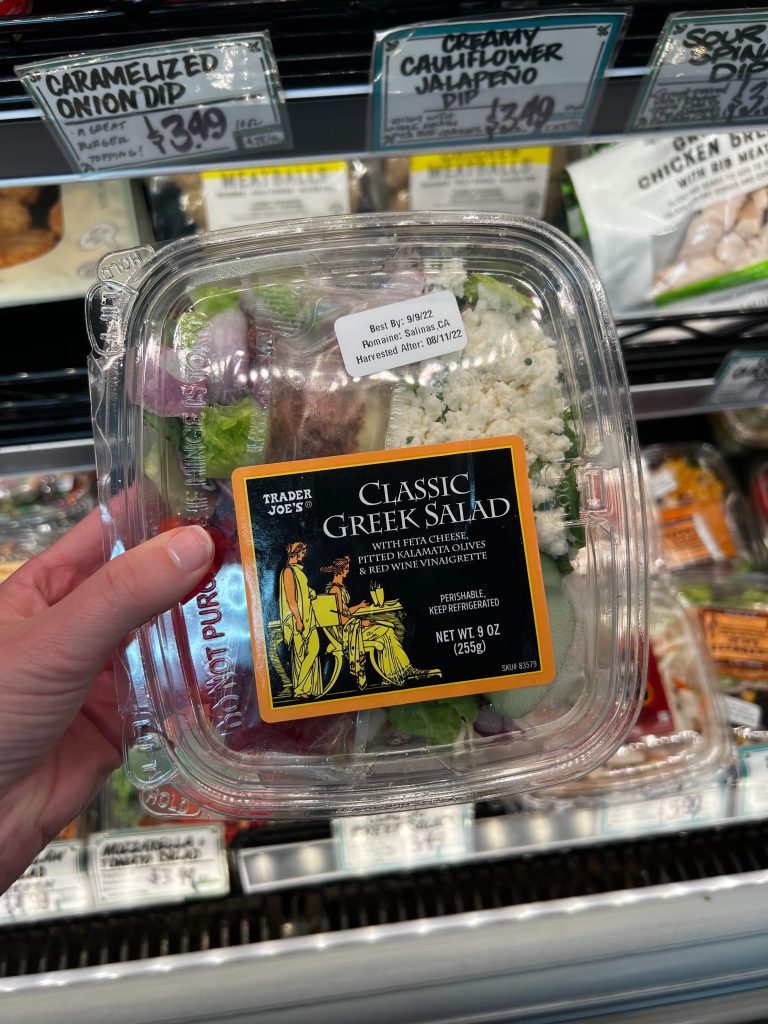 #5: Classic Greek Salad
With a strong Greek contingent in my family supplying many of our reunions with unbelievable, salty, and fresh dishes, it's quickly become one of my favorite cuisines. And sure, I know that not all Greek salads are made alike, but it's the composition of the salad that has my heart. This Trader Joe's take was so close to doing it perfectly. I loved the olives' briny bite (kalamatas are a must), the cucumbers were snappy and crisp, and the red onion brought just the right amount of heat.
So what could I possibly have to complain about? You might write me off for being too particular, but when it comes to Greek salads, I prefer my feta in big blocks as opposed to crumbled. When they take on the latter form, they're more evenly distributed throughout the salad. But there's nothing like diving into a forkful of feta set against a juicy tomato. Cubes of feta make it a more significant part of the salad, and if you're a fan like me, you know that's crucial.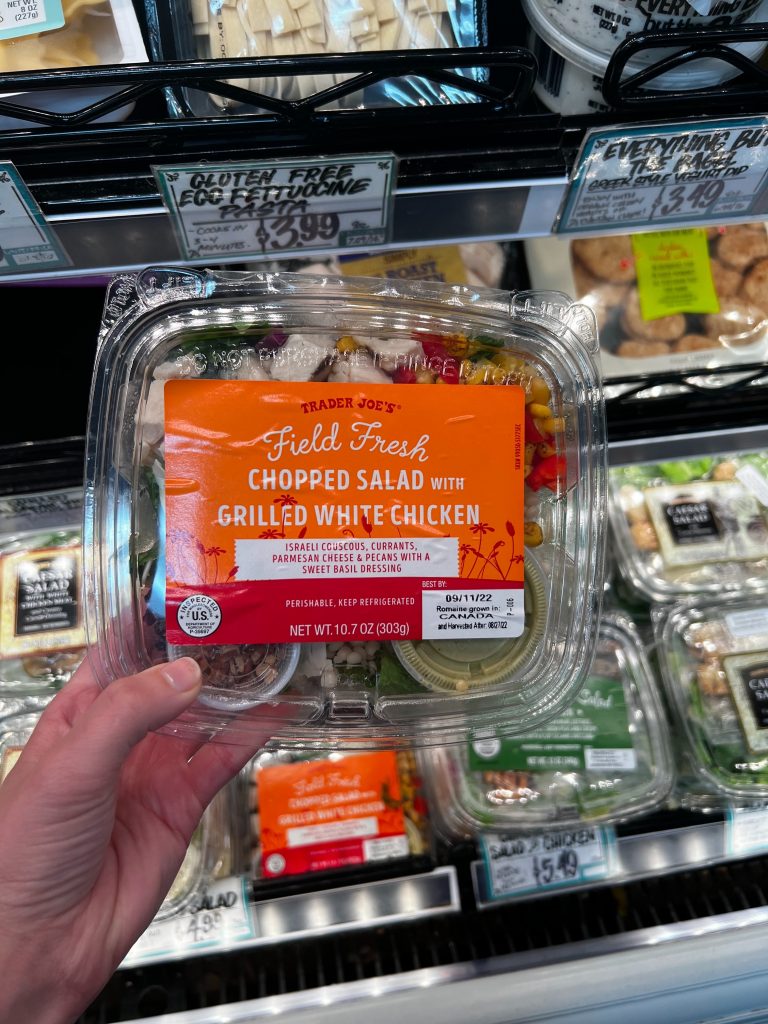 #4: Chopped Salad With Grilled White Chicken
Israeli couscous is hands down, one of my favorite grains. Don't get it mixed up with rice! Israeli couscous isn't actually couscous (confusing I know). It's actually toasted pasta in tiny balls. The flavor is nutty and the texture is slightly chewy. It's the perfect hearty mix-in for any veggie-forward dish. And in this salad, it shines. Oftentimes, it's used as an afterthought, only meant to bulk up whatever it's added to. But I felt that this salad was based around it's soft, delicious bite.
The only drawback of this salad was the sweet basil dressing. I was hoping for something a little more basil-forward, with a peppery, anise-like flavor coming through. And while I didn't get that, this salad was still a solid lunch pick, and I got on with my afternoon tasks feeling satisfied.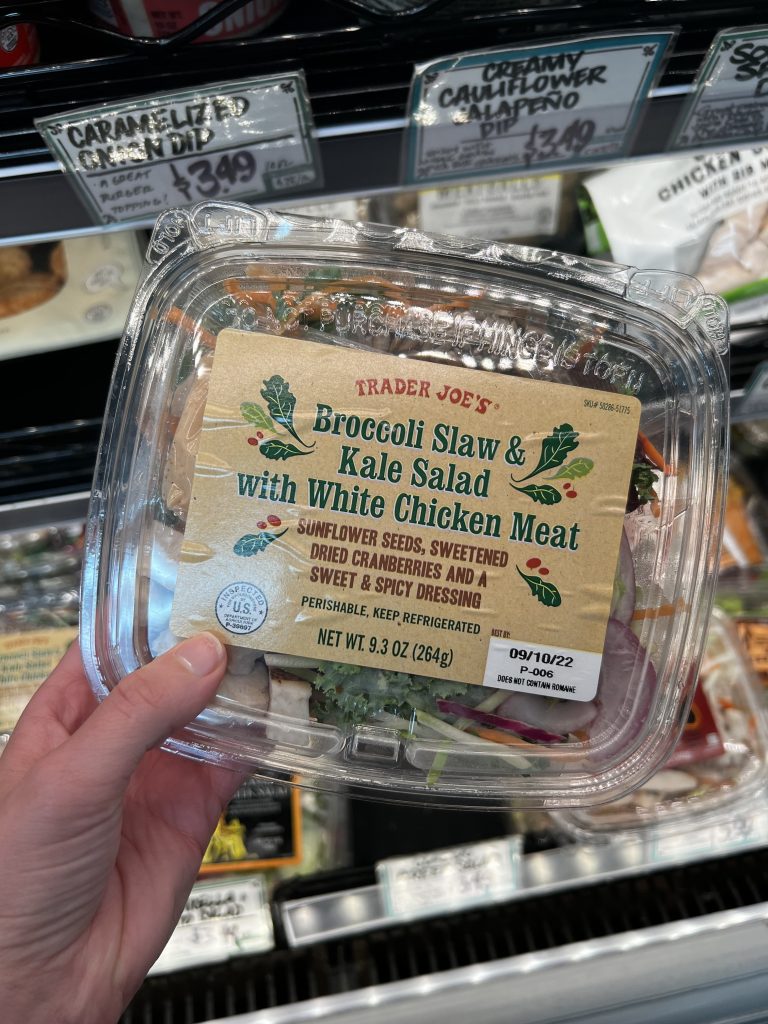 #3: Broccoli Slaw & Kale Salad With White Chicken Meat
This was by far the heartiest, most satisfying salad of the bunch. And while that fact didn't win it the number one spot, it went a long way in getting it into the top three. And with the texture trifecta of kale, sunflower seeds, and dried cranberries, I was easily sold.
Unfortunately, the chicken kept this salad from winning best overall. Perhaps this is a frustrating consistency, but the fact that the chicken was unseasoned (and, admittedly, a little dry), set this salad back. Even the sweet and spicy dressing, which, despite the name, I didn't expect to be so (thankfully) packed full of heat, couldn't give the chicken what it needed. Alas, I'll be taking this combo into my future cooking forays and adding strips of my own roasted chicken.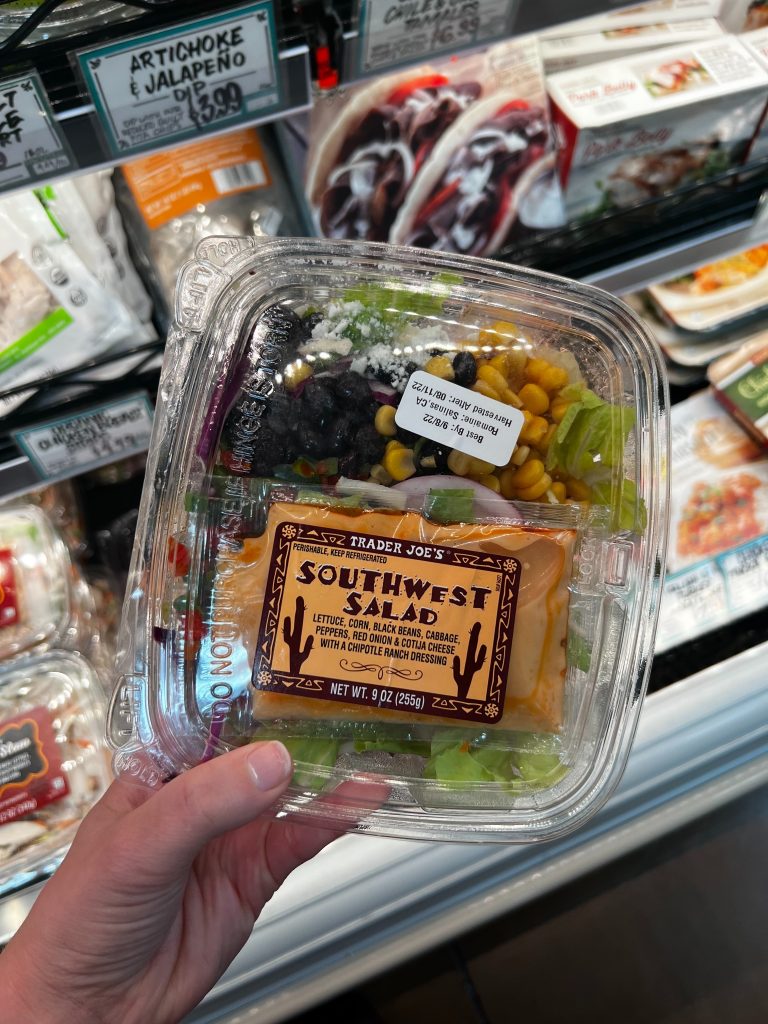 #2: Southwest Salad
As a principal, I'm usually suspect of anything wearing the label "southwest." No shade thrown to that part of the country! I'm always in awe at its open, saturated skies and Georgia O'Keeffe's capturing of the humble brilliance of its landscape. But it's often used as an all-encompassing appellation that washes over the individual flavors found within. Case in point: this salad's use of cotija. It's similar to my qualms with the feta in the Greek salad. I wanted more of its salty, milky flavor to come through, but it was masked by the bold chipotle ranch. As a result, this salad ended up tasting like… a vehicle for chipotle ranch. Not the worst thing in the world, but with the potential this salad posed, I was more than a little bummed.
But you must be wondering: why the heck did this land in second place? Clearly, I've given too much attention to the less desirable parts of this salad. I loved the crunchy-creamy interplay of the black beans, red onions, and cabbage. And when it comes down to it, the zesty flavors do make an excellent match. At the end of the day, this salad made me smile. (How many salads can you say that about?) But where I really wanted it to shine, it left me wanting more.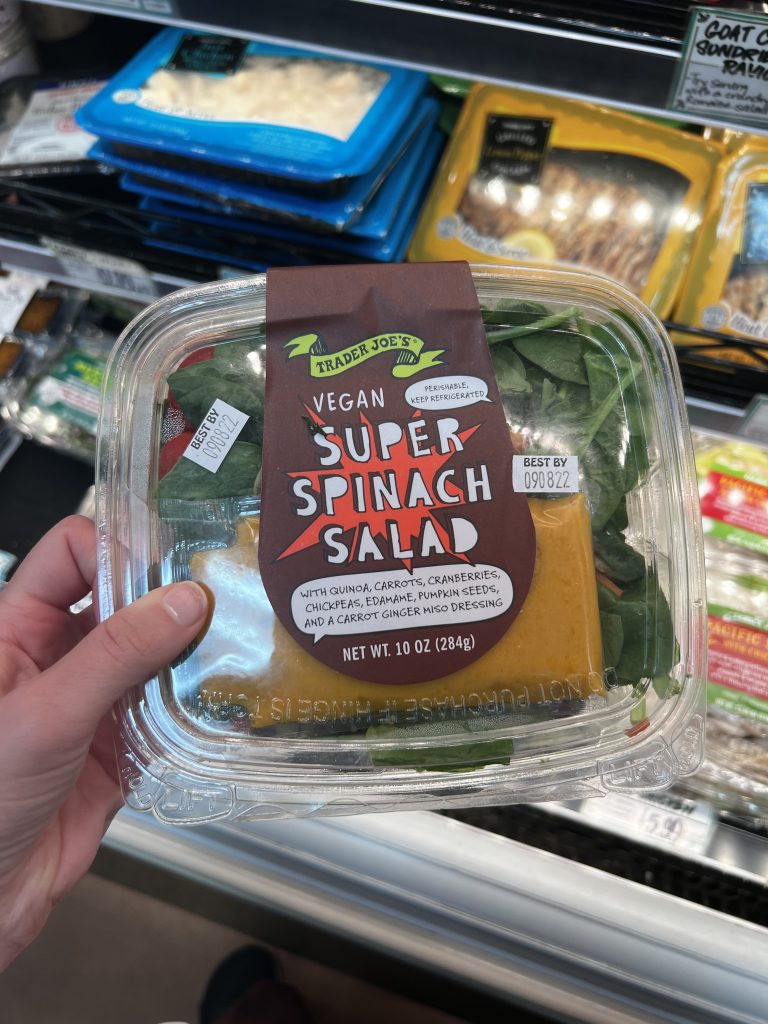 #1: Vegan Super Spinach Salad
And now onto the best of the best Trader Joe's salads. While it might not seem like the most interesting and show-stopping salad, what this pick lacks in initial pizzazz, it definitely makes up for by the first bite. Quinoa, carrots, cranberries, chickpeas, edamame, pumpkin seeds (and of course, spinach) make a surprising amalgam of healthy, but absolutely crave-worthy ingredients. I'm always a fan when nutrient-dense foods intersect with incredible flavors, and this salad did the pairing justice.
I'll end on this note: the dressing. Carrot brings the color, miso brings the salty, umami depth, and ginger supplies a warming hit of spice that stands behind every bite. This salad has redefined spinach for me. Don't pass it by!
This post was originally published on September 30, 2022, and has since been updated.