When you search online for the best Boracay restaurants, you'll probably be bombarded by a gazillion lists, each with its own picks and rankings. That's not surprising given the sheer number of dining establishments in the island. But you'll also notice that most of these restaurants range from somewhat expensive to, well, undoubtedly expensive.
It's true. Boracay's food scene has been dominated by upscale restaurants. But that's not to say that the island has nothing to offer to budget travelers. Sure, they're more difficult to find, but they are there — tucked inconspicuously in inner alleys or in between bigger names.
In this article, we'll share with you some of the food spots in Boracay that would give you a lot of bang for your buck. But first, some disclaimers. First, please manage your expectations. Don't expect five-star ingredients at these price points. Second, you may find some of these establishments still not cheap enough, but costs in the island are generally higher across the board. What we'll feature are those relatively affordable, especially compared to the popular restaurants.
---
WHAT'S COVERED IN THIS GUIDE?
Kolai Mangyan is a Filipino restaurant marketing itself as the "home of the authentic and famous bulasing and budbud!"
What are bulasing and budbud, you ask? Bulasing is a portmanteau, a fusion of two of the most popular Filipino dishes: bulalo and siningang. Budbud, on the other hand, is its version of rice toppings. And these are some of the cheapest dishes you'll find anywhere in the island!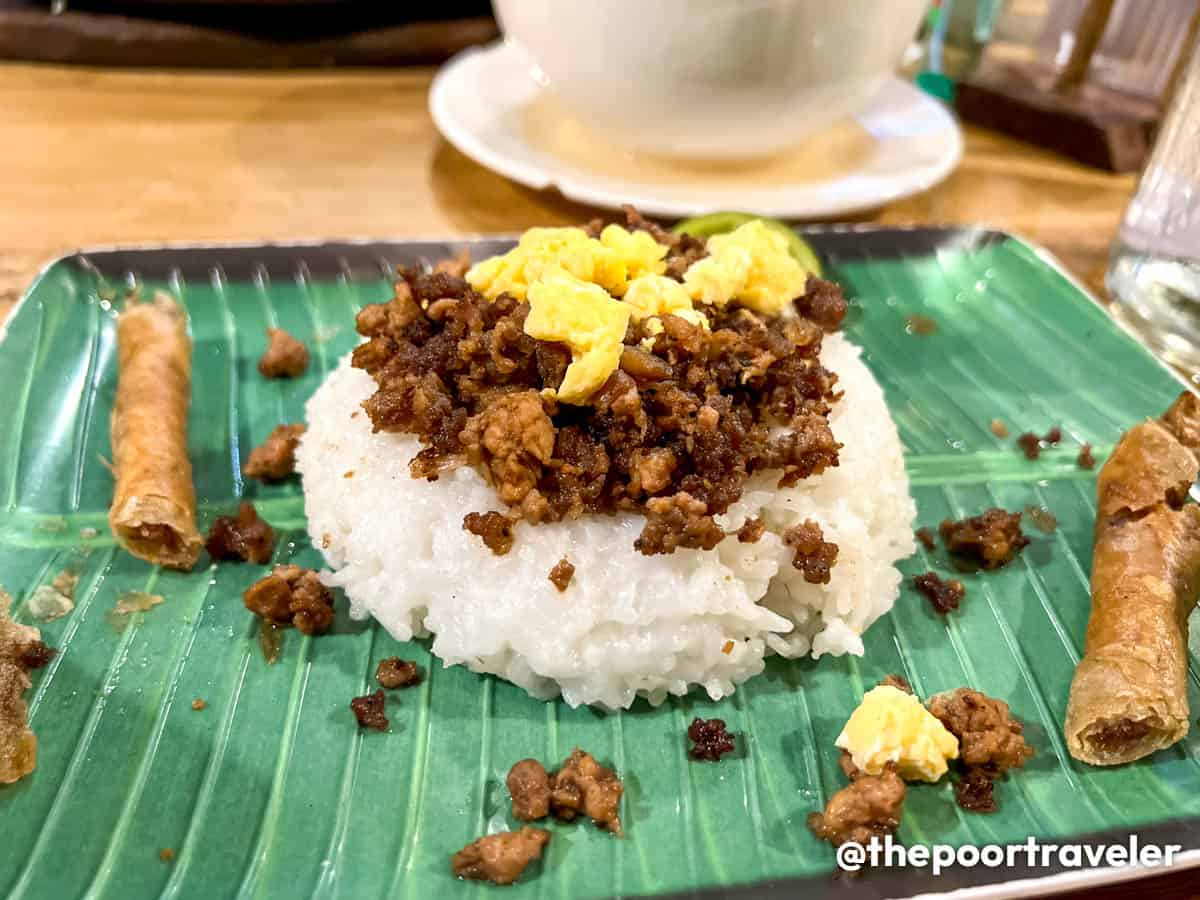 Budbud is available in many versions: budbud pork (P75), budbud beef (P80), budbud all-mix (P90), budbud special (P100). Each order comes with two thin pieces of fried lumpia. The meat's serving size, understandably, is not much but it's very tasty and well-seasoned. It also serves all-day silog meals for P70-95 apiece. Another bestseller is sisig rice (P75), topped with egg and drizzled with mayo, served on a sizzling plate.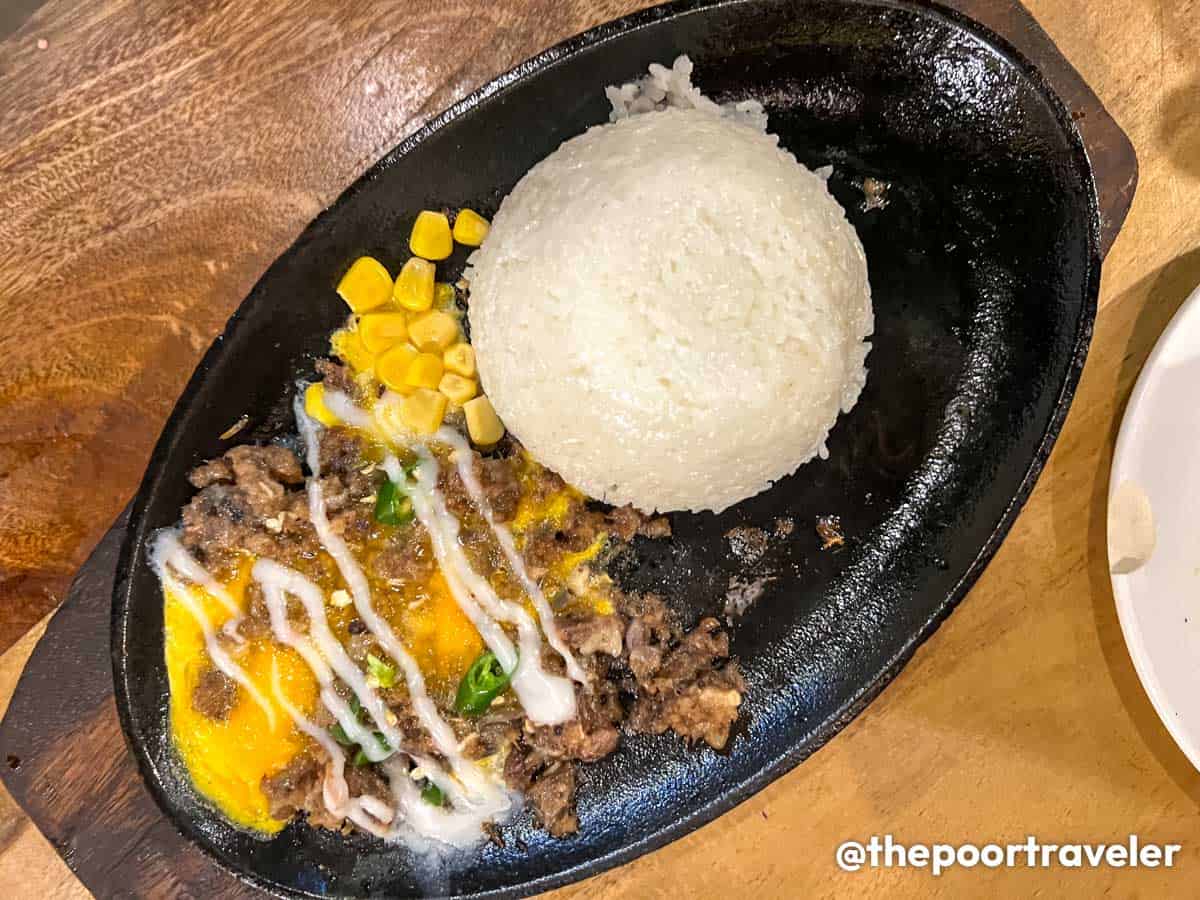 Kolai Mangyan has two branches in Boracay. The main store is in Station 2, in front of Henann Park Resort, while the other is in Station 1. We dined at the Station 2 branch. It was a humble eatery, non-airconditioned, but packed with customers. There was a notice posted asking for understanding because it was understaffed (at the time), but the truth is, we didn't really feel that at all. Every staff member was helpful, friendly, attentive, and polite.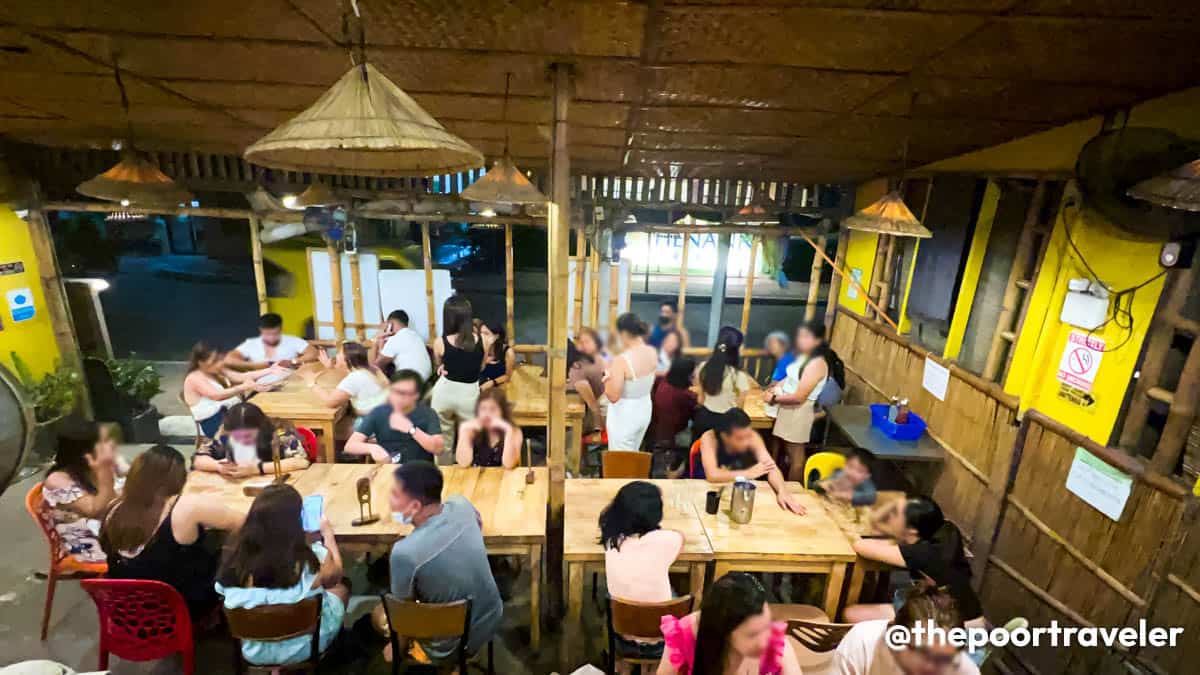 The menu also covers all-day silog meals, sizzling meals, combo meals, group meals, pasta and noodles, and desserts. Pinoy favorites like crispy pata and fried whole chicken are also sold here.
Opening Hours:
Station 1: Monday – Sunday, 10:30 AM – 10:30 PM
Station 2: Monday – Sunday, 7:00 AM – 1:00 AM
Address: Station 1 & Station 2, White Beach Main Road, Barangay Balabag, Boracay Island, Malay, Aklan
Price Range: Single Meals, P60 – P130; Group Meals, P100 – P450
---
No. 6 Barbeque is a newly opened establishment serving mostly Pinoy-style grilled meat. Although it's along the main road, it's easy to walk past it because its logo is quite small and is completely upstaged by Food Court Noodles Mala Tang, with which it shares the building. Just look for a banner showcasing various grilled dishes.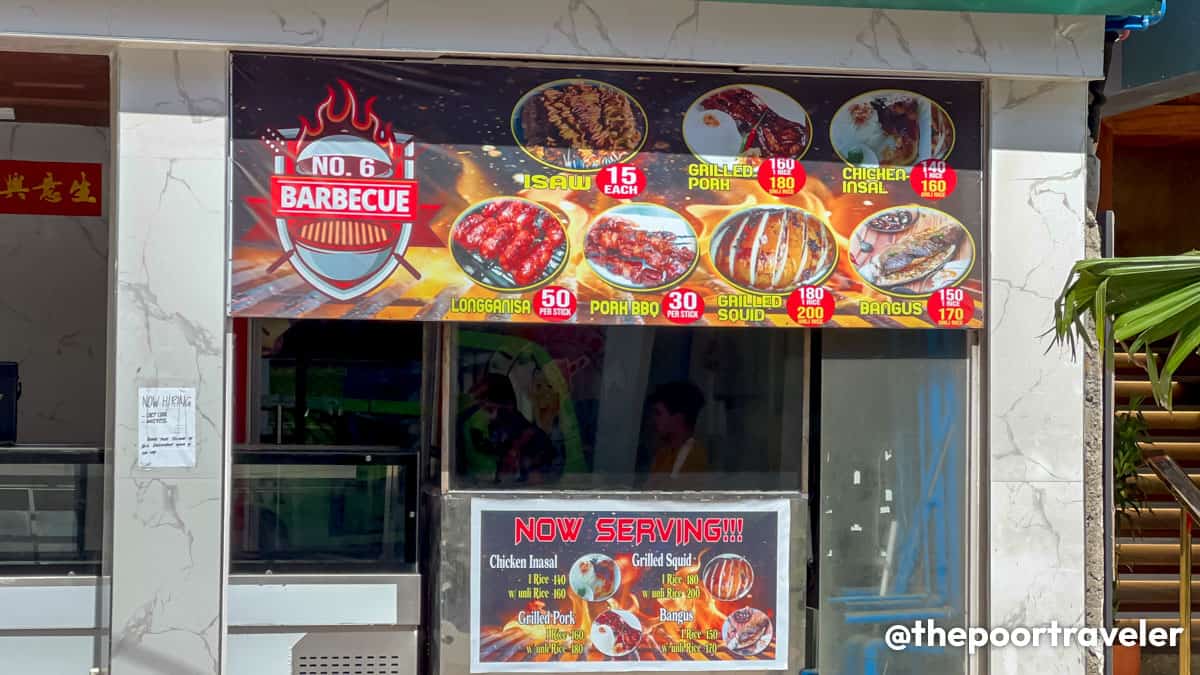 The bestsellers here are chicken inasal (P140 with single rice, 160 unli rice) and grilled pork liempo (P160 with single rice, P180 unli rice). These are big cuts, but they're still cheaper than most inasal and barbeque places around.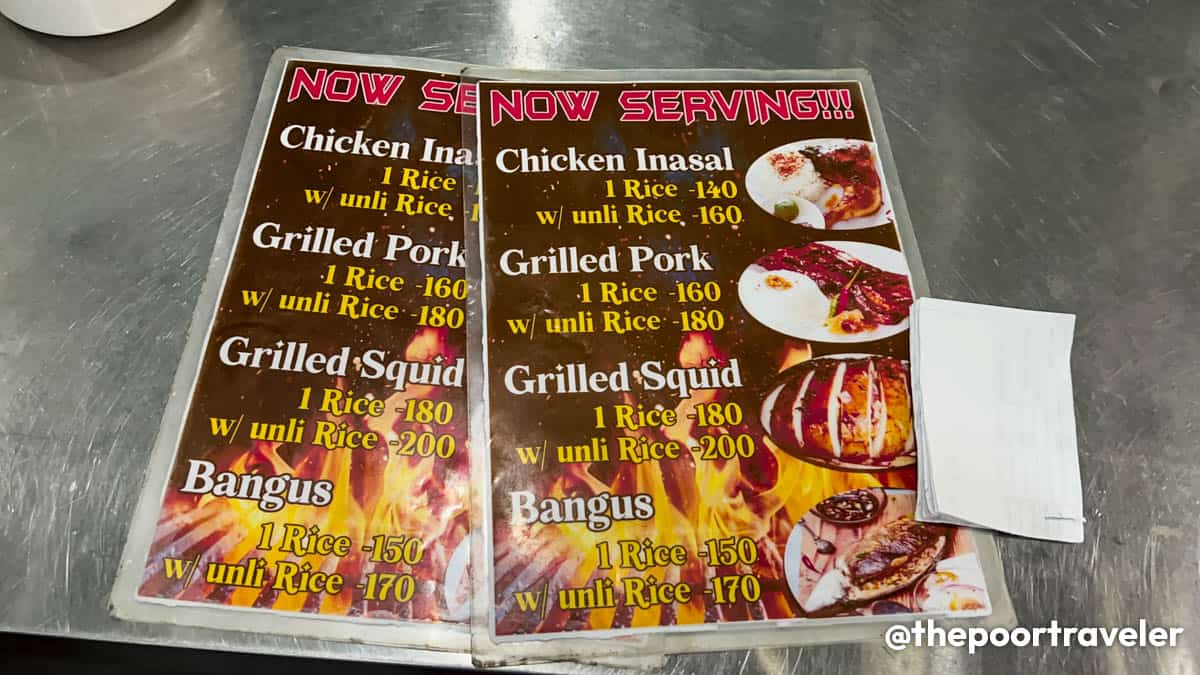 When our order arrived, we were delighted by the smoky scent that came with it. The soy-sauce-based marinade was well-absorbed by the meat, complemented by the sweet glaze that was painted on it as it cooked on the grill.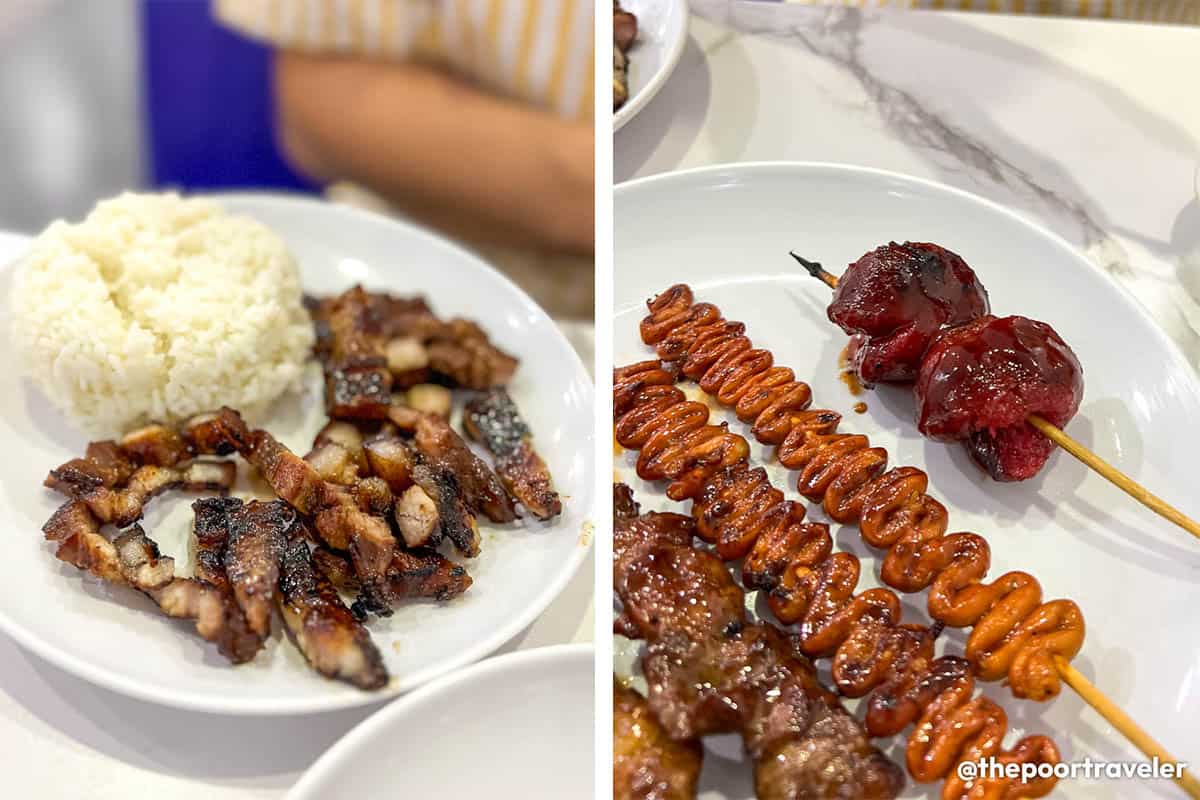 Cheaper options are available. We ordered isaw (P15/stick) and pork barbeque (P30/stick), which were both very delightful. The pork wasn't tough and the isaw didn't have any unpleasant smell or taste. We also had longganisa (P50/stick). Each order had two pieces of these local sausages.
Location: Along Balabag Main Road (Station 2), just beside Shabu Khan Boracay and across Jasper's Tapsilog.
---
Whether as a breakfast treat or a hangover cure, a bowl of hot pares is one of the go-to dishes for Pinoys. Given the sheer number of pubs and bars in Boracay, it's also expected that it has its fair share of pares places. One of them is Sensi's Pares Hilton.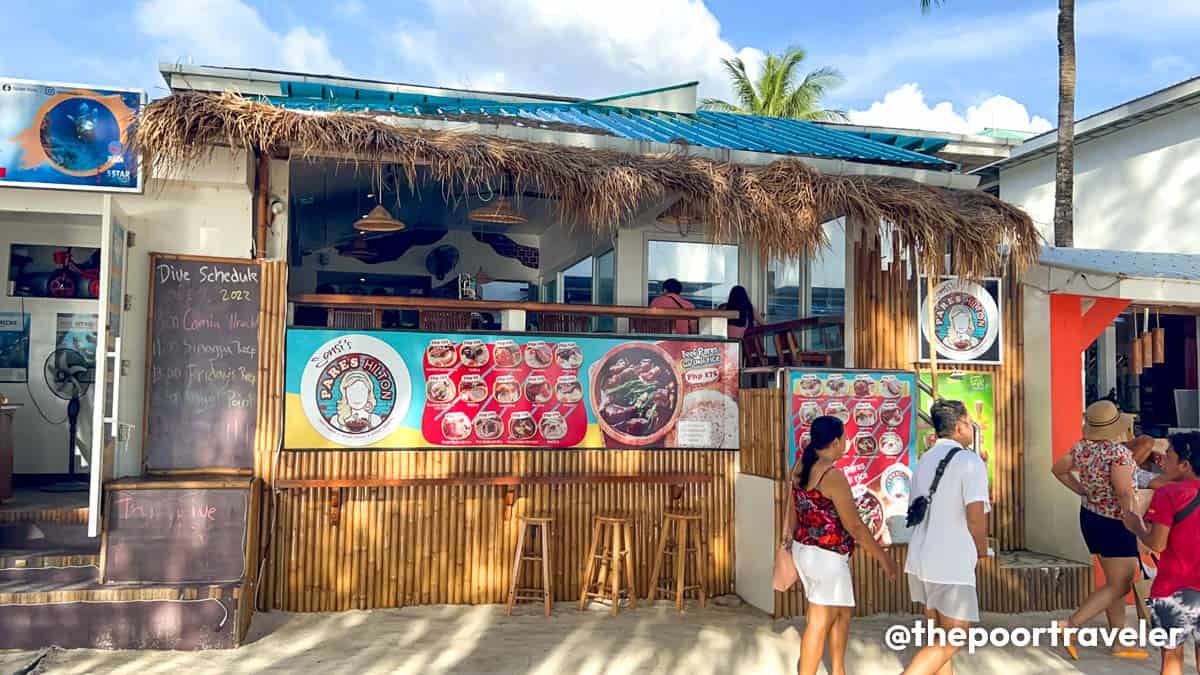 Never mind the punny name, it serves what I think is the best affordable bowl of pares in the island. Its perfectly seasoned beef pares with unli-rice (P175) was packed with umami. The meat was probably braised for hours because it was incredibly tender. It was also topped with generous helpings of spring onions and fried garlic and served with a cup of unlimited garlic rice. Yes, unli rice!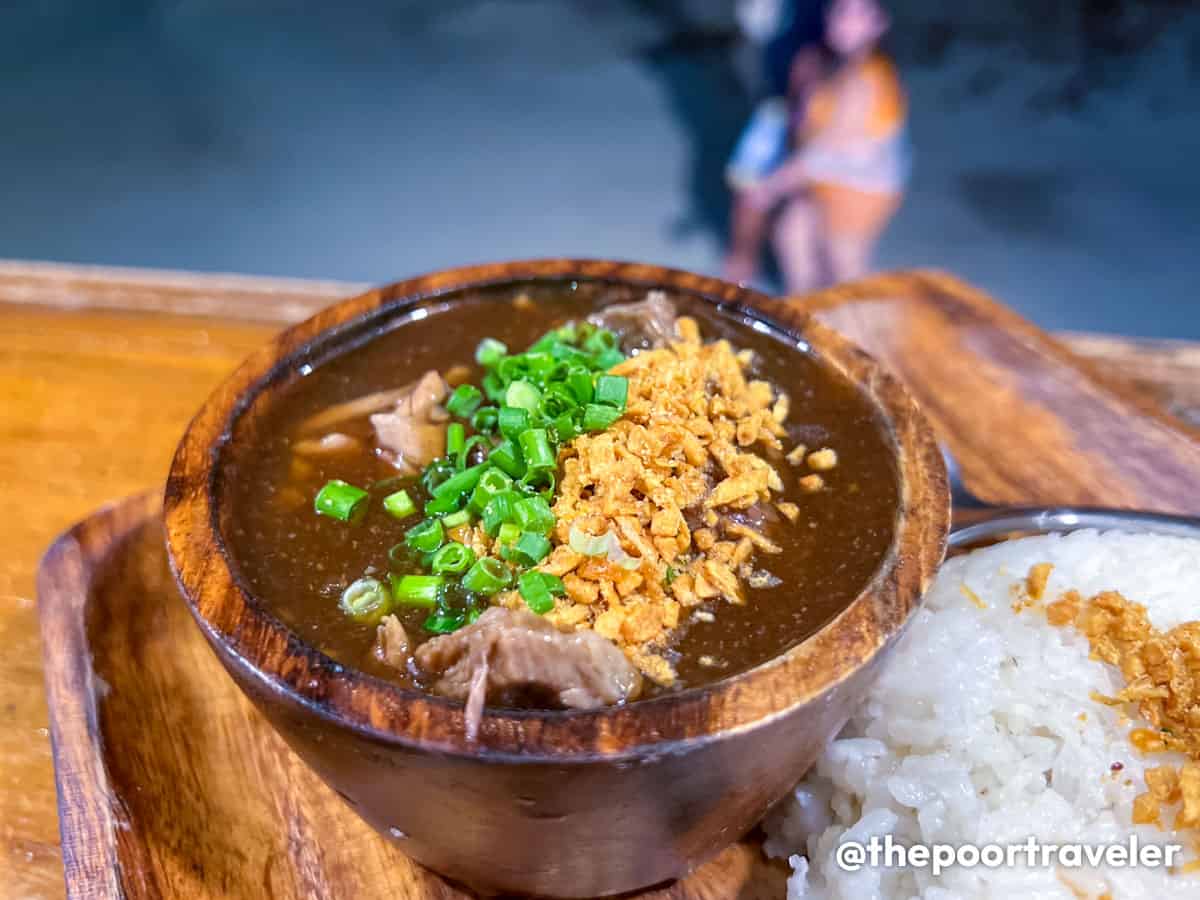 Sensi's Pares Hilton also offers other classic Filipino breakfast meals all day like silog meals (tapsilog, chicksilog, adobosilog, etc.) and rice meals (tokwa't baboy, sweet and sour pork, pork steak, burger steak, etc.). It operates on a "pay as you order" policy. The restaurant is located beside Calypso Beach and Dive Resort in Station 3 area.
The best part? You get to take in the scenic view of White Beach while eating.
Opening Hours: Monday – Sunday, 7:00 AM – 1:00 AM. Note that the opening hours might change, so it's best to check the latest schedule before going.
Address: Station 3, White Beach, Barangay Manoc-Manoc, Boracay Island, Malay, Aklan
Main Dish Price Range: P100 – P200
---
We didn't plan on giving this unassuming eatery a try. We were just having a stroll when our attention was stolen by a tarpaulin that read "Lovers in Pares." And below the letters was a scrumptious-looking bowl of noodles with pares. Yep, at Zach Eatery, instead of rice, pares is served with egg noodles! We got so tempted and curious that we were seated at a table in no time.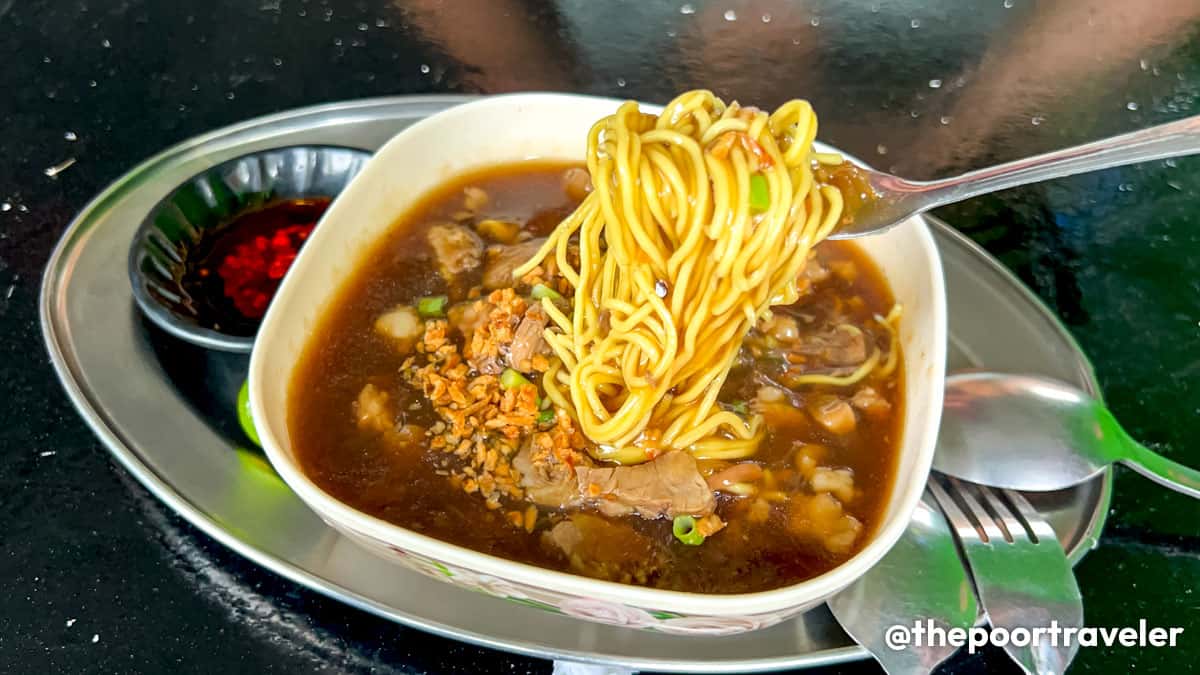 Pares mami (P100), as it is called, is an inventive take on the pares. At the first forkful, my first thought was: "They probably was a bit too heavy-handed with the salt." It was then that I noticed the calamansi on the plate it was standing on. A quick squeeze and it made everything right. The citrus tempered the saltiness and kept the flavors balanced. I also tried it with chili oil, served in a small saucer on the side, and everything in the world was right again. Every slurp carried some of the thick, rich soy-based broth. And it had a good number of beef chunks, too!
This was the only dish we tried at Zach Eatery. Looking around, we saw that it was more of a sizzling "hot plate" place, offering ubiquitous local faves like sisig, chicken, and pork barbeque, usually at P149 per order. The eatery also offer turo-turo style dishes, which changes daily. But we can't say anything about 'em because we didn't get to try any of them. We only ordered pares mami.
‼️ UPDATE: A bowl of pares mami now costs P110 as of this writing.
Opening Hours: Monday – Saturday, from around 8:00 AM until supplies last; Sundays, CLOSED.
Address: Station 2, White Beach Main Road, Barangay Balabag, Boracay Island, Malay, Aklan
Main Dish Price Range: P65 – P150
---
If you suddenly find yourself aching for lutong bahay and you're on a shoestring budget, one place you might want to check out is Jasper's Tapsilog & Restaurant. It has been stuffing hungry bellies with affordable Filipino fare since 1995. This two-level unassuming restaurant along the main road near D'Mall attracts local and foreign tourists alike.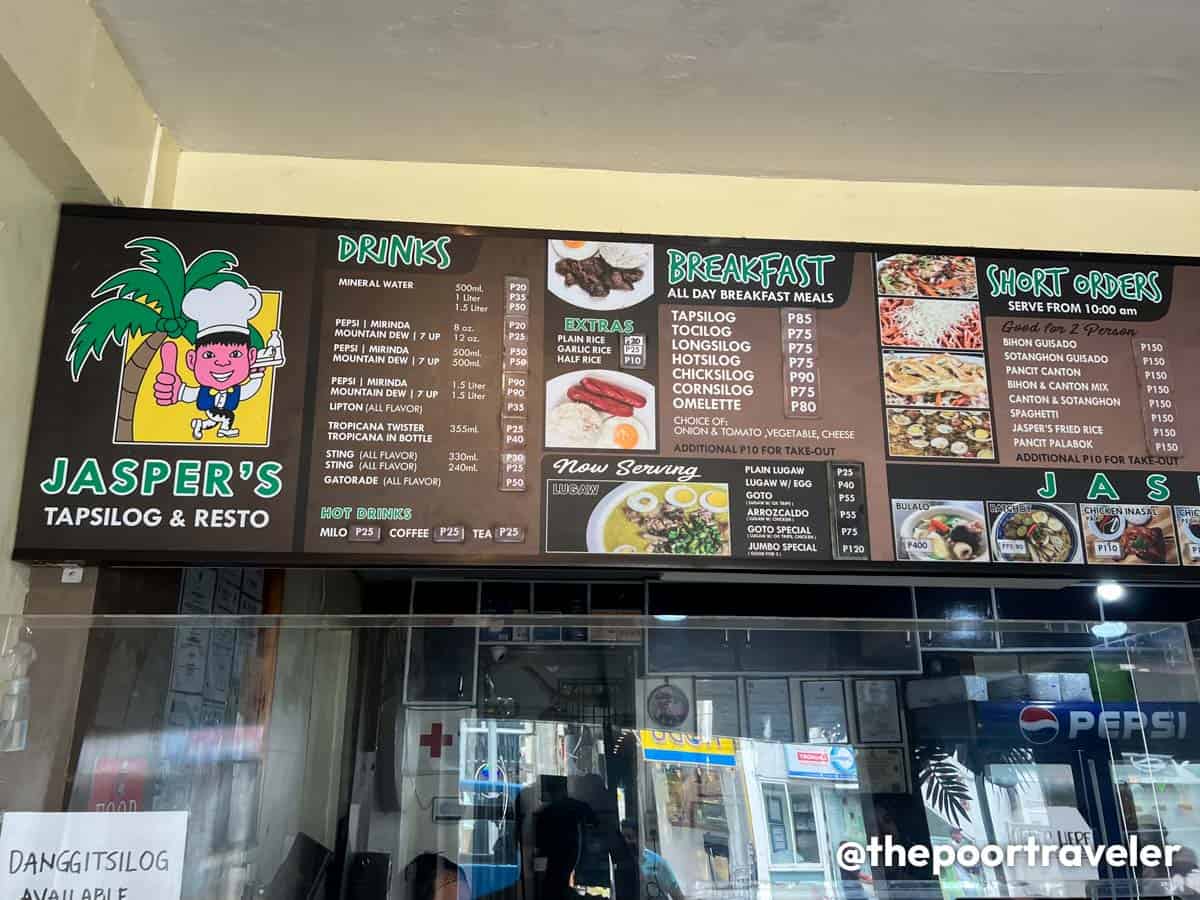 It functions like your typical turo-turo or carinderia. A range of pre-cooked dishes are on display inside a glass casing. Just point at something you want to try and the staff will hand a plate of it to you. Here, your little budget can go a long way.
Vegetable dishes like laing and ginisang monggo cost only P50, while meat plates like humba, adobo, and caldereta were between P60 and P75 per order. A stick of chicken inasal was at P120, and a cup of rice at P20.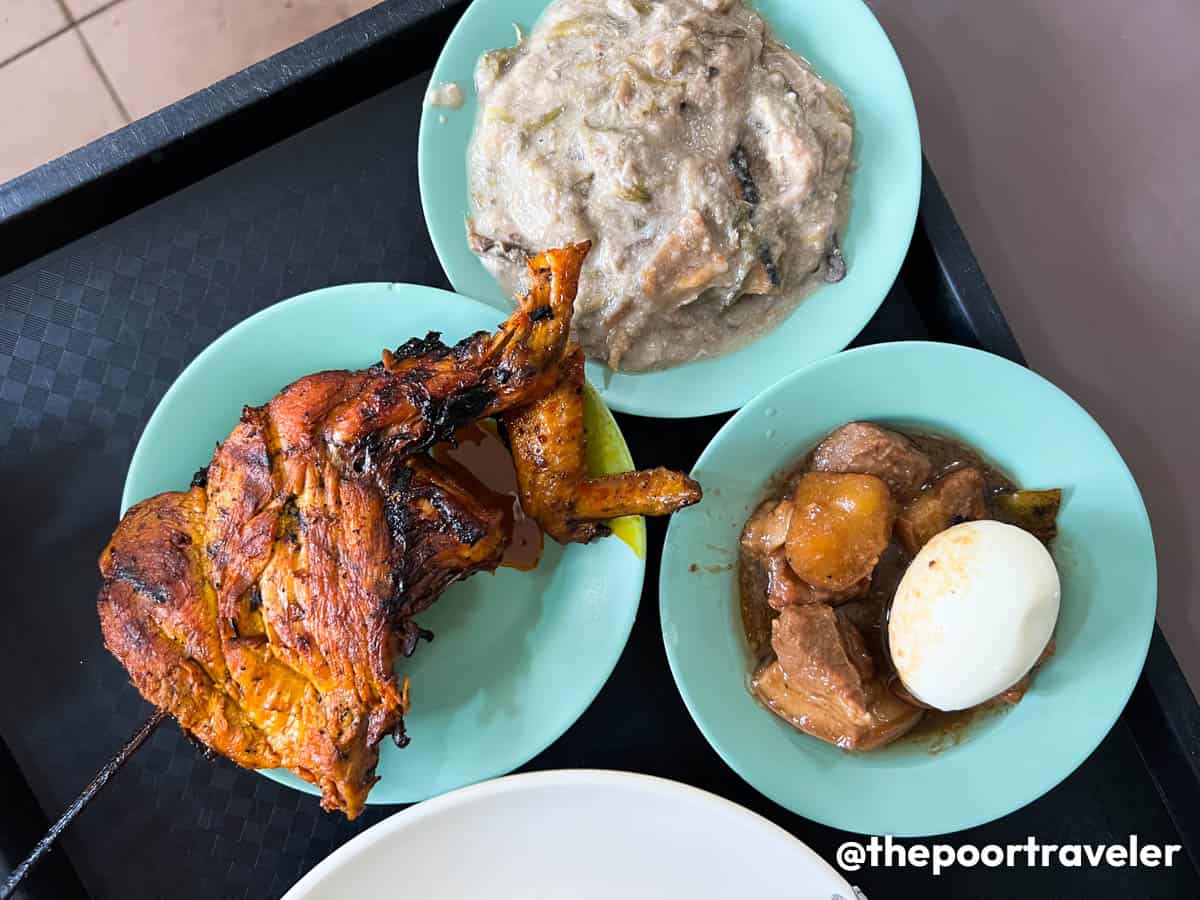 Specials include crispy pata, batchoy, bulalo, sisig, dinakdakan, and chicken wings. Other items on the menu include its signature silog meals, lugaw (rice porridge), sandwiches and burgers, noodles and pastas, and the sizzling meals.
The bilao-size serving of noodles and pasta as well as bilao combo with different combination of main dishes cater to big groups.
Opening Hours: Monday – Sunday, 6:00 AM – 9:00 PM.
Address: Station 2, White Beach Main Road, Barangay Balabag, Boracay Island, Malay, Aklan
Main Dish Price Range: Single Serving, P75 – P150; Group Serving, P150-P500; Bilao Serving, P450 – P900; Bilao Combo, P1500 – P3000
---
Pinoy street food scene won't be complete without ihaw-ihaw, and Boracay is no exception. Here in the island, you'll find them in many corners, grilling staples like pork barbeque, isaw manok (chicken intestines), isaw baboy (pork intestine), balun-balunan (gizzard), atay (liver), tenga ng baboy (pig's ears), balat ng baboy (pig's skin), and hot dogs, among others. These cost P10-15 apiece.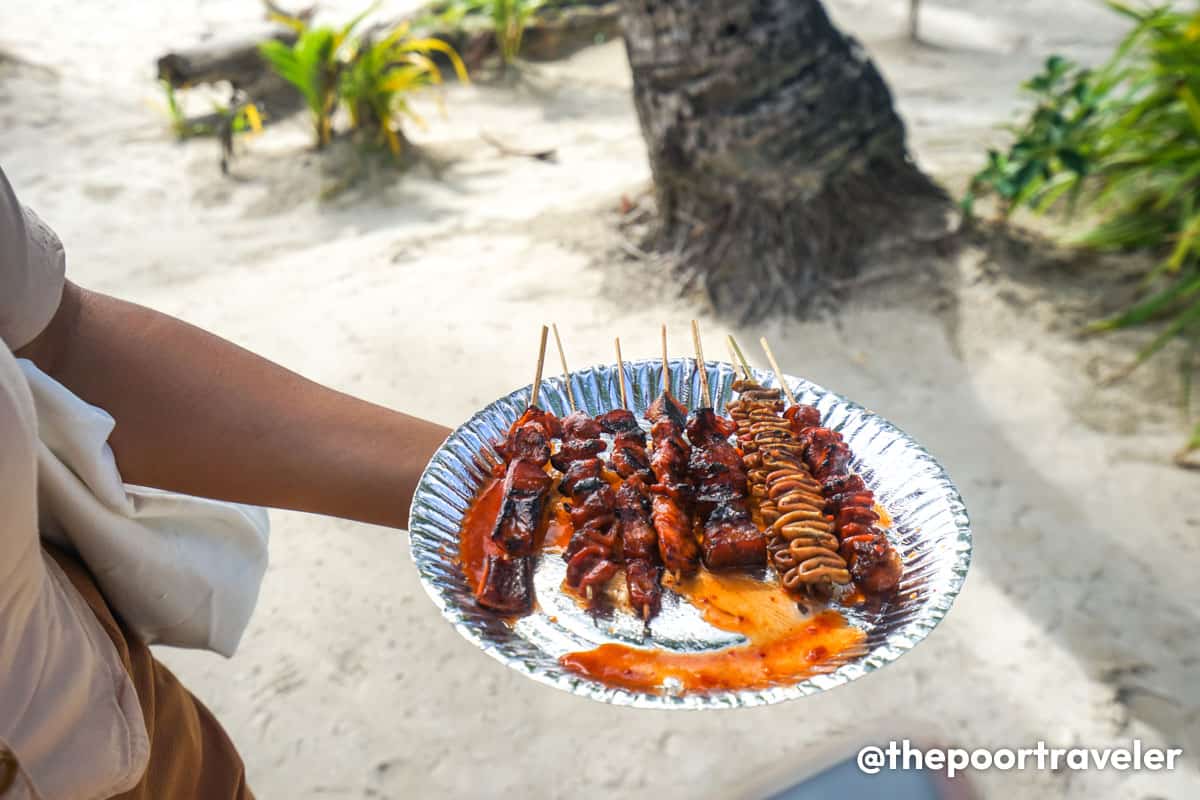 Several BBQ stands dot the busy White Beach area — from Station 1 to 3. We've tried Rel's near D'Mall area, but perhaps the most famous is Merly's BBQ, located along the beach between White Beach's Station 1 and 2.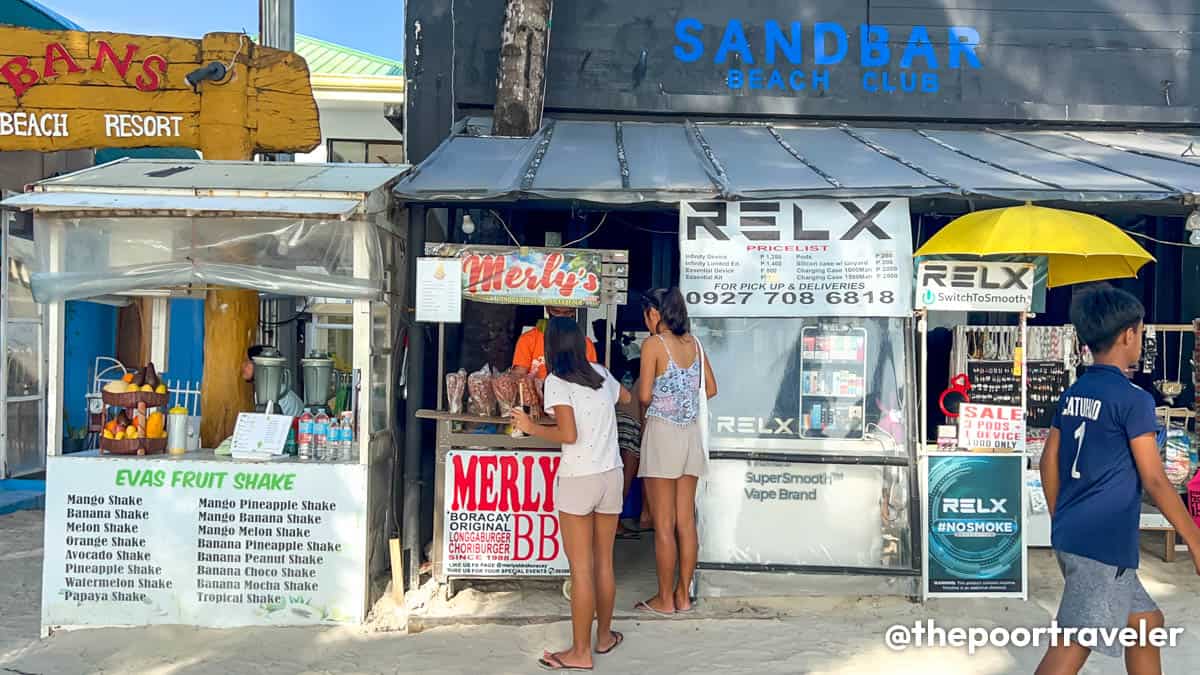 Founded in 1988, Merly's is legendary as it is widely credited as the first to serve chori burger, which has become one of Boracay's most sought-after street grubs. You might find restaurants and stalls selling chori burgers but Merly's is where it started!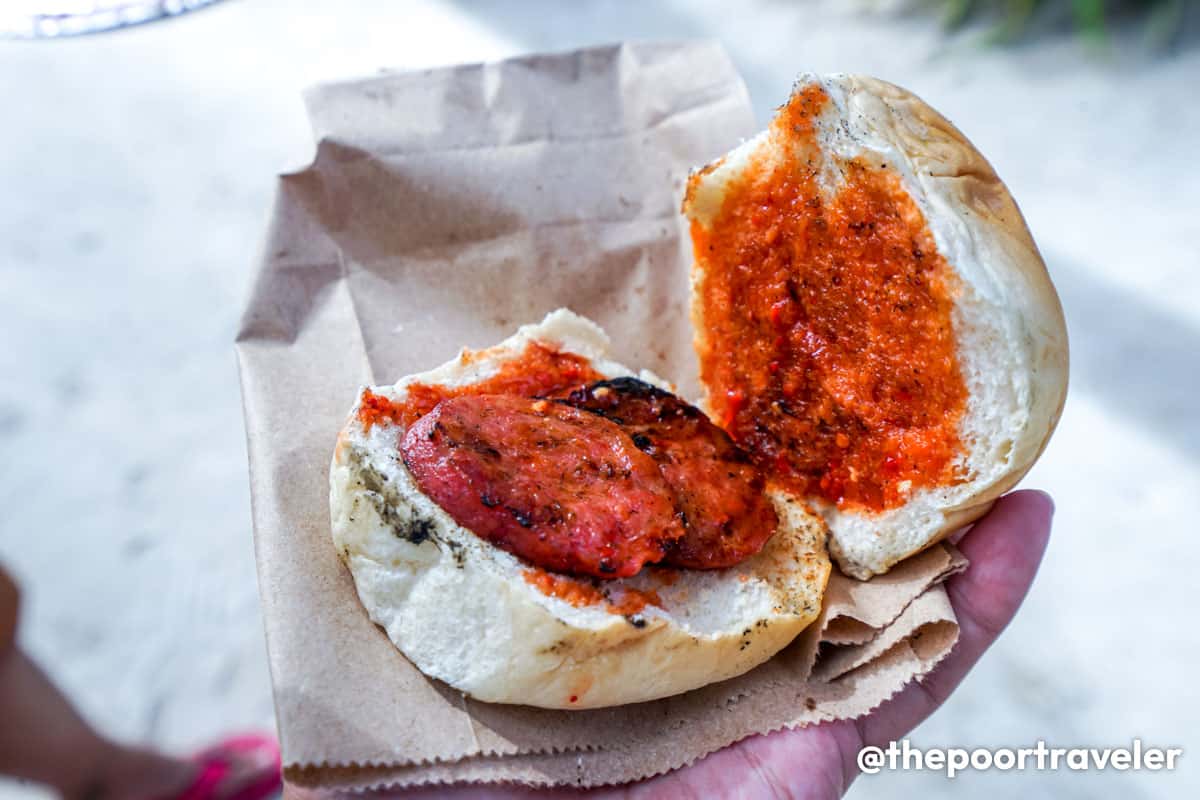 But don't expect much. It may have an iconic status, but it's still a humble BBQ stand after all. Chori burger is pretty simple, really: two slices of local chorizo, grilled, sandwiched, and squirted with ketchup. That's it. For street food lovers like me, it's satisfying especially for P50. But if you're expecting more, you may be better off sinking your teeth into more elaborate versions served at restaurants.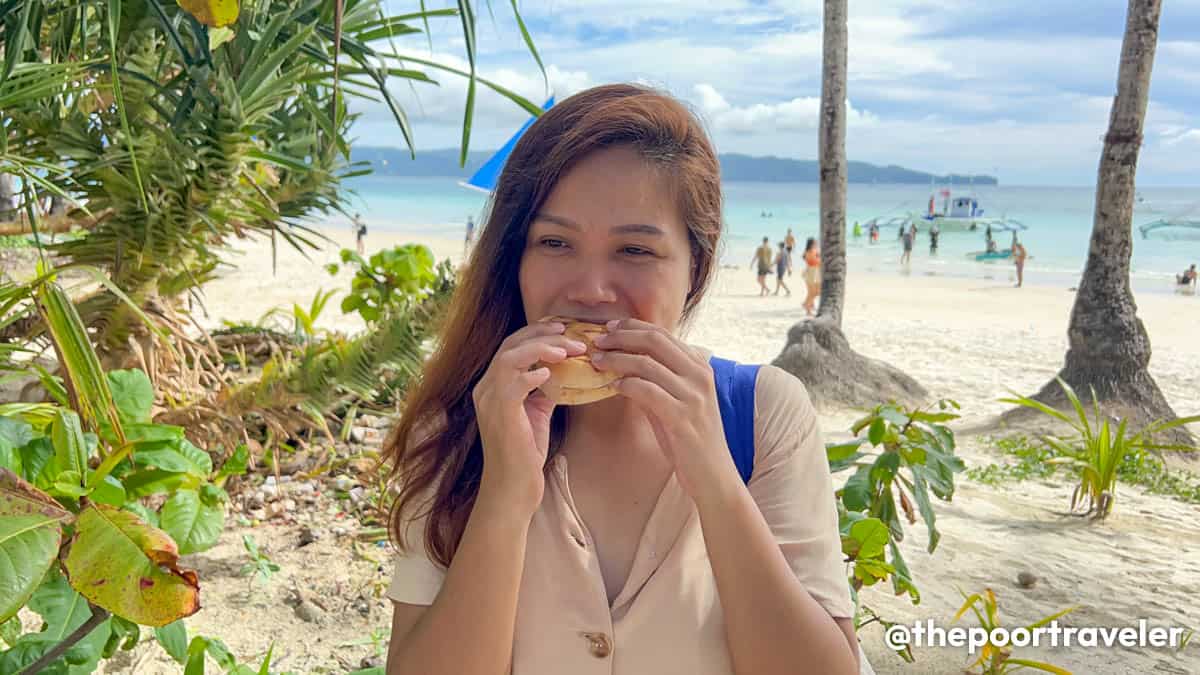 Hours open: From 2:00 PM until supplies last.
Location: Station 1 (between Bans Beach Resort and Sandbar Beach Club), White Beach, Brgy. Balabag
---
If you're Pinoy, you're probably used to the Andok's. If not, let me explain it a little. Andok's is best known for its charcoal-roasted lemongrass-stuffed whole chicken (called lechon manok), sold at pocket-friendly rates. It is so successful that it has become ubiquitous, found in most places in the country. And yes, there's a number of Andok's branches in Boracay, too.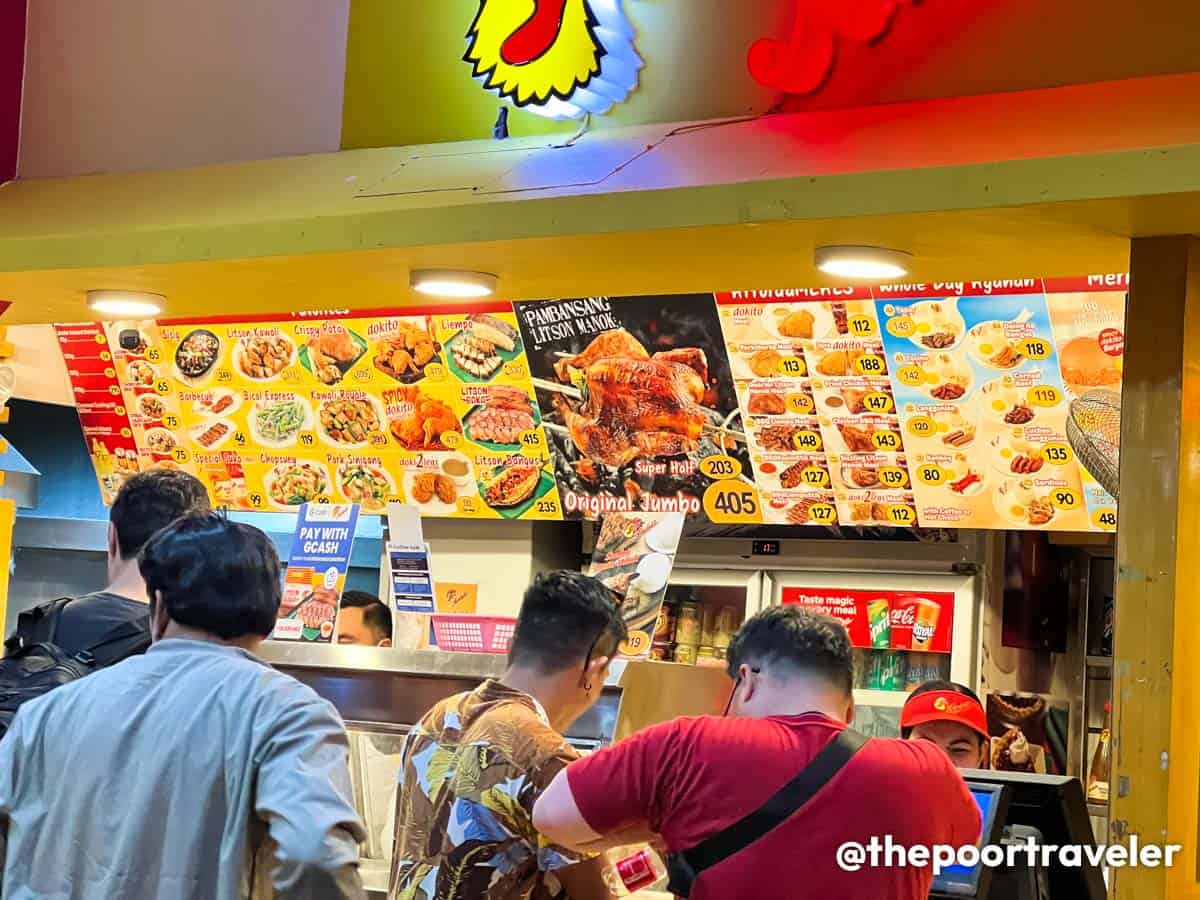 But Andok's at D'Mall is extra special. It has become a rite of passage, if you will, among budget travelers. Compared to other branches, there really isn't anything different about its chicken. It's not the taste, because it's exactly the same. It's not the proper sit-down set-up, either. Yes, Andok's is best known as a take-out joint, but it's not unique to the island, as there are many other dine-in branches elsewhere. But for some reason, it is especially dear to travelers.
My theory is, it's probably psychological. It's the perceived affordability. It's not the price per se. If anything, the prices here are much higher than at other Andok's stores. But compared to other establishments surrounding it, it's like an oasis in the middle of a costly desert.
As of our last visit, a litson manok (whole) costs P405, which is more expensive than outside Boracay (which plays between P365 and P385). But given that it can feed 6-8 people (depending on the group's appetite), it's still a steal.
Another crowd-pleaser is Dokito meal (P112), which is fried chicken with rice, gravy, and drink. My favorite, though, is kawali royale (P391).
For single orders, the cheapest items on the menu are the rice toppings at P65-75 each. It's available in adobo, chopseuy, and pork bistek variants.
Opening Hours: The opening schedule depends on the branch. Some are open 24/7, while others open at 7:00 AM and closes at 9:00 PM.
Branches: There are more or less seven of them, but the most accessible from White Beach are those located at D'Mall, Station 3 beachfront, and Station 2 main road.
Price Range: Rice Toppings, P65 – P75; Rice Meal, P100 – P200; For Sharing, P100 – P650
---
This wasn't part of our original itinerary. But when we posted on Instagram that we were back in Boracay, Joana, one of our followers, invited us for a chat at her cafe — Mr. D La Bettola Boracay. The name gives it away, but it's an Italian-inspired cafe along an alley stemming from Road 1-A. Nope, it's not beachfront, but it's a great thing because it means the prices are not through the roof.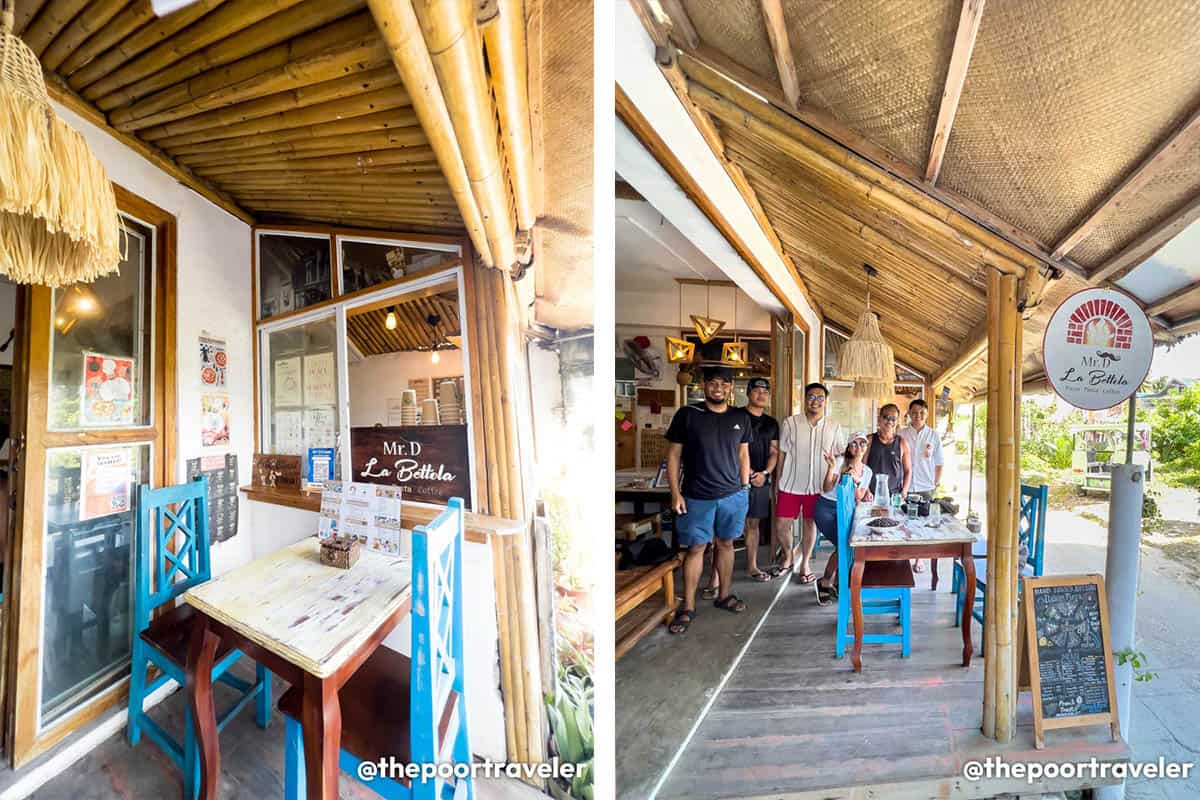 Mr. D's quaint and cozy spot is quite instagrammable, wearing a mixture of Filipino and Mediterranean styles. The menu is also largely Italian, dominated by brick oven pizzas and pastas. But because we visited in mid-afternoon, we opted for a drink. Vins had latte (P160) while I had matcha latte (P180). But they're enough for us to put them on this list. These are some of the better cups we've had in the island, at much more accessible prices!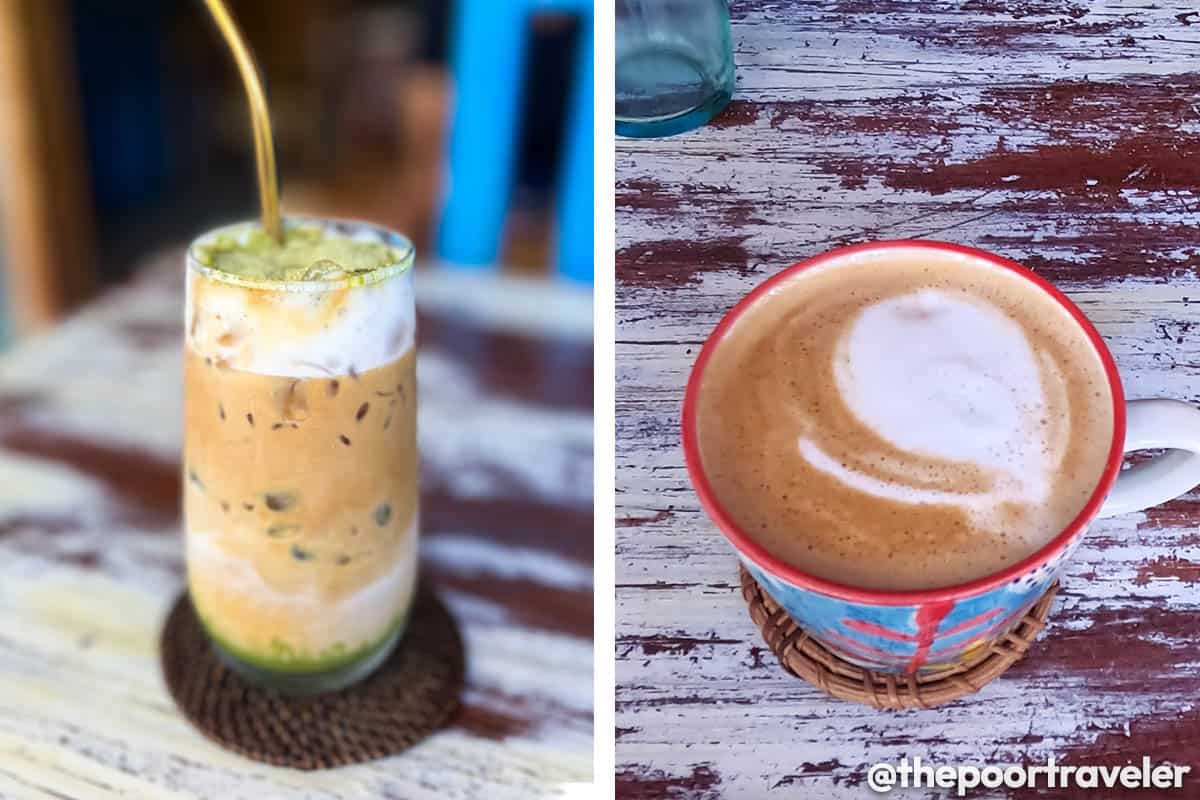 Operating hours: Daily, 9:00 AM – 9:00 PM.
Location: Near Road 1A (inner lane), Brgy. Balabag
---
Boracay's map is dotted with restaurants offering paluto services. What sets them apart from the others is that they allow you to "shop" for seafood ingredients per kilo and then you can have them cooked by their staff. Most of them used to be concentrated in the D' Talipapa area, which is now closed, so some establishments moved elsewhere. One of them is Plato D' Boracay, which claims to be the "Home of Pinoy-Style Paluto on the Island".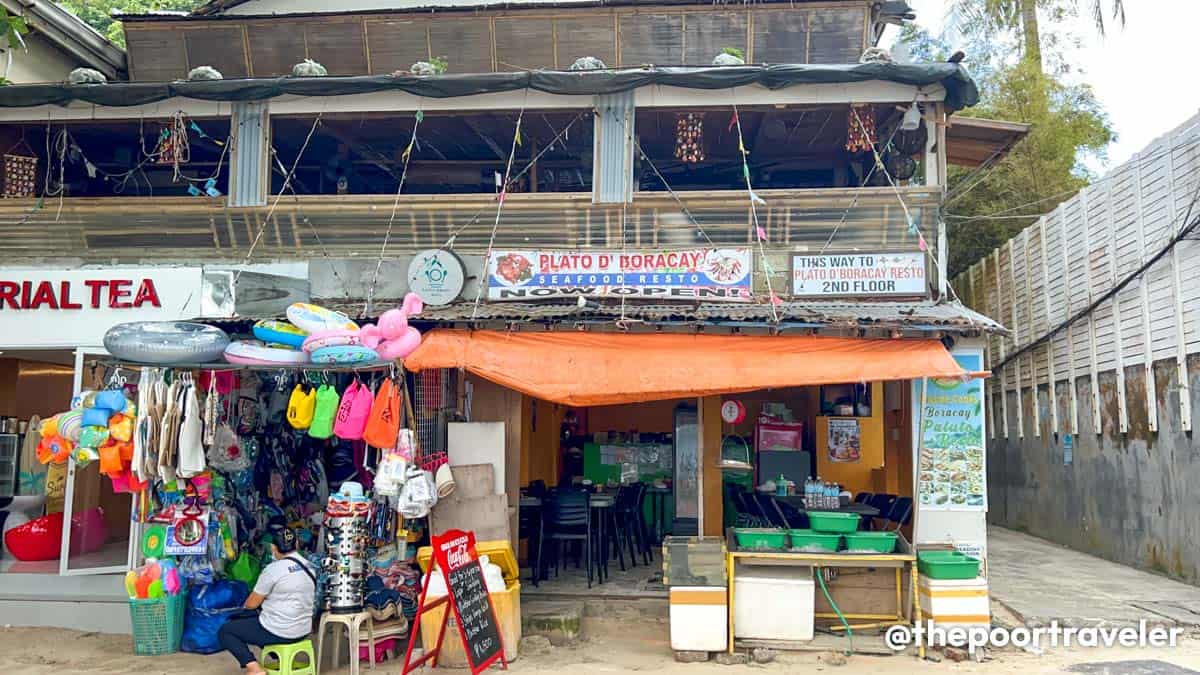 PLato D' Boracay is now on the border of Station 1 and 2, beside Astoria Boracay and Royal Park. However, on our most recent visit, we didn't see the actual seafood for paluto. There also used to be a turo-turo style corner for much cheaper pre-cooked meals, but we didn't see that, either. What greeted us was the usual order-menu setup. We were given a menu and a waiter collected our order. I'm not sure if paluto and turo-turo services are still available today.
Anyway, its current menu consists of mostly seafood dishes: chili crabs, buttered prawns, sizzling gambas, and fresh oysters, to name a few. Prices range from P400 for prawns and P800 for crabs. Other usual Pinoy favorites like pork sinigang, lechon kawali, chicken tinola, chopseuy, and pinakbet are also available. Meat dishes cost P350 per order, while vegetables dishes P200. These are all for sharing.
You may also order individual silog orders if you're solo. It costs around P150.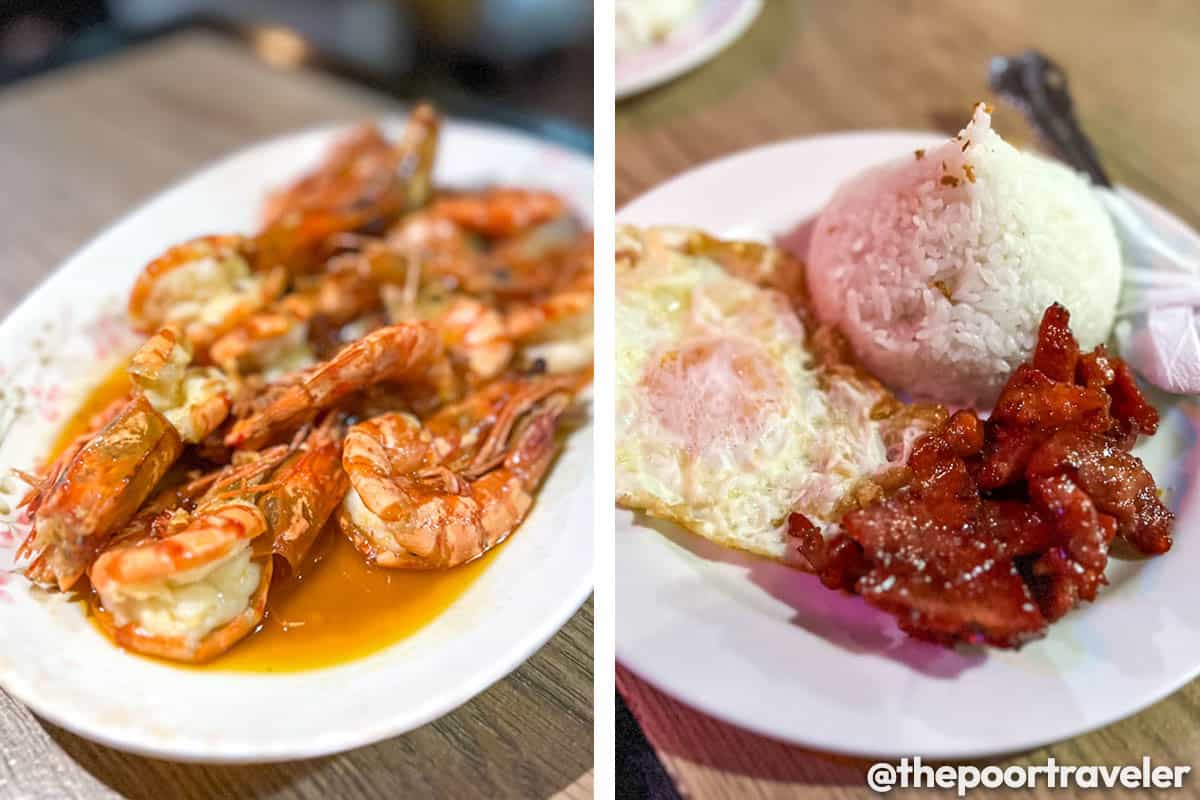 Like most establishments in the island, prices at Plato D' Boracay may have gone up, too. But it's still relatively cheaper, at least compared to other popular restaurants along White Beach.
The management closed its branch near D'Mall and transferred to a much bigger location in Station 1 beside . We spotted another branch on the ground level of Station X.
Opening Hours: Monday – Sunday, 7:00 AM – 11:00 PM.
Address: Station 1, White Beach Main Road, Barangay Balabag, Boracay Island, Malay, Aklan
---
OK, wait, put down those tomatoes. Before you start complaining, "What!? You're recommending fast food in Boracay?!" Calm down. We're not encouraging you to stuff your face with fast food.
But if, for whatever reason you're looking for it — whether you're craving it or you want to introduce it to an uninitiated foreign friend — we're just saying you can find them in the island. And there are a lot of them, too: Jollibee, McDonald's, Chowking, KFC, and Mang Inasal. Most of them are located in Station 2, around the D' Mall area.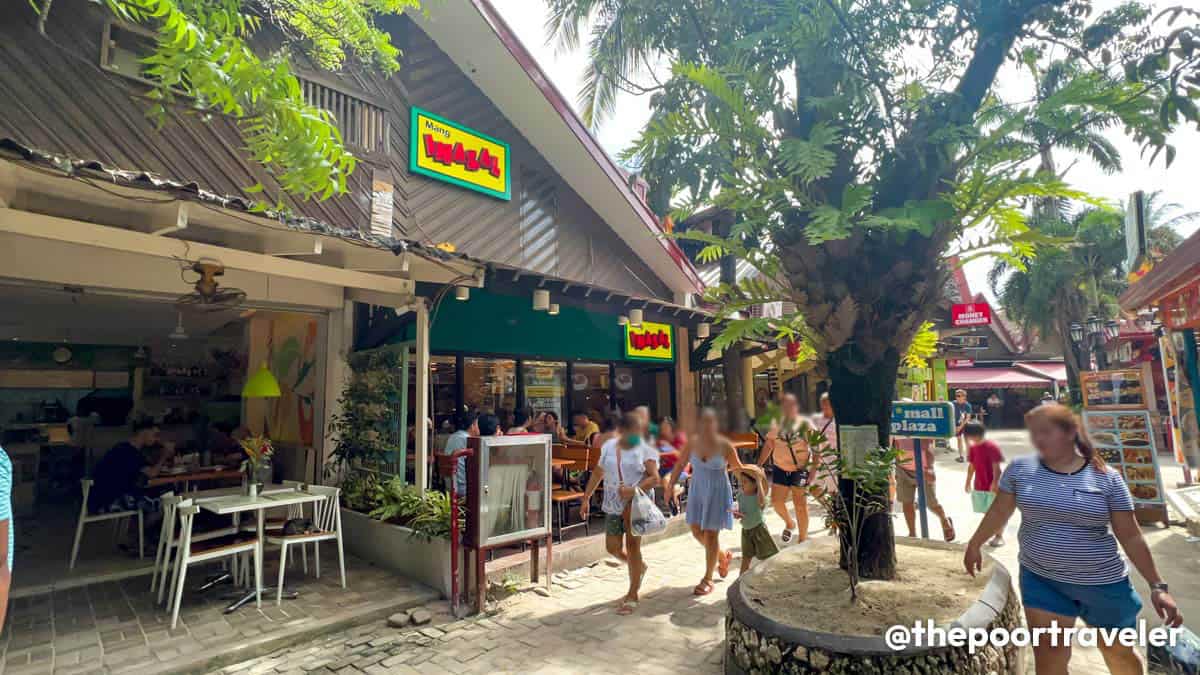 Mang Inasal gets a special shoutout from us because it serves chicken inasal, and I love grilled things in general. Other bestsellers are pork liempo, barbecue, bangus sisig, palabok, and halo-halo. It also has a store inside CityMall.
I recently entered the McDo store here to check the prices and I found that the big mac is pricier here, so perhaps the rest of the dishes are too. And maybe the other fast foods, too? But unsurprisingy, it's still cheaper than Boracay's most popular homegrown restaurants.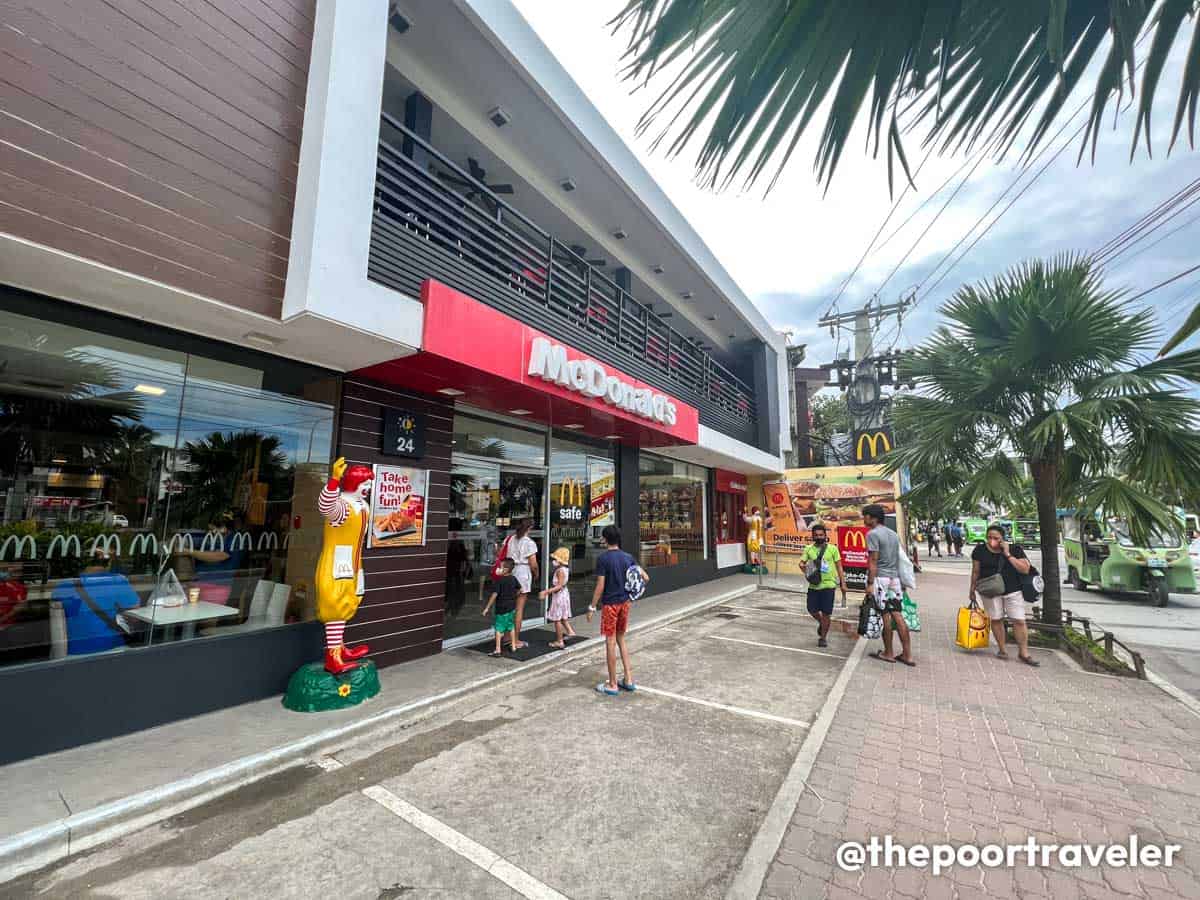 ---
By the way, while this is a budget travel guide, if you want to try more expensive food spots and you can afford it, go ahead. Enjoy your trip thoroughly especially if you don't get to travel often. It's also a great way to help the local economy!
---
We have a list of accredited accommodations here: LIST OF ACCREDITED BORACAY HOTELS & RESORTS!
We also added links to Agoda so you could easily check their latest rates and pictures.
But here are some of the hotels and resorts in Boracay that we were able to try over the years:
BUDGET OPTIONS
MID-RANGE OPTIONS
LUXURY OPTIONS
---
First uploaded: 2023 04 23
Written by: Yosh Dimen
Photos by: Yosh Dimen
Additional words by: Asta Alvarez
---