CHENNAI: Think Chepauk and as a seam bowler, you think cutters and slower ones. Naveen-ul-Haq did exactly that on Wednesday night, and quite effectively at that, picking up three of his four wickets by taking the pace off. But Akash Madhwal had other ideas.
The 29-year-old from Uttarakhand has been trained by his state coach Manish Jha to "just bowl fast and not worry about leaking runs". Akash has imbibed that philosophy wholly and backs his skills wherever he goes.
On Wednesday, the
Mumbai Indians
medium-pacer put up an exhibition of fast bowling and the Lucknow Super Giants were his hapless victims.
Madhwal stuck to a good length on or around off-stump and extracted enough pace and movement from the pitch to rush batters, and with his magical figures of 5/5 in 3.3 overs, he became the first bowler to claim a five-wicket haul in an IPL playoff game.
Though he will cherish all five scalps, Madhwal enjoyed Nicholas Pooran's breakthrough the most, not just because of the enormity of the wicket but also the delivery he bowled — in the corridor outside off, straightening after pitching to catch Pooran's outside edge. It was a delivery which would have worked across formats.
The performance stemmed from clarity on what he needed to do.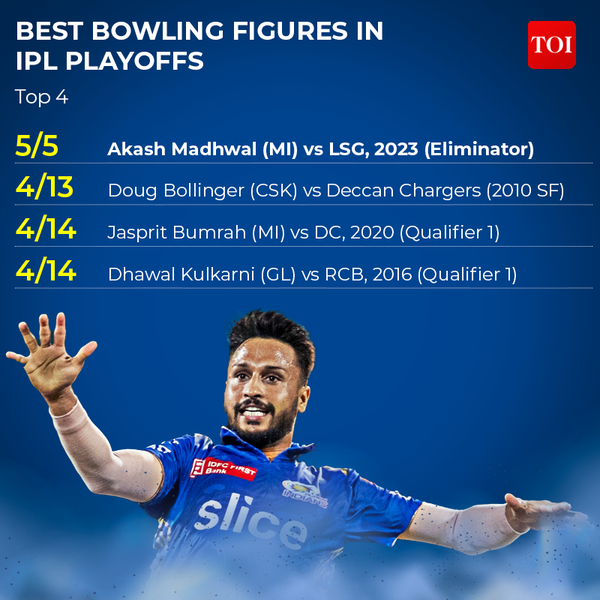 "The wicket at Chepauk was good. As you saw, the ball was not gripping but skidding. I am a slinging type of bowler and I pitched my deliveries at a hard length in the pursuit of wickets," Madhwal said.
This conventional Test-style bowling skill is a recently acquired one for the seamer, who had only played tennis-ball cricket till 2018. The yorker was his specialty, and in the absence of Jasprit Bumrah and Jofra Archer, that is what MI picked him for.
Madhwal said: "I learnt the art of bowling yorkers from tennis-ball cricket. There, it is the only delivery that saves you. Everything else goes for six, so your yorkers have to be inch-perfect."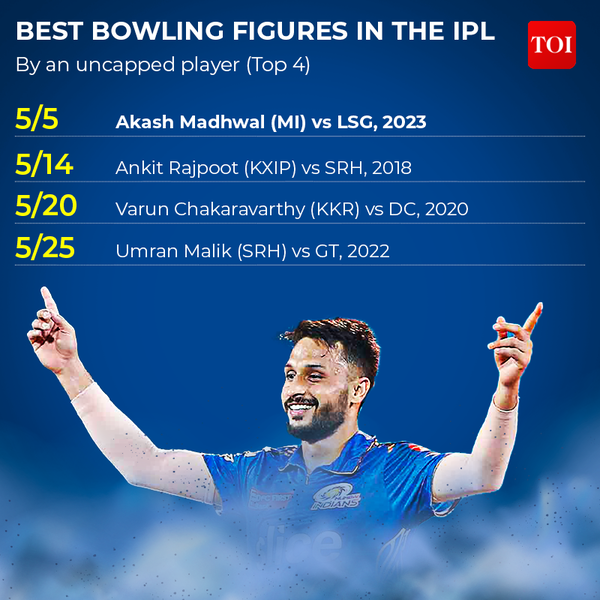 Skipper Rohit Sharma observed him closely in the nets and saw that he was doing well with the new ball too. Soon, he was entrusted with opening the bowling, and Madhwal, an engineer by qualification, aced that assignment as well.
"I just focus on practice and execution. Engineers have a tendency to learn quickly," he said, tonguein-cheek.
Rohit said he had no apprehensions about reposing faith in Madhwal.
"Once Jofra was gone, we knew we needed somebody to bowl at the back end and having seen him enough, I was confident that he could get the job done for us. He has a lot of skills, a good attitude and a lot of character as well," Rohit said.
After an indifferent start to the season, the Uttarakhand lad has progressively gotten better and with form and confidence on his side, MI would dearly want Madhwal to do an encore against the Gujarat Titans on Friday.