Two years ago, MBW ran a popular story with an attention-grabbing headline: "Queen's music is making crazy money. Could it be worth over a billion dollars?"
The answer to the question, we now hear from multiple high-level music industry sources, is a resounding yes.
We're told that the initial stages of a sale process for the band's catalog – combining both music publishing and recorded music rights – is underway, and that a full acquisition could be completed by the end of this summer.
Major music companies including Universal Music Group have been in discussions regarding a potential acquisition, we're told, in addition to players from the world of private equity.
If the combined Queen rights sell, say MBW's sources, a price-tag in excess of USD $1 billion seems guaranteed.
Some have told us they expect the Queen catalog to sell for around USD $1.1 billion; others say the eventual figure will be even higher than that.
Either way, should a sale get completed, this would become the biggest single-artist music catalog sale in history, easily surpassing the $500 million-plus paid by Sony Music Group to acquire Bruce Springsteen's recorded music and music publishing catalogs in late 2021.
(For the Springsteen publishing catalog part of that deal, Sony's offer was partly backed by capital from Eldridge Industries.)
A Queen catalog sale is complicated by the fact that Disney Music Group (DMG) owns the band's recorded music catalog in North America. (DMG has a global distribution agreement with Universal Music Group.)
Queen band members Brian May, Roger Taylor, and John Deacon – plus the Freddie Mercury estate – each own equal shares in the company Queen Productions Ltd, which owns the group's recording catalog outside the US and Canada.
Queen's members (plus Mercury's estate) also own the global rights to Queen's music publishing catalog via their company Queen Music Ltd, which is administered by Sony Music Publishing.
---

---
Queen Productions Ltd posts its annual financials on UK Companies House, the latest of which shows the company's fiscal performance in FY 2021 (to the end of September that year).
Queen Productions Ltd reported GBP £39.19 million in annual revenues in FY 2021, with £38.92 million of this number coming via royalties.
Queen Productions Ltd. posted record-high annual revenues of GBP £72.77 million in FY 2019, the year of the successful global release of the Bohemian Rhapsody biopic.
In the three years from 2019 through 2021, the average annual royalties revenue booked by Queen Productions Ltd was GBP £50.71 million.
Queen is currently the 48th most popular artist globally on Spotify, with 47.7 million monthly listeners on the platform.
---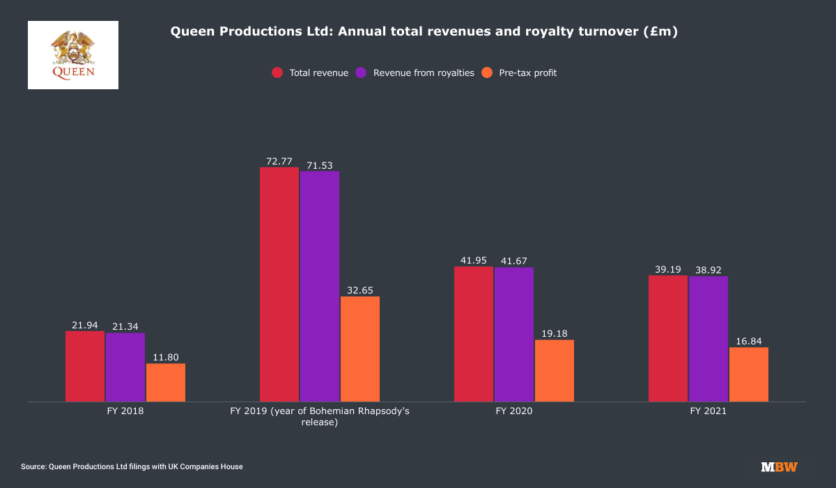 ---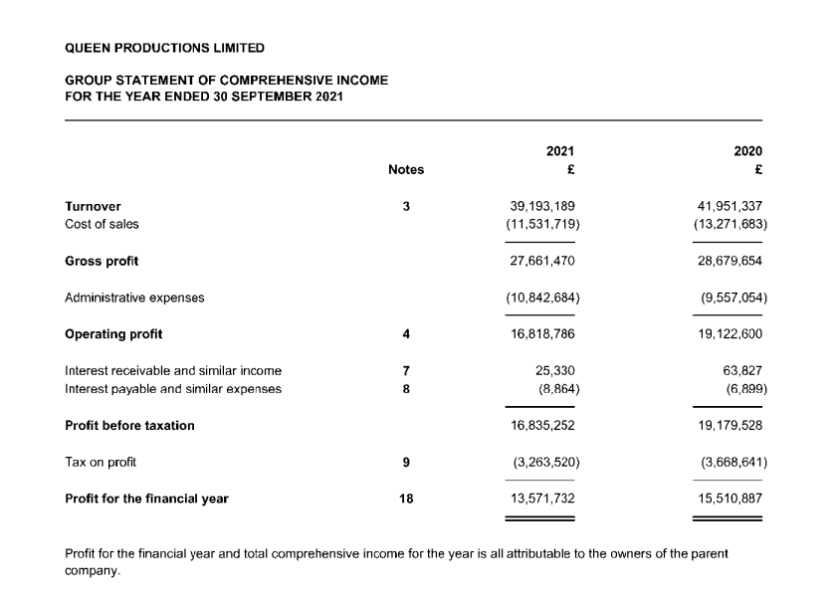 ---
Queen's isn't the only huge-money music rights catalog that is in discussions to be sold (or part sold) in the months ahead.
The Michael Jackson Estate is understood to be in discussions with Sony Music Group over the sale of a stake in the late King Of Pop's rights portfolio – spanning recorded music rights, rights connected to the MJ: The Musical theater show, plus music publishing rights via the Jackson-founded music publishing company, Mijac.
Variety reported in February that Sony Music Group was in negotiations to acquire 50% of Jackson's music rights for a price-tag in the region of $800 to $900 million.
A source close to that process has suggested that the number may end up slightly lower than that figure, at between $700 million and $800 million.Music Business Worldwide