Bibury is a charming village located in the heart of the Cotswolds, an area of outstanding natural beauty in southwestern England. There are lots of wonderful things to do in Bibury; a quaint village best-known for its picturesque stone cottages and idyllic country scenes.
The area is home to many historic landmarks such as Arlington Row, a row of 17th-century weavers' cottages that have been beautifully preserved. I've been visiting the Cotswolds for years and Bibury is one of my favorite villages thanks to its picturesque architecture and charming location.
With its stunning scenery and historic buildings Bibury, Cotswolds is a must-visit destination for anyone traveling to the West Country. There are also plenty of places to visit nearby such as the villages of Stow-on-the-Wold, Bourton on the Water, and larger towns like Stroud and Cirencester.
Best Things To Do in Bibury
Below, you'll find a wide selection of things to do in Bibury, Cotswolds from exploring the quaint houses and architecture to hiking and biking trails, country pubs, and some awesome day trips to nearby places of interest.
1. Walk Along the Famous Arlington Row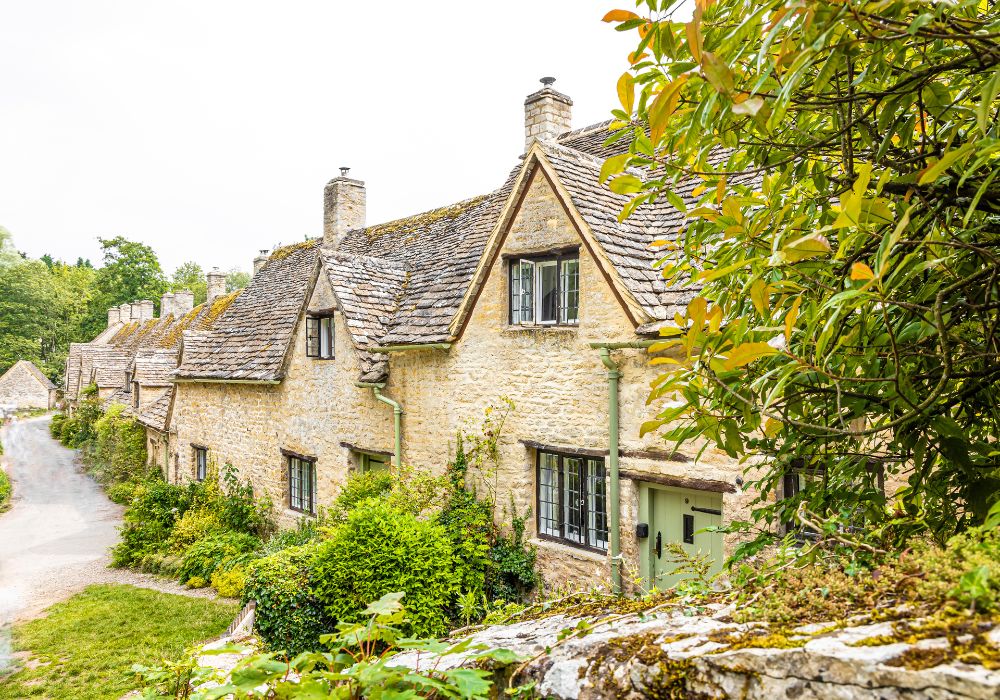 Arlington Row is a picturesque row of honey-colored cottages that were built in the 17th century as a wool store. They were converted into weavers' cottages in the 19th century and walking along these idyllic cottages is one of the best things to do in Bibury; they're definitely worthy of a photo or two.
The Arlington Row cottages are one of the most photographed landmarks in the Cotswolds thanks to their distinctive stone roofs and charming façades. The cottages are also a popular tourist attraction, drawing visitors from around the world who come to admire their beauty and learn about their fascinating history.
This is one of the top things to see in Bibury and is a must-visit attraction for anyone visiting the Cotswolds. As an amateur photographer myself, this is somewhere I love to visit when I'm in the area to snap some shots and wow my friends around the world with such idyllic English scenes.
Address: Awkward Hill, Bibury, Gloucestershire, GL7 5NJ
2. See the Old Post Office
The Post Office at Bibury is located in a charming Cotswold stone building on the main street and offers a glimpse into days gone by. The site is temporarily closed (at the time of writing) as they're undergoing building work to incorporate it into the tea rooms next door, but you'll be able to enjoy a cream tea while writing a postcard when it reopens shortly.
Be sure to check their website before your visit to avoid disappointment.
Address: 10 The Street, Bibury, Gloucestershire, GL7 5NP
3. See the Historic St Mary's Church
The Grade I listed St Mary's Church dates back to the 11th Century making it one of the oldest buildings in the region (it's been the site of a church since at least 899AD). The north wall of the church incorporates an Anglo-Saxon grave slab, of which four similar can be found in the British Museum.
Other points of interest around the church include its Saxon columns, a 13th Century font, a roof dating to the 15th Century, and 17th Century table tombs. St Mary's is one of the top places to see in Bibury for those with an interest in history (I love learning about the Anglo-Saxon times) and has a peaceful churchyard to explore.
Visitors can enter the church and grounds free of charge making this one of the best free things to do in Bibury. It's also possible to attend a Sunday service. If you're looking to escape the crowds around Arlington Row, this is a great place for a little solitude.
Address: Church Road, Bibury, Gloucestershire, GL7 5NR
4. Try the Local Trout
Bibury is famed for its trout farm which has an onsite cafe serving up this delicious local specialty. You can try the Bibury trout trio of dressed trout with garlic mayo, smoked trout terrine, and smoked trout chowder, or you can even hire a barbeque and cook up a trout that you've caught yourself.
But worry, not, if you're not a fan of fish the cafe has an excellent range of hot and cold snacks, salads, and cakes, and is a great place for a spot of breakfast, brunch, or a cream tea for just £5 ($6.20). All food is made to order using only the freshest of locally sourced ingredients.
There's also a small hut selling chips, hot and cold drinks, and ice creams. The cafe is open daily from March to December from 10 am to 3:30 pm and from 10 am to 3 pm in January and February. Trying the local trout is definitely one of the top things to do in Bibury for foodies.
Address: Bibury, Gloucestershire, GL7 5NL
5. Take the Coln, Saint Aldwyns, and Bibury Walk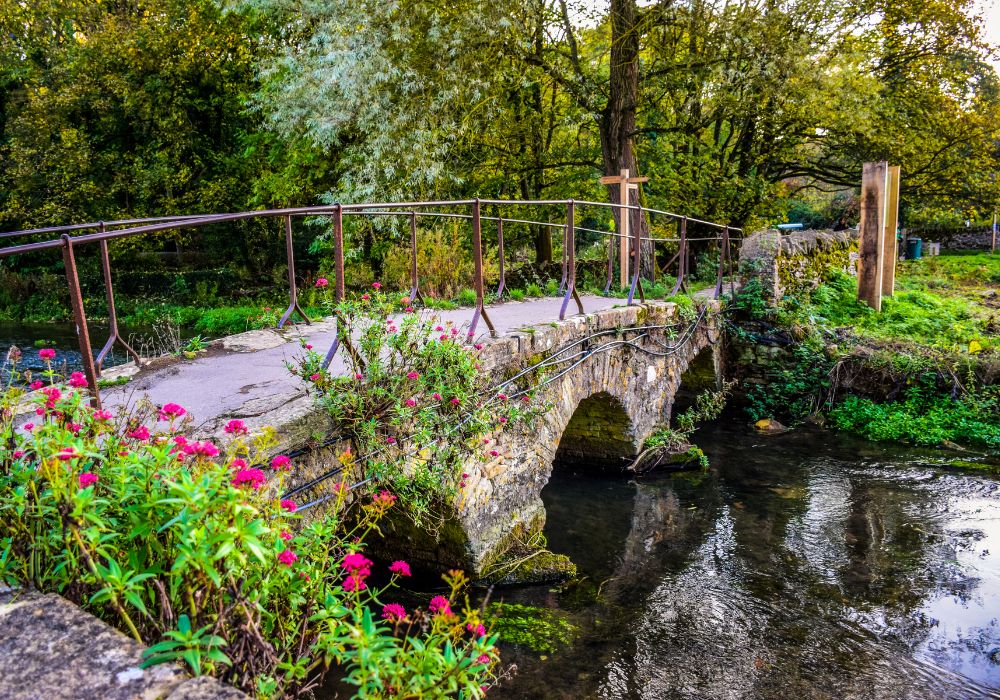 Bibury is located in the heart of the Cotswolds Area of Outstanding Natural Beauty (AONB) and as such there are plenty of excellent walks through the nearby countryside from the village. These range from short walks of a few miles to longer day-long hikes.
One of the best hikes to try is the moderate 6.5 mile (10.5 km) Coln, Saint Aldwyns, and Bibury circular walk that takes in the beautiful River Coln, two picturesque Cotswolds villages, and miles of open fields and pastures. The hike should take around three hours to complete, but pack a picnic and make a day of it if the weather allows.
You can stop in the charming New Inn in St Aldwyns for a spot of lunch and refreshment halfway (try one of the hearty burgers or the local trout). This is one of my favorite walks in the area and is a great way to spot some of the local wildlife.
6. Have a Pint in The Catherine Wheel
One of the best things to do in Bibury for beer lovers like myself is to drop into the local pub, The Catherine Wheel for a pint of local beer or cider. The Cotswolds is packed with rustic country pubs and I love nothing more than whiling away an afternoon or evening in a pleasant beer garden, or next to a roaring fire in colder times.
The Catherine Wheel is a traditional inn (you can also book a stay here) with a large bar, pleasant beer garden, and restaurant. They offer a great selection of local beers and ciders, wines and cocktails, and a food menu using local and seasonal produce. With steaks, pizza, burgers, and of course trout, there's something to suit even the fussiest of eaters.
Grabbing a few pints in the local is certainly one of the best things to do in Bibury at night as there isn't much else in the way of nightlife in this rural location (one of my favorite things about this part of the world – Bilbury is very laid-back!).
Address: Arlington, Bibury, Gloucestershire, GL7 5ND
7. Explore the Rack Isle Nature Reserve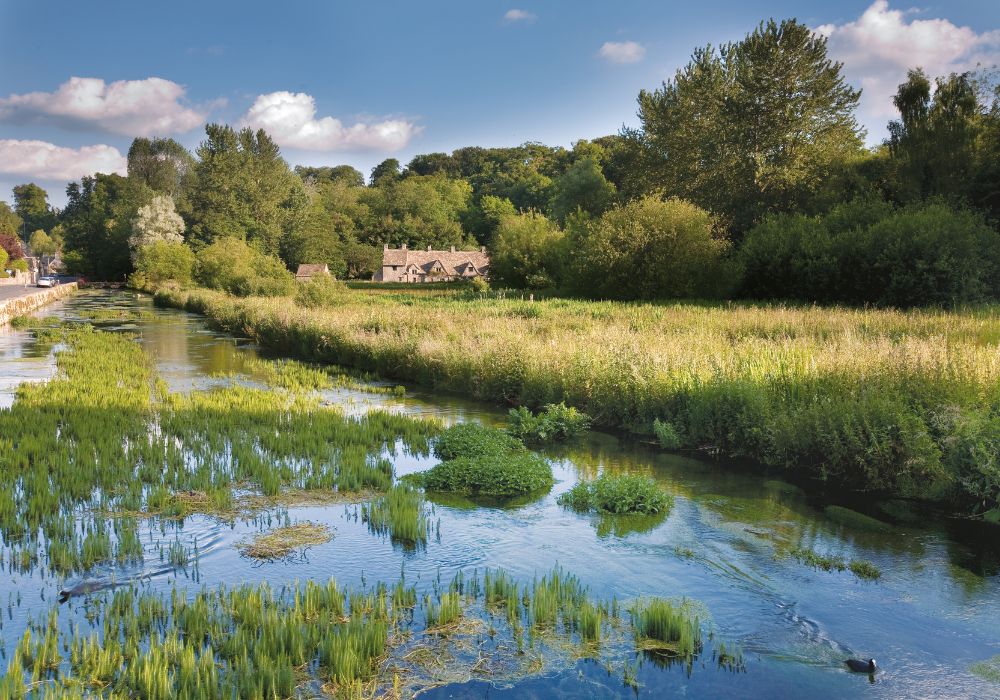 Rack Isle is an ancient water meadow located beside the weavers' cottages of Arlington Row in Bibury. It was historically used for drying finished cloth and grazing and was given to the National Trust in 1956. Today, it serves as an important wildlife refuge, providing a rare habitat for water voles and serving as a protected wildfowl breeding ground.
Wandering around this gorgeous nature reserve in the heart of the village is one of the best things to do in Bibury for families as there's lots of space to run about (and dogs are allowed if kept on a lead). This is also a great vantage point for snapping pictures of Arlington Row away from the crowds.
Address: Bibury, Gloucestershire, GL7 5NP
8. Visit Chedworth Roman Villa
If, like me, you're a lover of Roman history then you'll want to check out the nearby ruins of Chedworth Roman Villa just 8.5 miles (13.7 km) from Bibury. Here, you'll find the ruins of a 4th Century Roman house and an accompanying museum displaying artifacts excavated from the area.
This is one of the most impressive archaeological sites in the area, (I used to study archaeology so know a little about the subject), and is well worth a visit for curious adults and kids alike. See ancient floor mosaics still remarkably intact, Roman baths, and a water shrine.
Free parking is available onsite, and there's a cafe selling light snacks and hot and cold drinks, a museum and gift shop selling souvenirs and local handicrafts, and a picnic area to enjoy too. This is an excellent family day out and I highly recommend a visit. Tickets cost £12 for adults and £6 for children.
Address: Chedworth Roman Villa, Cheltenham, Gloucestershire, GL54 3LJ
9. See the Cotswold Lavender Farm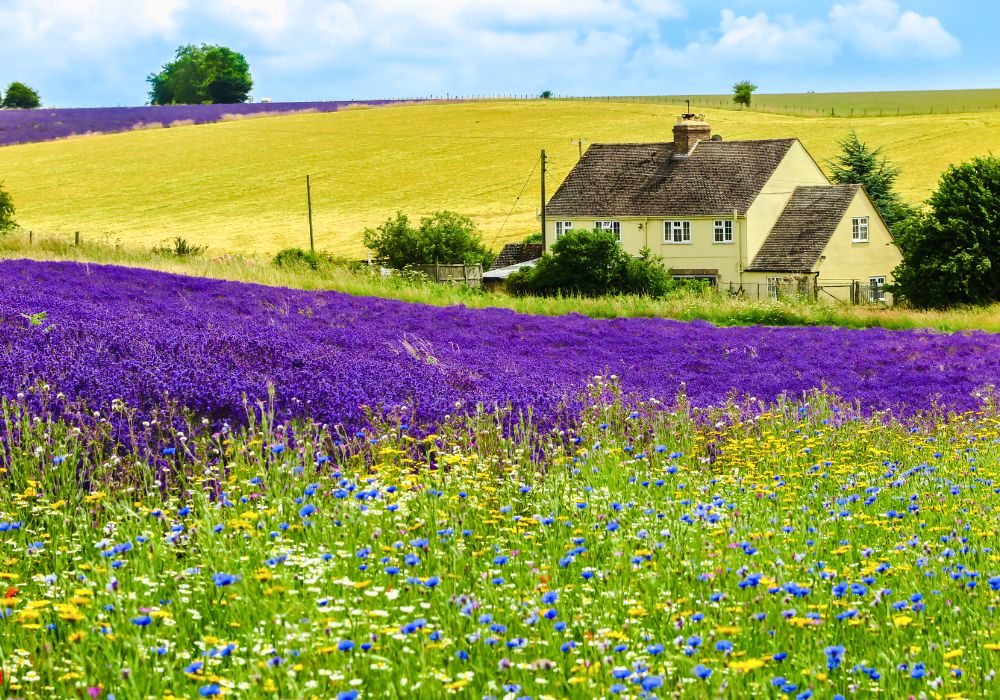 Just 20 miles north of Bibury is the beautiful Cotswold Lavender Farm on a hill overlooking the gorgeous Vale of Evesham. During the season from June to August, you can walk amongst the sweet-smelling purple flowers and take in the stunning countryside views.
There are over 35 varieties of lavender across 70 acres of land which erupt into a crescendo of color lighting up this charming corner of the Cotswolds. You can visit the onsite distillery to learn how the lavender oil is extracted and see the range of products it's used for.
You can buy lavender-scented gifts such as fragrances, candles, and more from the onsite shop. There's a woodland walking trail, a wildflower meadow, and a cabin selling snacks and hot and cold drinks. The farm is open every day from 14th June until 6th August from 10 am to 5 pm. Tickets cost £7.50 for adults and £3.75 for children.
Address: Hill Barn Farm Cottages, Snowshill, Gloucestershire, WR12 7JY
10. Go for a Swim at the Cotswolds Water Park
The Cotswolds Water Park, on the outskirts of Cirencester, is one of the best places to visit near Bibury with 180 lakes spanning across 42 square miles. The park offers activities such as riverside walks, picnics, boating, kayaking, and swimming. It's also a breeding ground for thousands of bird species and is a great place for wildlife watching.
There's even a sandy beach for swimming and building sandcastles, various watersport activities, and a beach shack cafe. Visitors can hire a BBQ to cook their own lunch so it's an ideal place to pack a picnic. This is one of my favorite spots in the Cotswolds as I love a swim, followed by a few lakeside beers and a BBQ.
Although not a traditional water park with slides and flumes, this amazing lakeside attraction makes for a perfect day out for the whole family. There are lots of pubs and restaurants nearby in picturesque villages around the lakes, and you can even book a stay in the water park. Click here to find out more.
Address: Rigsby's Lane, Cirencester, Gloucestershire, GL7 6GJ
11. Have a Picnic Along the River Coln
The beautiful River Coln winds its way through the heart of Bibury and is the perfect place for a short walk and a packed lunch. You can pick up some tasty treats from The Twig delicatessen and find a pleasant spot to watch the world go by at a comfortable pace.
Taking a romantic walk along the river and stopping for a picnic is one of the best things to do in Bibury for couples.
12. Take a Hot Air Baloon Flight
One of the best ways to see this picturesque part of the Cotswolds (if you're not afraid of heights like I am) is to take a hot air balloon ride from nearby Cheltenham. Flights take place in the morning and early evening so riders can catch either a stunning sunrise or sunset over the Cotswolds.
This is a really unique way to see the picturesque towns, villages, and sweeping countryside around Bibury and the rest of the Cotswolds Area of Outstanding Natural Beauty. You can even opt for a champagne flight making this a really special thing for couples to do in Bibury.
Prices start at £129 per person for a four-hour flight and an unforgettable experience to remember forever. Click here for more info.
13. Visit Nearby Cirencester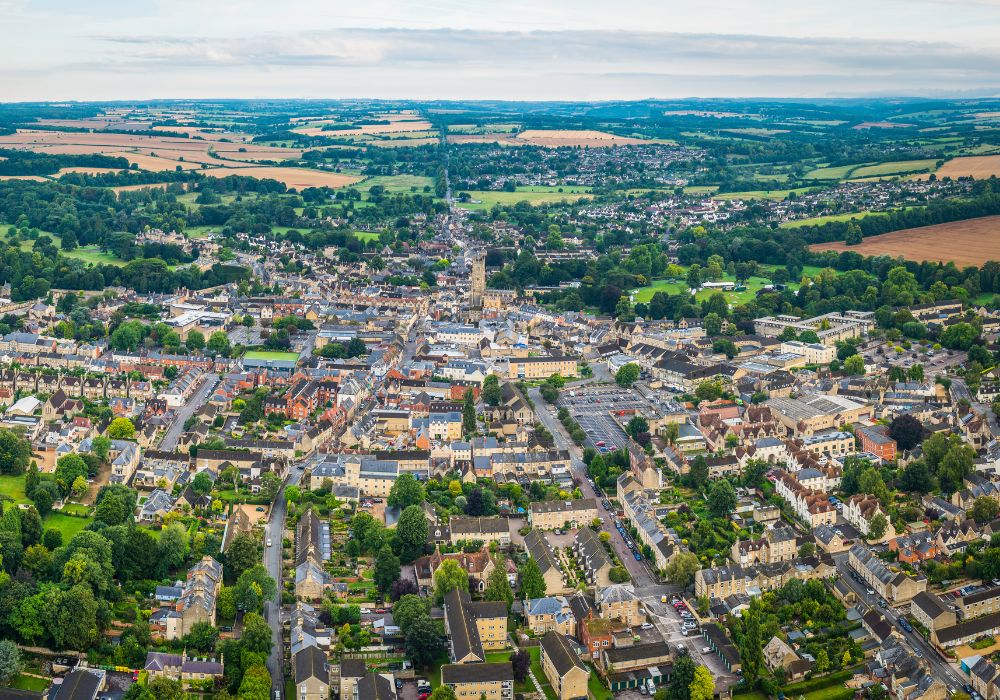 Cirencester is the nearest large town to Bibury and is well worth a visit for its Roman history, fun attractions, and many wonderful cafes, restaurants, and pubs. The town is just 8 miles (13 km) from Bibury and is easily reachable by car and bus No 855.
Head to the weekly farmers' market which is an excellent place to pick up local produce and handicrafts, the Corinium Museum detailing the town's history, and an excellent open-air swimming pool to cool off in during the summer months. Along with nearby Stroud, Cirencester is one of my favorite towns in the Cotswolds.
14. Visit Bourton on the Water
Just like Bibury, Bourton on the Water is another of the most picturesque villages in the Cotswolds. There are lots of wonderful pubs in Bourton, as well as idyllic cottages along the charming River Windrush, a model village, and the excellent Hawkstone Brewery which prodcues local craft beers and ciders (including a beer by TV personality Jeremy Clarkson).
Bourton is just 12.3 miles (20 km) from Bibury and bus 855 connects the two villages, (as well as the town of Cirencester), with semi-regular services. Click here for the current timetable. This is definitely one of the best places to visit near Bibury for it's picturesque cottages and old-worldly charm.
15. See Picturesque Stow-on-the-Wold
One of the best places to visit near Bibury is the gorgeous market town of Stow. The town is situated on top of a hill that offers breathtaking views of the surrounding Cotswold countryside. The place has a rich history dating back to the medieval period and is famous for its historic market square and picturesque St Edward's Church.
Stow-on-the-Wold makes an excellent day trip from Bibury and is the perfect place to browse the many independent shops, grab a bite in one of the many restaurants and pubs, or take walk in the nearby countryside. It's just a 30-minute drive from Bibury, but you'll need your own car as public transport is lacking in this rural area.
Quick Travel Itineraries For Bibury
Below, you'll find some useful itineraries to help you get the most out of your trip sightseeing in Bibury, Cotswolds. These itineraries include all the top sights mentioned above and include day trips for longer stays.
1 Day in Bibury Itinerary
With just a day in Bibury, start off at the famous Arlington Row of cottages. Be sure to take plenty of photos of this original 17th-century dwelling as it really is one of the most picturesque places in England. Take a walk along the River Coln and see the impressive St Mary's Church before popping into the trout farm for a lunch of the local specialty (see below).
In the afternoon, explore other attractions around the village from the old mill and post office and take a walk in the local National Trust Wildfowl Reserve. For dinner, head to The Catherine Wheel pub for some hearty food washed down with a pint or two of local ale or cider.
2-3 Days in Bibury Itinerary
With more time in Bibury, follow the above itinerary for your first day and include country walks like the scenic Coln, Saint Aldwyns, and Bibury circular walk which is 6.5 miles (10.5 km) and includes some of the most picturesque countryside scenes imaginable. Treat yourself to a meal at Rhe Swan Brasserie and relax and you look across the river.
1 Week in Bibury Itinerary
With a week to spend in Bibury, follow the above itineraries for your first three days and add in day trips to nearby Cirencester and Stroud. Explore some of the other beautiful Cotswold villages nearby such as Bourton on the Water and Stow-on-the-Wold.
Check out The Keepers Arms in nearby Quenington for a pint and a bite of excellent pub grub, and be sure to pick up some goods from The Twig deli for all the suplies you'll need for a picnic along the river.
Where to Stay in Bibury
These are a few of the best places to stay in Bibury for tourists:
The Swan Hotel – Best for First-Time Visitors
The four-star Swan Hotel is located in the heart of the village and is the perfect place to stay for first-time visitors. This gorgeous ivy-clad stone building sits right next to the River Coln and offers stunning views of the surrounding countryside. Rooms come with an en-suite bathroom and there's an onsite bar, restaurant, and private garden. Click here to book now.
Sycamore – Best for Families
Sycamore is a cute cabin in the heart of the village just a short walk from all the attractions in Bibury and the local pubs and restaurants. The property benefits from an outside patio for al-fresco dining, free onsite parking, and WiFi throughout. The inside is spacious and airy with beautiful wooden floors and fixtures. Click here to find out more.
Swallows Nest – Best for Couples
The Swallows Nest is a cute, one-bedroom holiday home in Bibury and the perfect cozy hideaway for couples. The property comes with free, private parking, WiFi throughout, and a fitted kitchen with all you need for a self-catering stay. All the Bibury attractions are just a short walk away and the local pub is a stone's throw from the house. Click here to learn more.
Best Restaurants in Bibury
Don't miss these great places to eat in Bibury. There are plenty of excellent eateries around the village from traditional pubs with homely food to exclusive restaurants, and even the local trout farm. Eating and drinking the local specialties is definitely one of the best things to do around Bibury for foodies.
The Catherine Wheel: This gorgeous old pub in the heart of Bibury has an extensive food menu with local, seasonal dishes and pub favorites. This is my top place to eat in the village and has reasonable prices with mains from £12 to £20. I recommend the beer-battered fish and chips or Sunday roast (they also do pizzas). Click here for directions.
The Swan Brasserie: This upmarket brasserie at The Swan Hotel is the place to come for that special occasion or a relaxing afternoon by the river. You can enjoy afternoon tea on the riverside, a drink in the bar, or an excellently prepared meal using the freshest local ingredients from the dinner menu. Click here for directions.
Bibury Trout Farm: Bibury is famous for its trout and the best place to sample this delicacy is from the cafe of the Bibury Trout Farm. From trout terrine to smoked trout chowder, soups, sandwiches, and even vegan sausage rolls, this is an excellent place to come for a real taste of Bibury. Click here for directions.
The Twig: This quaint little coffee shop and deli is the perfect place to pick up homemade sandwiches and cakes for a picnic down by the river. It also makes the best coffee in the village so you can come here to get your daily fix. They also offer a range of freshly made salads, juices, and other healthy snacks. Click here for directions.
The Keepers Arms: This traditional country inn is located in the village of Quenington just three miles from Bibury. The menu includes pub classics with a modern twist from burgers with an ale ketchup to beer-battered fish and chips, grilled sea bream, and vegetarian options. Click here for directions.
Getting to Bibury
The nearest airport to Bibury is Britsol International which is 70 miles (112 km) to the southwest. The nearest large town is Cirencester and there are daily trains from London Paddington which take under two hours. If driving from London, take the M40 and then the A40.
One of the best ways to get to Bibury is to take a day trip from London like this full-day Cotswolds tour. You'll get to see Bibury and the famous Arlington Row as well as the nearby villages of Bourton on the Water and Stow-on-the-Wold. Click here to book.
As Bibury is such a tiny village, everywhere is easily reachable on foot. If you wish to explore the other towns and villages in the vicinity then hiring a car is best as there isn't much in the way of public transport in this rural part of England.
Things To Do in Bibury: FAQs
Here are some answers to commonly asked questions about visiting Bibury:
What is Bibury known for?
Bibury is known as one of the most picturesque villages in the Cotswolds (and indeed England). The place is famous for the 17th Century Arlington Row of houses, its trout farm, and the historic Arlington Mill.
When is the best time to visit Bibury?
The shoulder seasons of spring and fall are the best times to visit Bibury as the weather is mild but there are fewer tourists than in the summer months. Summer can be very pleasant in Bibury, however, accommodation options sell out quickly so be sure to book early.
Is Bibury worth visiting?
Bibury is definitely worth visiting for an excellent sample of a British country village. With lots of historical sites from the old mill to Arlington Row and lots of scenic walks, this is one of my favorite places in the Cotswolds.
How many days should I spend in Bibury?
One to two days is enough time to see all the tourist attractions in Bibury. However, if you want to explore some of the beautiful nearby towns and villages a week is better.
Is Bibury safe?
As with most villages in rural England, Bibury is a lot safer than larger towns and cities. As the area can attract lots of people in the summer months, take the usual precautions you would when traveling anywhere and ensure doors are locked and valuables aren't left on display.
What is the most popular thing to do in Bibury?
Walking along picturesque Arlington Row is one of the most popular things to do in Bibury and people travel from all over the world to see these quaint houses. Other popular things to do in Bibury include trying the local trout and enjoying a pint in The Catherine Wheel pub.
What foods should I try in Bibury?
Bibury is famous for its trout farm so trying out this local delicacy is a must-for visitors that like fish. There's an onsite cafe at the farm serving up a range of dishes from smoked trout chowder to terrine and other mouthwatering specialties.
In Closing
Now you know what to see and do in Bibury from walking down the historic and Insta-worthy Arlington Row to sampling the local trout, taking a country walk, or enjoying a pint in the local. This is one of my favorite Cotswold villages and earns its reputation as one of the prettiest places in the country.
Like This Article? Pin it!