Note: All travel is subject to frequently-changing governmental restrictions—please check federal, state, and local advisories before scheduling trips. 
Look, we're not telling you to see the world just for the 'gram. After all, this crazy planet is big and full of every kind of adventure. But who among us hasn't occasionally felt like a really good photo would be the frosting on the already delicious travel cake? You don't have to be a photographer to appreciate the power of a dazzling snap or two (or 12). We get it, we really do—which is why we're here to help with these mind-bending buildings. Confuse your eyes, dazzle your sensibilities, and fill up your social media feeds with our world-wide picks for the best architectural optical illusions.
RELATED: 6 or the world's strangest cafes
Le Mur des Canuts: Lyon, France
The three-dimensional painting technique "trompe l'oeil" literally translates to "trick the eye." Located in Lyon, "Le Mur des Canuts" is one of the best representations of the art form. The largest painted wall in Europe (created in 1997 and updated in 2013) features a look at life in the French city, with characters climbing a large staircase. The sense of depth is only improved by its position, conveniently painted between neighboring buildings.
If you've ever dreamed of hopping inside one of M.C. Escher's mathematically-inspired works, featuring his signature upside-down staircases and doors to nowhere, The Other Place hotel in southwest China might be the place for you. The 10-room boutique property boasts two rooms—named "Maze" and "Dream"—inspired by the impossible labyrinths of the Dutch artist, as envisioned by design firm Studio 10. And you won't be there just for the unusual hotel room: Guilin is one of China's most popular tourist destinations, thanks to its gorgeous otherworldly karst mountain rock formation along the Li River and its picturesque terraced rice fields.
Magic Tap by Philippe Thill: Cadiz, Spain
Visiting Spain via cruise ship? Hanging out in the port city of Cadiz is a magical tap (by artist Philippe Thill) that flows with water 24/7—despite having no visible attachment to the ground below. Is it Spanish witchcraft? Or just a hidden support in the water? Who cares—embrace the magic and selfie!
WonderWorks House: Orlando and other cities
If you've been to Orlando, you may have noticed this classical-style upside-down building. According to WonderWorks legend, the building was a top secret research laboratory located in the Bermuda Triangle before it was ripped out of the ground by a powerful tornado created by lab scientists. Tall tales aside, the building design is the captivating brainchild of architect and Orlando native Terry O. Nichoson of Nichoson Design International, and what's inside is just as fascinating for curious kids. Described as "an amusement park for the mind," Wonderworks offers more than 100 hands-on, interactive "edu-tainment" exhibits like an inversion tunnel, extreme weather zone, physical challenge zone, a live comedy magic dinner show, and more. You'll find similar buildings at WonderWorks locations in Pigeon Forge, Myrtle Beach, Panama City Beach, Branson, and Syracuse.
ALSO: Looking for some rewards magic? Orbitz Rewards puts travel dollars and great airport perks in you pocket, presto!
Chicago Magic Lounge Bathroom: Chicago

If you're planning on having a drink or two at the Chicago Magic Lounge, a Windy City magic club where you enter through the laundry, we ask that you be extra careful when entering the bathroom. Otherwise the venue's swirling black and white tile floor vortex may threaten to take you under. It's an illusion (like most things at this pub) but you can never be too careful.
Invisible Mirror Cube: Tree Hotel, Harads, Sweden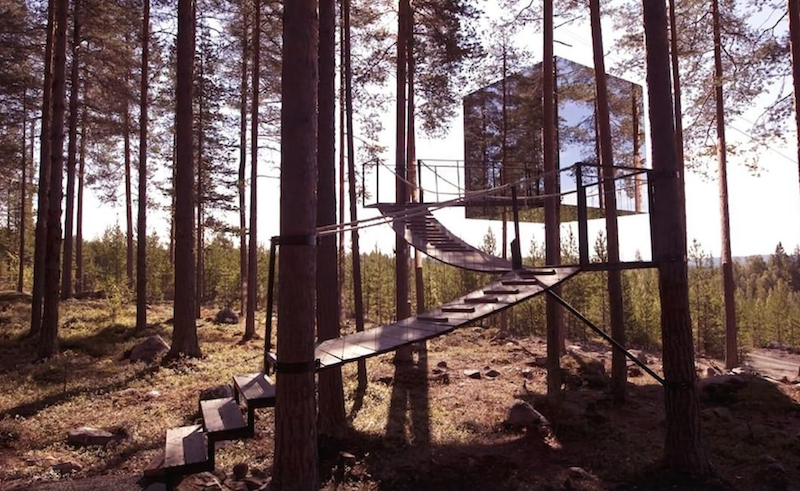 No matter what your motivation is, booking a room at Tree Hotel in Harads, Sweden, with its high-end, back-to-basics ethos, is a good idea. But if you're looking for a bit of visual inspiration, you could do worse than a night or two in their Invisible Mirror. Located in the treetops, and fully covered in mirrors, the only thing you're likely to see is what you're there for—pure, uninterrupted nature. It's like you're asleep in nothing at all.

Tagged: Asia, Chicago, China, Europe, Florida, Japan, Korea, Las Vegas, Midwest, Orlando, Spain
Note: Orbitz compensates authors for their writings appearing on this site.