Packing for long-term travel can be daunting, especially if you also need to work while on the road. To help you out, I've put together this comprehensive digital nomad packing list to help you get started.
I've been a digital nomad for the last 18 months and have lived and worked in a number of different places around the world. During this time, I've fine-tuned my personal list of nomad essentials which I'm pleased to share with you in this post.
From essential tech gear to versatile clothing options and even some handy software recommendations, this guide is full of useful items to help keep you productive, safe, and comfortable during your remote working adventure.
Packing List for Digital Nomads
When choosing the best digital nomad travel gear, it's important to pick items that are small and lightweight, while at the same time making sure you have everything you need.
In truth, it's a bit of a balancing act as you likely won't be able to cart around all of your creature comforts from home. But the awesome level of freedom that's available with this lifestyle makes it totally worth sacrificing a few non-essentials in my opinion.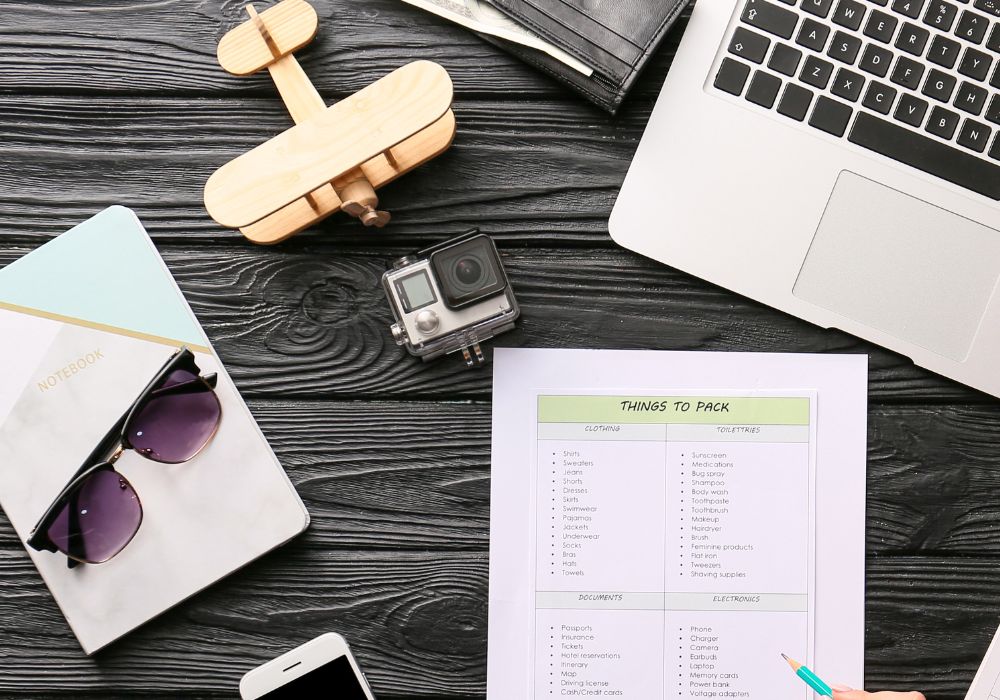 There are three main categories to focus on – tech gear, clothing, and bags – and I've broken this guide down accordingly. I've also included a section on key software and subscriptions that I recommend including in your virtual digital nomad gear list.
See also: How to Become a Digital Nomad in 2023
Digital Nomad Tech Gear
Let's start with the essential tech gear that will ensure you're connected and productive on the road. You might need to adapt this list a little, depending on the type of work that you do. But this should be a good starting point:
1. Laptop (An Essential Item on Every Digital Nomad Packing List)
Probably the most important piece of digital nomad equipment, a reliable laptop is likely to be your main means of earning money on the road. Therefore, it's important to invest in a good one.
I love my 13-inch MacBook Pro. It's fast, reliable, powerful, and has a great screen that's ideal for editing photos (which, as a travel blogger, is something I do on a regular basis).
The main downside to these computers is the cost. There are definitely cheaper options out there, but personally, I think MacBook Pros are fantastic pieces of kit and are totally worth their value. Click here to buy one now.
2. Universal Power Adapter
A universal power adapter is one of the most essential digital nomad accessories and helps to ensure that you can connect to power and charge your devices wherever you are in the world.
Rather than buying individual adapters for each region that you travel to, it's much easier to get one that works everywhere.
These come in all sorts of shapes and sizes, but you should opt for one that works with as many different types of power outlets as possible; (European, North American, Australian, and UK are the 4 main types). This one is particularly good.
It's fairly cheap, compact, and lightweight. I like that it has 4 USB-A ports and 1 USB-C port, plus a multi-input socket that accepts most plug types, so you can charge up to 6 devices at once. Click here to buy one now.
3. Power Bank
A portable power bank is a super useful addition to every digital nomad backpack list. It's a small investment but can save you a lot of time, hassle, and stress.
Whether you're on a long flight or bus journey, exploring a new city, or working from a cafe, having your phone run out of battery can be extremely frustrating. And it always seems to happen at the worst possible time!
Having a power bank with you helps ensure that your phone doesn't run out of battery on the road. This is especially important in places with limited charging points, or even no access to electricity (say, halfway up a mountain for example!).
There are loads of different types to choose from. But, essentially, they're just portable, rechargeable batteries that can be used to charge any device with a USB charger while on the move. For more information, click here.
4. Foldable Laptop Stand
Many people tend to hunch over their laptops, which can cause troublesome neck and back pain. A laptop stand raises your screen to eye level; improving your posture and reducing the likelihood of discomfort. This is especially important if you spend long periods of time working on your computer.
You can use a laptop stand to create a comfortable and productive workspace in your apartment, hotel room, coworking space, or anywhere else you fancy working from.
And because it's important to focus on portability when choosing the best digital nomad gear, I recommend you buy one that's lightweight and foldable.
I use mine whenever I'm working for more than an hour or so in one place, and the benefits are great. Click here for more info.
5. Keyboard and Mouse
With your laptop up on its portable stand, you'll also need an external keyboard and mouse to help avoid repetitive strain injuries.
These simple, yet essential, pieces of kit allow you to position your shoulders, arms, and hands in a more comfortable, ergonomic position, allowing you to work for longer periods without experiencing discomfort.
A keyboard-mouse-laptop stand combination essentially gives you the same setup as a desktop computer, with your screen at eye level. Only it's portable – so much better!
Apple users: check out the sleek Magic Keyboard and Mouse. Otherwise (and/or if you'd rather save a bit of money), this combination works equally well. Click here to learn more.
6. Portable Wi-Fi Router
Given that most remote workers require a stable and secure internet connection, a portable Wi-Fi router is likely to be a great addition to your digital nomad packing list.
Portable routers can provide a safer, more reliable connection than public Wi-Fi, which is often slow and insecure. These work by creating a private Wi-Fi network that you can connect your devices to.
A big advantage of portable routers is that they allow you to connect multiple devices at the same time. Tethering from your phone, on the other hand, usually only allows you to connect one device at a time.
There are a few different types of portable routers available. Some come with an inbuilt SIM card, whereas others require you to buy a physical local SIM card and insert it. Some models even come with built-in power banks, making them even more convenient.
Either way, be sure to choose one that is lightweight, compact, and has a long battery life (or can be plugged into the mains). Click here to learn more about portable WiFi routers.
7. Noise-Canceling Headphones
Whether you're working in a busy coffee shop or on a noisy airplane, noise-canceling headphones can help you focus on your work without being distracted by ambient, background noise.
Personally, I can't work if there's too much noise around, so, noise-canceling headphones are one of my most essential digital nomad products.
These come in both over-ear and in-ear styles. Over-ear headphones tend to offer better noise cancellation, while in-ear headphones are smaller and more portable. I prefer the over-ear variation and currently own a pair of Bose QuietComfort 45s – they're brilliant.
Of course, there are many other brands out there, but Bose is particularly known for its excellent noise-cancelation technology, as well as top-quality audio and comfort. Click here to learn more.
8. Portable External Hard Drive
Whether you're a digital nomad or not, it's vital to back up your files and documents, regularly!
A couple of months ago, I was happily working away from my favorite coworking space in Sri Lanka, and, all of a sudden, my laptop died.
Long story short, the extreme heat and humidity killed something inside the computer, and the entire thing was wiped during the repair process. It was a complete nightmare and ruined a whole week…
However, as long as you have a hard drive containing a recent backup of your computer, you shouldn't lose too many files. And with Apple machines, you can restore everything to where it was at the date of the last Time Machine backup you did.
I highly recommend the LaCie Rugged Mini 2TB. It's super sturdy and durable, and mine has served me well for several years. Click here to learn more.
(I also recommend buying two of these, storing a backup of your computer on each one, and leaving one with someone you trust back home. That way you're double-backed up, just in case you lose the backup you're traveling with.)
9. Kindle
Kindles are great pieces of kit. They mean you can effectively bring as many books as you want with you while traveling, without taking up any more than a slither of space in your bag.
I particularly like that they have an adjustable backlight and an anti-glare screen, so you can read them in any lighting conditions; whether you're on a sunny beach or tucked up in bed. Kindles also have an excellent battery life, so you can read for hours without needing to recharge.
There's nothing quite like the feeling of reading from a "real" book. However, Kindles are so convenient and portable, I think they deserve to be included on this list of digital nomad must-haves. Click here to buy one.
10. Portable Bluetooth Speaker
A portable Bluetooth speaker isn't strictly essential, but I think it makes a great addition to your digital nomad packing list.
In my experience, one of the toughest things about being a digital nomad is not having a permanent home. To help with this, and to make my temporary apartment (or wherever I'm staying) feel more homely, I like to fill the space with some of my favorite tunes from time to time.
It's also great for hosting people, having parties, picnics, days out on the beach, whatever. Having good sound – and not needing to wear headphones all the time – is definitely worth sacrificing a little bit of backpack space for.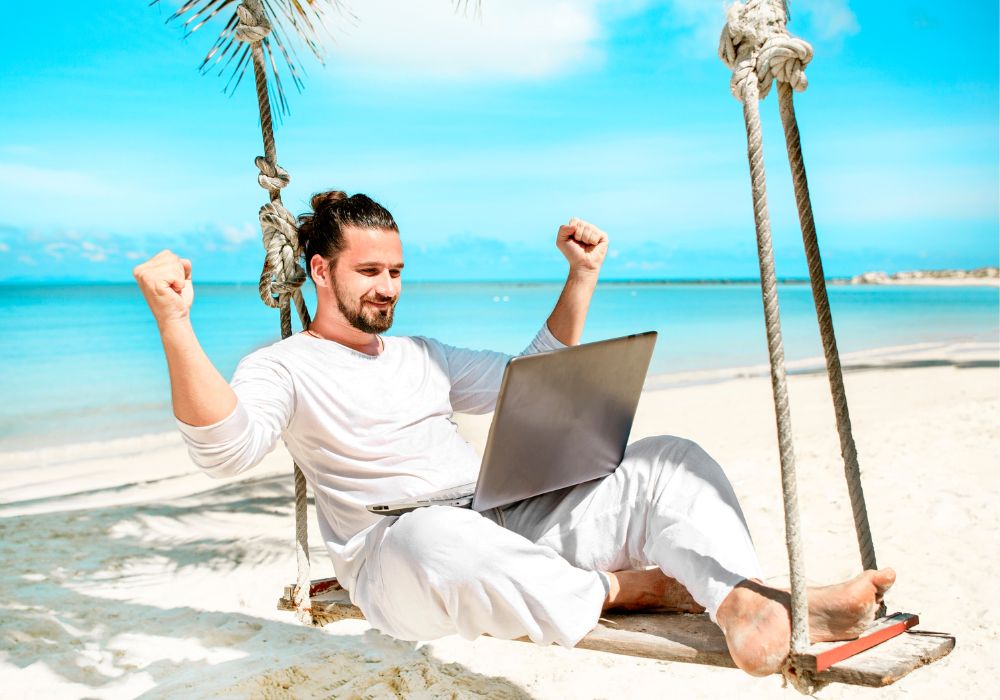 When choosing a portable Bluetooth speaker, look for one that's compact, durable, and has good sound quality. I've got the Bang & Olufsen Beosound A1 and I love it. Given its size and portability, the audio quality is really superb. Click here to purchase yours.
11. Smartphone
Virtually everyone has a smartphone these days and, while a big part of me hates the obsession with phones in our present culture, they are undeniably useful, particularly for remote workers.
A smartphone allows you to stay connected with clients, friends, and family while on the move. It also provides access to a variety of useful apps, such as Google Maps (possibly the most useful of them all), translation tools, podcasts, calendars, and other productivity apps.
I have an iPhone 12 Pro and it does everything I need it to and more. The camera is so good that, on many trips, I don't bother taking my bulky DSLR camera with me anymore. And there are even better iPhones available today.
Whatever phone you prefer, make sure it's unlocked, (i.e. not tied to a mobile network), so that you can buy and use local SIM cards/eSIMs when traveling abroad. More on these below! Click here for more info.
Clothing for Digital Nomads
As a long-term traveler, it's crucial to pack clothing that is not only lightweight and compact but also versatile enough to suit various situations. After all, you're only able to take a limited amount of items with you, so you'll want to get the most use out of everything you bring along.
Clothes and Shoes for Men
Clothes and Shoes for Women
The list for women is largely the same as that for men. However, as well as the above, you might want to further consider packing the following items.
Maxi Dress and/or Jumpsuit: Pack a versatile maxi dress or jumpsuit that can be dressed up or down; ideal for both casual outings and more formal occasions.
Comfortable Leggings: Bring a pair of comfortable leggings that can be worn for workouts, lounging, or as a base layer.
Shawl or Sarong: Being prepared with a shawl or sarong can be useful especially if you're traveling to a more culturally conservative country. They can also conveniently double as a blanket or towel.
Accessories and Miscellaneous
Software and Subscriptions
As well as getting the right physical gear and equipment, you should also consider at least some of the following software and subscriptions:
1. VPN
Having a reliable Virtual Private Network (VPN) service is essential for securing your internet connection and protecting your privacy while accessing public Wi-Fi networks.
VPNs encrypt the data you send and receive online, and help protect you from cyber fraud and the theft of your personal information.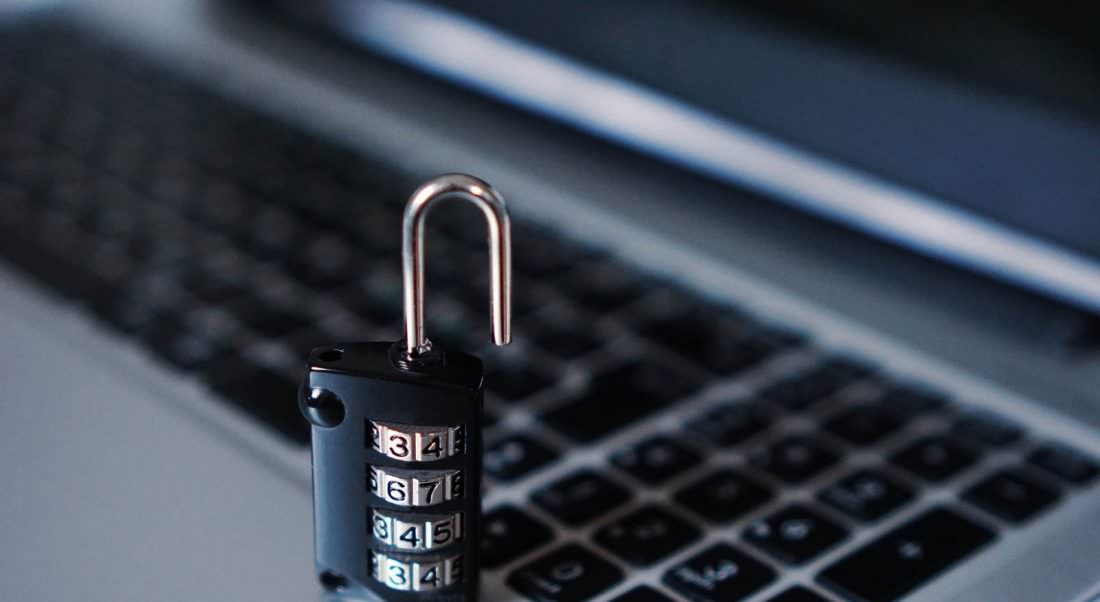 It's important to always use one whenever you use public Wi-Fi or any other internet connections that aren't secure to prevent the risk of becoming the victim of cybercrime.
I use NordVPN and leave it running on both my phone and my laptop at all times; whether I'm traveling or not. It doesn't noticeably slow either device down, and the company has a great reputation and glowing reviews. For more information, click here.
2. Local eSIM
If you're planning to spend an extended period of time in one country, it's often worth getting a local eSIM so that you can access the internet on your phone without having to pay international roaming fees (which are often very expensive).
The exact costs of an eSIM vary from country to country and also depend on how much data you require. However, they're usually fairly cheap in most places. For example, in Sri Lanka, you can get 50 GB of data for less than $10 USD per month.
It's important to check that your phone is eSIM compatible, although most modern models tend to be. You must also check that you're handset is "unlocked"; meaning that it's not tied to one particular network.
You can usually confirm the device's settings menu for information about whether it's locked or unlocked. If it's locked, call your network provider and ask them to unlock it before trying to use any other SIM (including eSIMs).
3. Remote Work Platforms
Remote work platforms like FlexJobs offer digital nomads a curated selection of remote work opportunities across various industries. With advanced search filters, you can narrow down your search based on specific preferences such as job type, schedule, and skill requirements.
These platforms provide a convenient way to connect with employers, with job listings from reputable companies that have been vetted to ensure legitimacy.
Additionally, they sometimes offer additional resources like career tips, resume reviews, and skill development resources to support you on your remote working journey.
4. House-Sitting Memberships
House-sitting memberships such as TrustedHousesitters provide a unique opportunity for you to stay in people's homes for free in exchange for taking care of their properties and/or pets.
These platforms connect house sitters with a global network of homeowners seeking reliable and trustworthy individuals to look after their homes, (and often furry friends), while they're away.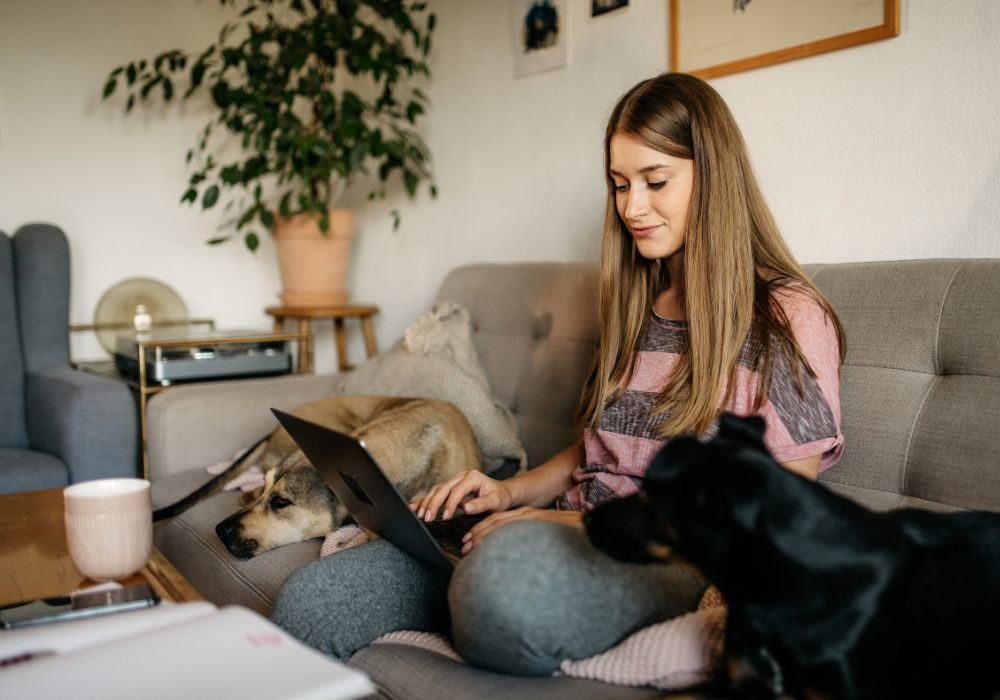 I recently stayed in an enormous house in northwestern Sri Lanka and all it cost me was a daily dog walk on a pristine Indian Ocean beach. It was pretty tough, but I survived…
5. Cloud Storage
Cloud storage services like Dropbox, Google Drive, and Microsoft OneDrive are secure and convenient ways to store and access your files, documents, photos, and other important data from anywhere in the world.
Cloud storage ensures that your files are protected against loss or damage and allows you to share things with colleagues, clients, friends, and family simply and easily.
Additionally, many cloud storage providers offer collaboration features, allowing multiple users to work on shared files simultaneously, which is super useful depending on the field of your work.
6. Language Learning Apps
If you're planning to base yourself in a non-English speaking country, language learning apps like Rosetta Stone, Duolingo, and Babbel can be great ways to develop essential language skills; allowing you to effectively interact with locals and immerse yourself in the local culture.
The practicality and convenience of language learning apps make them ideal for digital nomads. You can learn at your own pace and access lessons on your smartphone or tablet, whenever and wherever you choose.
The bite-sized lessons, interactive exercises, and progress-tracking features help keep you motivated and accountable in your language learning journey.
I used Rosetta Stone to help me learn a little Spanish before I moved to Mexico and it was so useful. You're unlikely to become fluent in any language without a huge amount of real-life practice. However, these apps are excellent for gaining the essentials you need to get started.
Digital Nomad Bag Options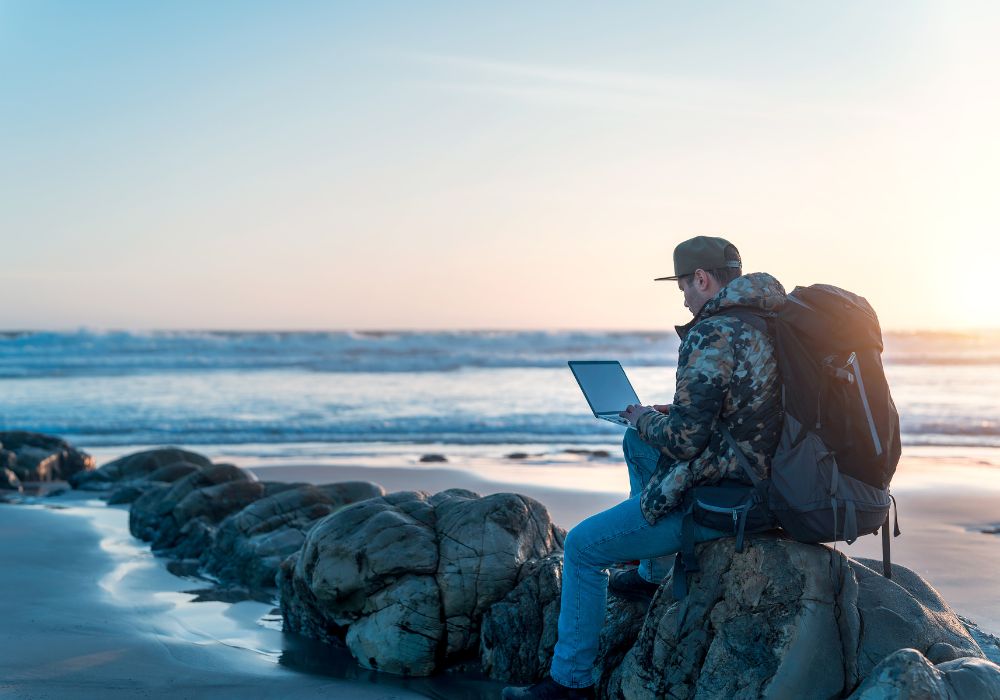 It's important to choose the right bag for carrying all of your gear and belongings. A good bag should be large enough to fit everything you need inside, comfortable enough to carry a reasonable distance, and make organizing (and accessing) your belongings straightforward.
Here are three top-notch options. Each one has its own advantages and drawbacks, but ultimately the right one for you is largely a matter of preference:
1. Osprey Escapist 25
This is my favorite go-to bag and comfortably holds everything I need for work with plenty of space left over. I also use it as a daypack whenever I go hiking, and it's an ideal size for carry-on luggage on a plane, which makes it a truly multi-purpose winner.
I've owned my Osprey Escapist for almost 10 years and it's still going strong. I even previously used it for commuting to my boring office job in London many moons ago.
I really like how easy it is to keep everything organized inside. It's got 7 different zippered pockets and compartments, with various sub-compartments and organizers built in.
Add to this three large mesh pouches (a large one at the front and one on each side) and you really can carry a lot of stuff with you in this bag. It's also extremely comfortable, with lightweight padded straps and a mesh back, meaning you can haul around relatively heavy loads with ease.
And, to top it off, it even has a stashable waterproof rain cover that tucks away into its own little zippered pocket underneath the pack. This bag is really great. Click here to buy one.
2. Samsonite Freeform Hardside
For those that would prefer a hard-shell suitcase with wheels, the Samsonite Freeform is hard to beat. At 21 inches long, it's small enough to qualify as a carry-on but big enough to fit all of your important work gear, plus a few changes of clothes, or whatever else you might need.
I've also got one of these cases and it's extremely handy. One of the obvious benefits is its hard shell, meaning that it offers a lot more protection than a soft-shell option. It's lockable and works equally well as a checked-in piece of luggage.
Samsonite suitcases are built to last. The zippers are high quality and the wheels have a solid build, despite it being remarkably lightweight. Click here for more information.
3. NOMATIC Navigator Premium Sling
The NOMATIC Navigator is a versatile sling-style bag. Personally, I prefer "regular" 2-strap backpacks, as I find them more comfortable, but some people really love slings.
A big advantage of this bag (as well as other sling bags) is that it packs down much smaller than the other two options above. This makes it easy to stash away when you're not using it. The downside, of course, is that you can't fit as much inside.
One of the standout features of the NOMATIC Navigator is its accessibility. The bag offers multiple pockets and a tablet storage sleeve, allowing you to keep your belongings secure, organized, and easily accessible. It's also got an RFID-safe pocket. Click here to buy one.
Packing Tips for Digital Nomads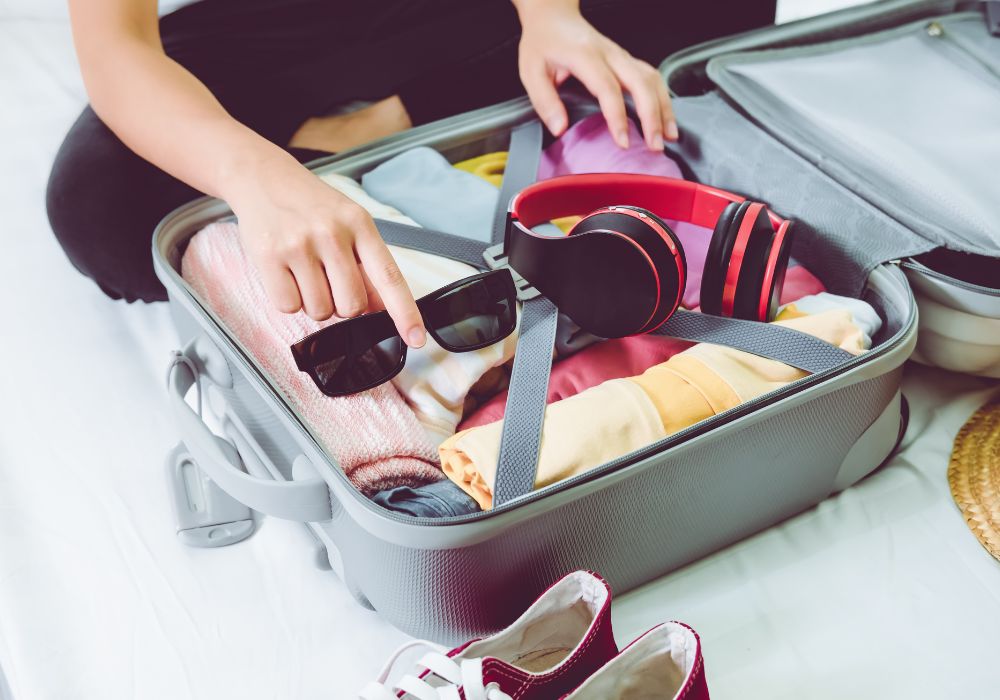 Here are some general tips and things to bear in mind when choosing essential digital nomad gear to take with you:
Go small and lightweight: Pick items that are small and lightweight wherever possible. It'll make moving around so much easier and more comfortable.
Maintain separation: I like to have a separate bag that contains all of the gear I need for work. That way, everything is in one place and you don't need to pack a bag every time you go out to a coworking space or wherever you opt to work from.
Portability: Ideally, everything you need for work should fit into one medium-sized backpack and be comfortable to carry. Everything else should fit into either a large suitcase or a large backpack so that you can carry everything from A to B whenever you need to.
Versatility: Wherever possible, choose items with multiple uses to help save space in your suitcase or backpack. For example, a good pair of hiking trousers can also be great for protection against mosquitos in the evenings.
Packing cubes are awesome: They're a great way to keep all of your stuff organized and allow you to easily access individual items. Gone are the days of needing to rummage through your backpack to find that one clean pair of socks you think might be lurking somewhere.
In Closing
Equipping yourself with the right gear and information before you start your remote working adventure is essential. Being as prepared as possible will make life on the road much easier and far more enjoyable.
I hope you've found this guide to the best gear for digital nomads useful. With these practical tips and suggestions in mind, it's time for you to start building your own tailored location-independent packing list. Good luck!