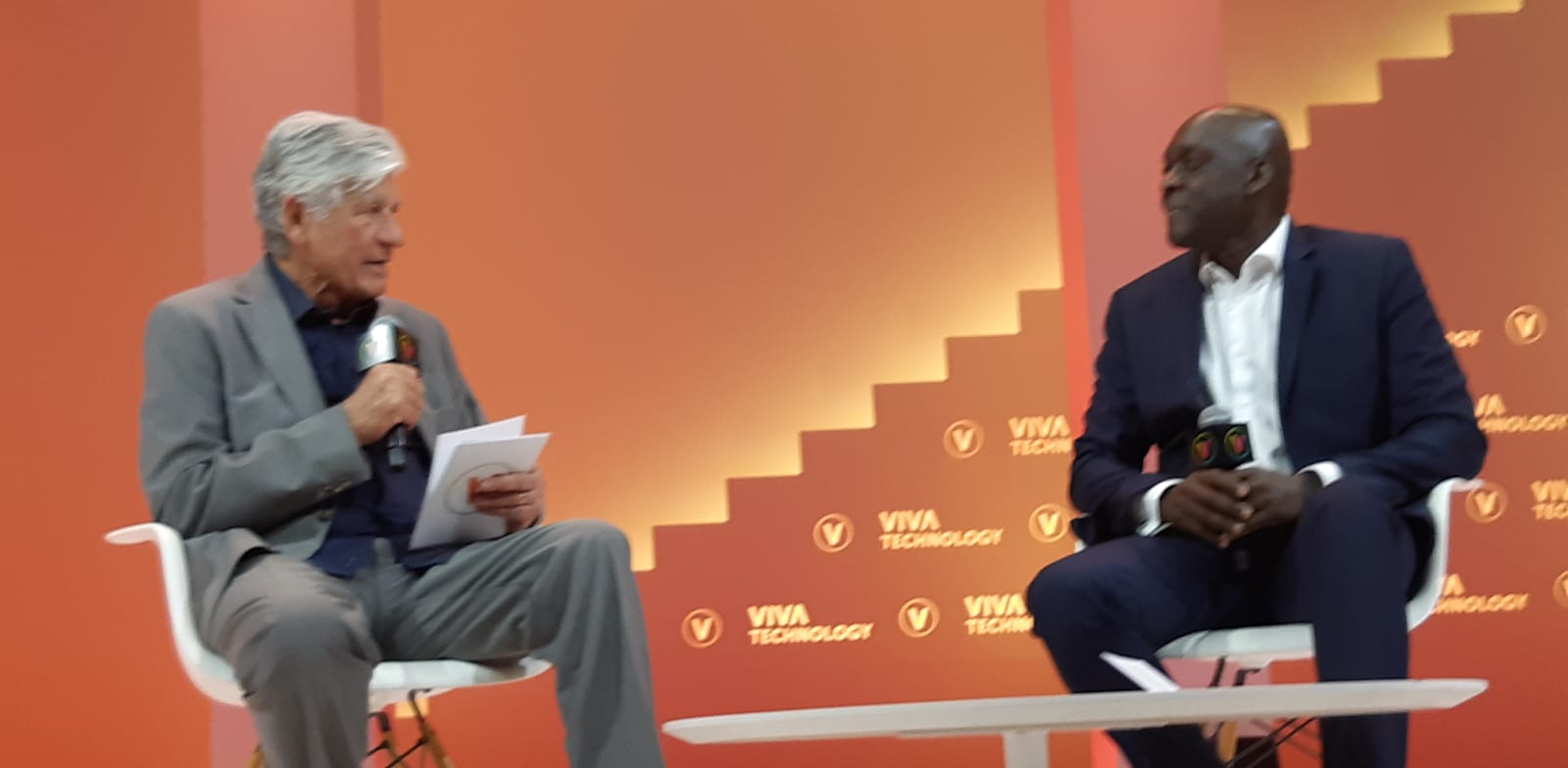 With some 2,500 startups on individual stands and more than 7,000 others from around the world hosted by hundreds of large, in some cases multinational, groups, plus dozens of top-shelf, at times controversial, speakers, the annual, four-day Vivatech show in Paris is making the best of the "business meets innovation" concept this year, beginning on June 14th.
However, even as the development of AI (artificial intelligence) dominates the technology world and the press, and has ordinary people everywhere either excited or very worried, French business leader and Viva Technology founder Maurice Lévy has not forgotten the "tech for good" origins of the show.
Yes, M. Levy, the chairman of the board and former CEO of Publicis Groupe, the third largest advertising group in the world, will be face to face on stage One at the Porte de Versailles Convention Center with the likes of Elon Musk of Tesla and Twitter fame, Marc Benioff, founder and CEO of Salesforce, and Dan Schulman, CEO of Paypal.
With powerful banker and economist from Nigeria, Tony Elumelu, whose foundation has reportedly empowered more than 18,000 African entrepreneurs, he will present the Africa Tech Awards to deserving startups from the continent, a Vivatech event "of critical importance every year," he tells "Globes".
And on the menu this year, a live, on-site space dedicated to sports and digital innovation, complete with the latest equipment and work-out possibilities, linked to the 2024 Olympic Games in Paris.
But Lévy is categorical about "tech for good." Regardless of the current obsession with AI, "we remain totally engaged in clean-tech, renewable energy tech, climate change, the reduction of carbon emissions, the use of plastic, and education in all of these fields," he stresses to "Globes". "Modern technology is succeeding in damaging our planet, but it and AI must be utilized to find solutions."
At least ten energy and climate technology leaders are scheduled to speak. They include Ann Mettler, VP Europe of Breakthrough Energy, to accelerate clean-tech innovation in the pursuit of climate neutrality and net-zero emissions; Ninna Granucci, CEO of Green Spot Technologies, challenging the food waste paradigm, turning peels, seeds and pulp into powerful nutrients; and Sophie Dembinski of Ecosia, a leading reforestation organization.
Now, what about AI? "This is a core discussion at Vivatech," Lévy says. "It could be the best thing in the world, or the worst. AI can reduce workloads and make life easier for blue collar workers. It can help science, in research, in medicine. It has so many good uses."
He pauses, then adds, "But it can become Frankenstein as well. It can put people out of jobs, destroying those jobs in the name of corporate profitability. And people may stop learning, causing educational and cultural problems. We can have generations of people who know less than previous generations.
"Europe is far behind the Americans and the Chinese on AI development," he explains. "Europeans are focusing on regulations, which are necessary, yes, but they must invest, as well."
What about the Israelis at Vivatech? With help from the Israel-France Chamber of Commerce, Yossi Dan, co-founder and chief innovation officer of Challengy Labs, is leading a delegation of more than twenty startups and some eight investors. "This is exceptional," he tells "Globes". "It is the largest delegation ever."
On site, France-Israel Chamber of Commerce head Michel Kaufmann and executive assistant Odélia Bohbot-Nataf will be leading the delegation through the huge layout of stands and pavilions at the show – a challenge in itself.
Participants include Aleph Farms, designing new ways to grow animal-based, "wholly cow" products and collagen-based products, ESGgo, a sustainability operating platform, and ITC.city, an AI-driven traffic management platform.
What about the political situation in Israel? As chronicled in "Globes", tech leaders are demonstrating with hundreds of thousands of other people on the streets against the government and its judicial reform package. Lévy is straight up on this. "Postponing this law on judicial reform is perhaps a way for Prime Minister Netanyahu to get rid of it altogether," he says. "This is simply my opinion and I could be wrong. But I hope this pause is permanent."
One more thing: Nadav Zafrir, co-founder of venture capital firm Team8 and a former commander of IDF signals intelligence unit 8200, who is a regular speaker at the annual Paris Cybersecurity Forum organized by Dominique Bourra with the France-Israel Chamber, will make the show. "Yossi Vardi and I convinced him to come," Lévy told me.
Published by Globes, Israel business news – en.globes.co.il – on June 12, 2023.
© Copyright of Globes Publisher Itonut (1983) Ltd., 2023.