To honor Juneteenth, a holiday celebrating the emancipation of the enslaved in the U.S., Chef Tristen Epps will host a Juneteenth Jubilee at Ocean Social at Eden Roc Miami Beach. Epps will be joined by two of Miami's pre-eminent chefs for a special evening inspired by the holiday. At 6 p.m. on Monday, June 19, the trio of chefs will prepare a 10-course menu featuring two dishes in each course that tell the story of Juneteenth via a historic culinary experience. The menu will be presented in partnership with Uncle Nearest Premium Whiskey, the award-winning Tennessee distillery founded 200 years ago by the world's first known African American distiller.
"We designed the menu by creating modern renditions of traditional dishes or flavors that were integral to African American cooking at the time of emancipation, and some that signified the new freedom and culture," Epps says. Red foods are common in Juneteenth celebrations; it signifies the blood spilled during enslavement and the endurance of African Americans and the passion that the celebration signifies where around and signified the new freedom and culture. We will be using pops of red in the food and cocktails. We're serving 10 different courses that will be presented in five courses, one dish showing reverence to the past, while the other is to show progression to the present and the future that was finally granted."
The menu created by the three chefs will be paired with curated Uncle Nearest cocktails. It will feature a combination of local produce and spices, fresh herbs and unique ingredients. The celebratory culinary experience will begin with duck ham and cornbread with robiola, pickled green apple, sorrel, celery and marigold served alongside cornbread spoonbread with chorizo and pistachio, followed by grilled lamb collar with fermented beetroot, garlic yogurt, charred pickles, gooseberry BBQ sauce and herbs and grilled pork ribs served with chow and Carolina gold BBQ sauce. Guests will then enjoy a fish fry featuring crispy skate wing, green tomato, grapes and ramp piccalilli, and red rice made with blue crab, Old Bay and puffed wild rice, followed by Tristen's Roasted Whole Oxtail and Wagyu Flatiron served with gigante beans, burnt cabbage and black garlic. The evening will conclude on a sweet note with an indulgent good ol' red velvet cake and a red velvet ice cream bar with brown butter ice cream, spiced pecan, yogurt-mascarpone mousse and red berry gel.
The Juneteenth Jubilee is a 21+ event priced at $180 per person, excluding tax and 20% gratuity. Reservations are required to attend; tickets can be purchased via EventBrite.
Ocean Social is located at the Eden Roc Miami Beach at 4525 Collins Ave.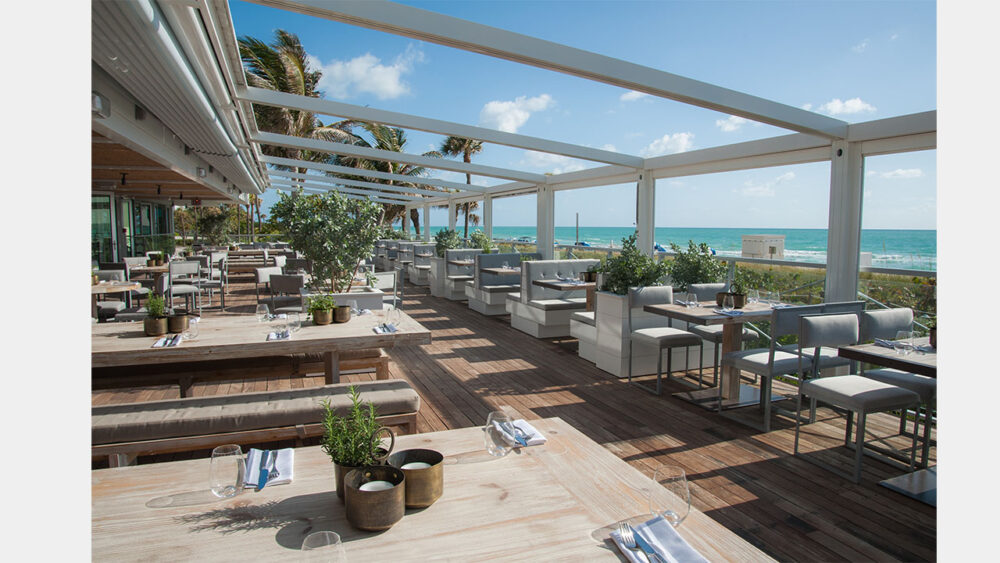 Photos courtesy of Ocean Social by Chef Tristen Epps