St Lucia boasts outstanding weather, creole cuisine and tropical surroundings. Find time for yourself at Stolentime by Rendezvous St Lucia for a Caribbean Island getaway of your dreams 
In a fast-paced modern world, finding time for yourself and escaping the daily hustle and bustle is a must.
St Lucia, a Caribbean island where time seems to stand still, is the perfect destination for anyone looking to switch off and reset.
Famous for its spectacular Piton mountains, white sandy beaches, outstanding weather and wholesome community, St Lucia is a destination for the bucket list.
Healthista was invited to unwind and spend time away in St Lucia for some 'StolenTime' at Rendezvous. Designed to offer its visitors the opportunity to sit back, relax and spend some quality time with yourself, friends or family.
Last year, Rendezvous St. Lucia relaunched as StolenTime by Rendezvous – an all-inclusive boutique resort, and sister property to BodyHoliday. For decades, the resort was an all-inclusive couples-only property, but now the doors are open to all adults looking for some time away.
the resort has been praised for its personalised approach to service and care
Inspiring guests to find 'Stolen Moments' for themselves, the resort offers various activities, from morning walks and massages, yoga, personal training and water sports, all of which are included in the rate.
Over the years, the resort has been praised for its personalised approach to service and care, with pre-arrival greetings from the concierge team to welcoming team members who make guests feel wholly at home within the resort.
Having been to Barbados, I knew just how beguiling a visit to the Caribbean can be, and to say I was excited was an understatement.
READ MORE: Too Hot To Handle star Sophie Stonehouse shares her top dating tips since finding love after the hit Netflix show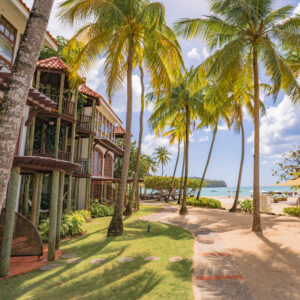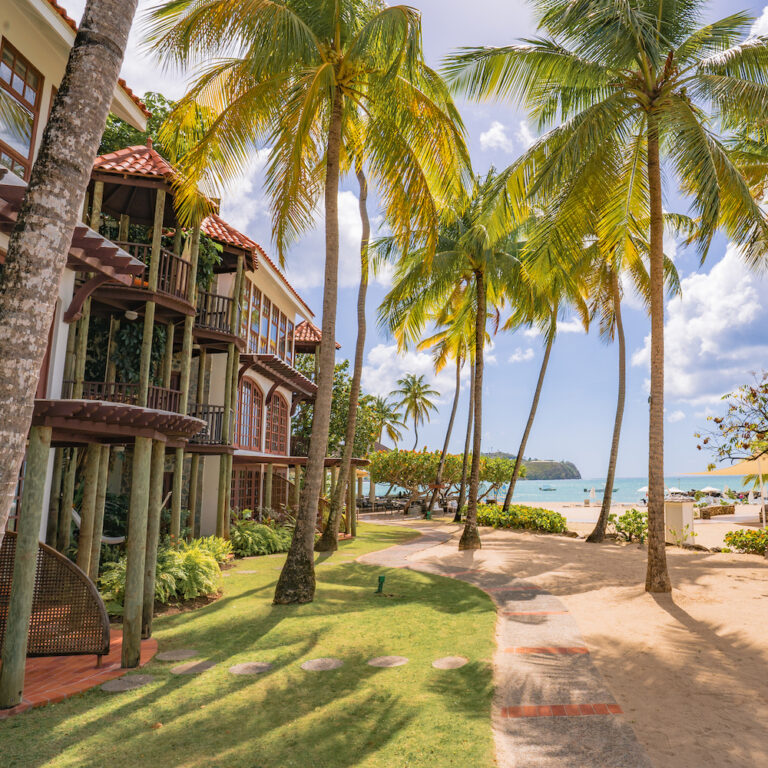 Breathtaking views
Rendezvous is located north of the island, close to its capital – Castries – famous for its craft markets and surrounded by luscious green hillsides.
Set on two miles of beach, on the edge of the Caribbean Sea, StolenTime by Rendezvous is the only hotel on Malabar Beach, enhancing the feeling of having your own private space.
The 100-room hotel offers a variety of room types including, spacious poolside suites, beach front or tropical garden view verandah suites, or my favourite – a charming beachfront cottage – slightly more old-fashioned in style compared to the modern luxurious poolside suites.
I would wake up, open the curtains and there was the beach, a mere few meters away, with my own sun private sun loungers, and fresh towels available at all times. You literally couldn't get any closer to the beach, talk about direct access to the Caribbean Sea beyond.
I would wake up, open the curtains and there was the beach, a mere few meters away
Bathrooms are generously stocked with REN toiletries which complement the luxurious feel each room has to offer. Not only that, but rooms also provide you with slippers and that all important bath robe to relax in after showering off the day of sunbathing.
The whole resort, is surrounded by breathtaking views wherever you are, whether you're walking through the tropical gardens, having a cocktail on the terrace with views of the sea, or simply walking along the beach, you are spoilt for choice where views are concerned.
Even though the resort boasts a collection of two swimming pools, a lazy river, a spa, three restaurants, a gym and 100 rooms – the resort never felt overcrowded or overwhelming. In fact, I felt I was able to find privacy wherever I was in the resort.
READ MORE: Manage your mental health in 7 easy steps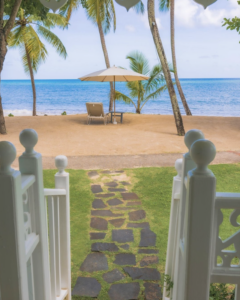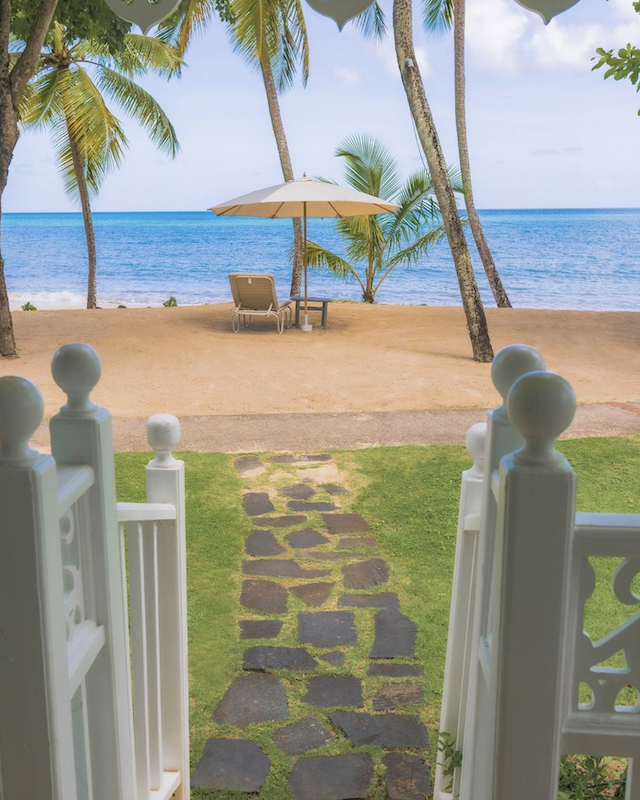 Creole cuisine
As I mentioned, Rendezvous consists of three restaurants from relaxed eating to first-class dining. There's the Malabar Beach Club where you can experience beach side dining with your toes in the sand, the Terrace Restaurant that offers a relaxed dining experience overlooking the Caribbean Sea and The Trysting Place Restaurant for a more formal dining experience, as well as special private dining, available on request for a more romantic setting.
the Malabar Beach Club where you can experience beach side dining with your toes in the sand
The food was exceptional. Fresh produce was available morning, noon and night, from creole inspired dishes, to diverse world-favourite options. Fresh juices, coffee, desserts, local meats, homemade bread and eggs cooked however you like, I wanted for nothing when it came to indulging in my favourite food and drink.
And of course there's the Champagne bar, where you can sit back and relax in the air conditioned bliss, while you enjoy your favourite beverage.
READ MORE: Melasma, freckles & SPF – 6 ways to care for your skin in time for Summer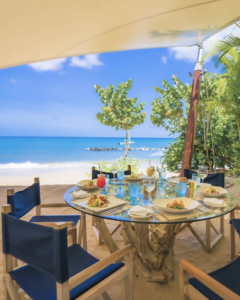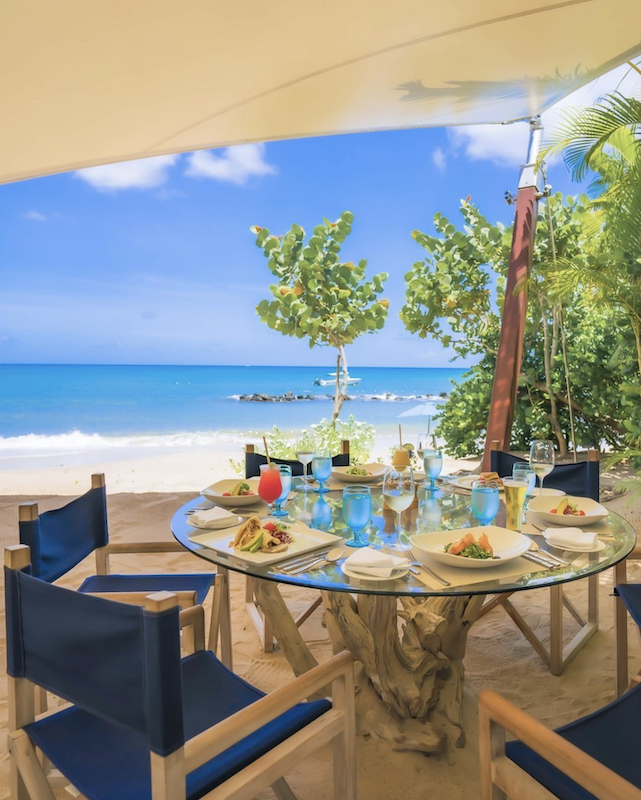 Relax the body and the mind
The focus at StolenTime is wellness and relaxation for body and the mind. Whether you're looking to keep yourself busy with water-sports, or you're looking to tap into mindful Yoga on the beach, Rendezvous will help you to take the time you need to unwind and reconnect with yourself, friends and family.
There is also a beautiful spa, which boasts a cosmopolitan spa menu that merges techniques and beliefs from different countries and cultures with Natural Skincare products to rejuvenate and calm the body and mind – including the use of outstanding established products such as Elemis and Essie.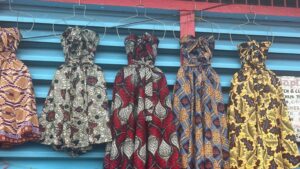 Places to see
If you're looking for some time away from the hotel, I highly recommend the guided walk to Castries market. A selection of fresh fruit, vegetables, spices handmade crafts are all available to see or buy from the locals that gather at the Castries market.
Just a 30-minute drive north, you're able to visit Pigeon Island national park – known for its history of crumbling ruins and of course more breathtaking panoramic views of the Caribbean Sea.
Rates at StolenTime  by Rendezvous St Lucia start from £385pp per night on an all-inclusive basis including all beverages, including premium-brand alcohol and wine by the bottle at dinner, land and water sports are also included as is nightly entertainment.
Like this article? Sign up to our newsletter to get more articles like this delivered straight to your inbox.