NEW DELHI: Punjab sports minister
Gurmeet Singh
Meet Hayer on Friday has written to BCCI president Roger Binny and secretary Jay Shah, raising questions about the criteria used to exclude Mohali from the list of host cities for the upcoming ICC ODI World Cup, scheduled to commence on October 5 in Ahmedabad.
Hayer, in his letter, expressed concerns over the alleged political interference in the scheduling process and demanded clarity on the decision-making process.
Mohali, a renowned Indian venue, boasts an impressive cricketing history, having hosted two ODI World Cup semi-finals in 1996 (Australia vs. West Indies) and 2011 (India vs. Pakistan), along with numerous other significant ICC matches over the years. In his correspondence, Minister Hayer highlighted Punjab's outstanding sports infrastructure and pointed out the IS Bindra stadium's distinction as a host for high-profile matches, including two encounters during the 2016 World T20.Ever since the ICC and the BCCI announced the World Cup schedule, some opposition party leaders alleged that there has been political interference in scheduling, wondering why Ahmedabad is getting big-ticket matches over many other venues.
The Punjab Minister also made a mention of BCCI vice president Rajiv Shukla's statement in the media and said that Shukla had said that the PCA Mohali stadium "does not meet the criteria of the ICC to hold the match."
Hayer said he wanted to know what was the ICC criteria based on which Mohali was considered ineligible for the cricket world cup match.
"Apart from this, any change made in the norms at present should also be brought to light as the India -Australia International T20 match was played in September 2022. Besides, ODI World Cup matches including two Semi Finals were also played in the past," he wrote in his letter.
It should also be stated whether the ICC team visited the Mohali Stadium to inspect the standards, he asked.
"PCA Stadium Mohali is not only one of the top stadiums in India but also comes in the list of prominent stadiums in the world. Mohali is always the first choice of cricket fans. Mohali has an international airport and the city also has better infrastructure and adequate hotels for the teams to stay," he noted.
The minister further wrote that Punjab is renowned throughout the length and breadth of the globe for its age-old traditions of peerless bravery, unmatched hospitality and unwavering faith in secular ideals.
In the sporting arena too, Punjab has the distinction of being frontrunner and flag bearer of the nation.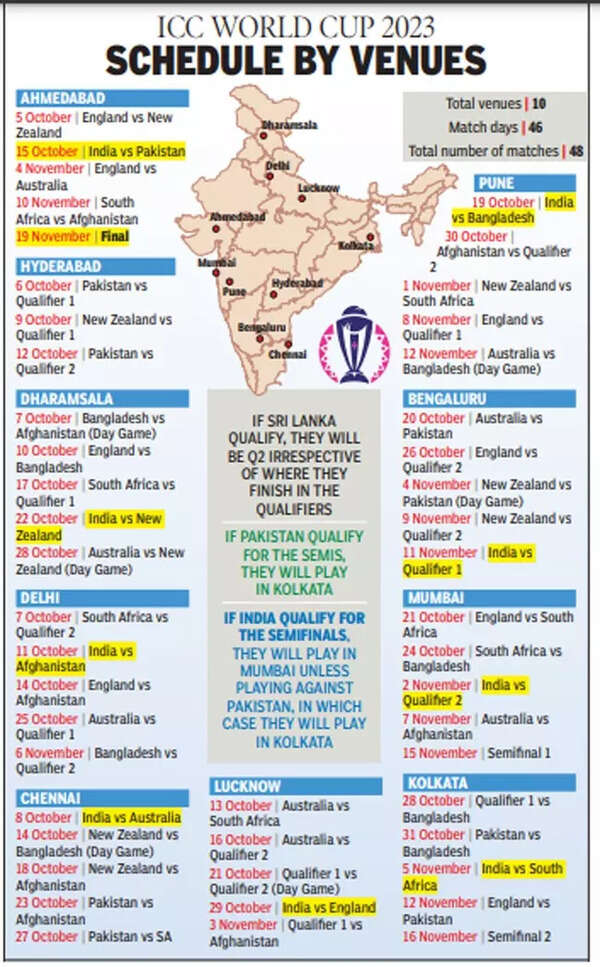 "When it comes to cricket, Punjab has the honour of producing legends like Lala Amarnath, Bishan Singh Bedi, Mohinder Amarnath, Yashpal Sharma, Madan Lal, Navjot Singh Sidhu, Harbhajan Singh, Yuvraj Singh, Reetinder Sodhi, Dinesh Mongla, Harvinder Singh, Vikram Rathore, Sharandeep Singh and the latest sensations Shubman Gill and Arshdeep Singh, the list is endless," he said.
"I have full confidence that justice would be done to Punjab in this matter of utmost urgency," he wrote.
(With inputs from PTI)