Planning a trip to Boracay? Keep on reading because in this BORACAY TRAVEL GUIDE, you'll find tips on where to stay, what tours to book, and how much to spend. We also included a sample itinerary, budget breakdown, usual prices, and more tips!
Any conversation about tourism in the Philippines feels incomplete without at least a mention of Boracay. After all, it is undoubtedly the country's most popular destination, topping various publications' lists of best islands not just in Asia but in the world.
This massive attention transformed what used to be a quiet village into a developed — or in the eyes of some, overdeveloped — tourist destination. Resorts of all shapes, sizes and classes have sprouted along its shining coast. Lanes of restaurants and shops mushroomed along its streets and alleys. And two airports have been built to serve the growing number of locals and visitors coming in and out of the island.
---
WHAT'S COVERED IN THIS GUIDE?
UNDERSTANDING BORACAY
It's easy to see why Boracay has been enchanting millions of tourists a year. Even for non-believers, its sheer natural beauty will smack you in the face as soon as you set foot in the island's biggest asset — White Beach. This sparkling picture-perfect strip must be what paradise is made of. We've been to countless other beaches around the world, but only few could rival Boracay's shimmering sand.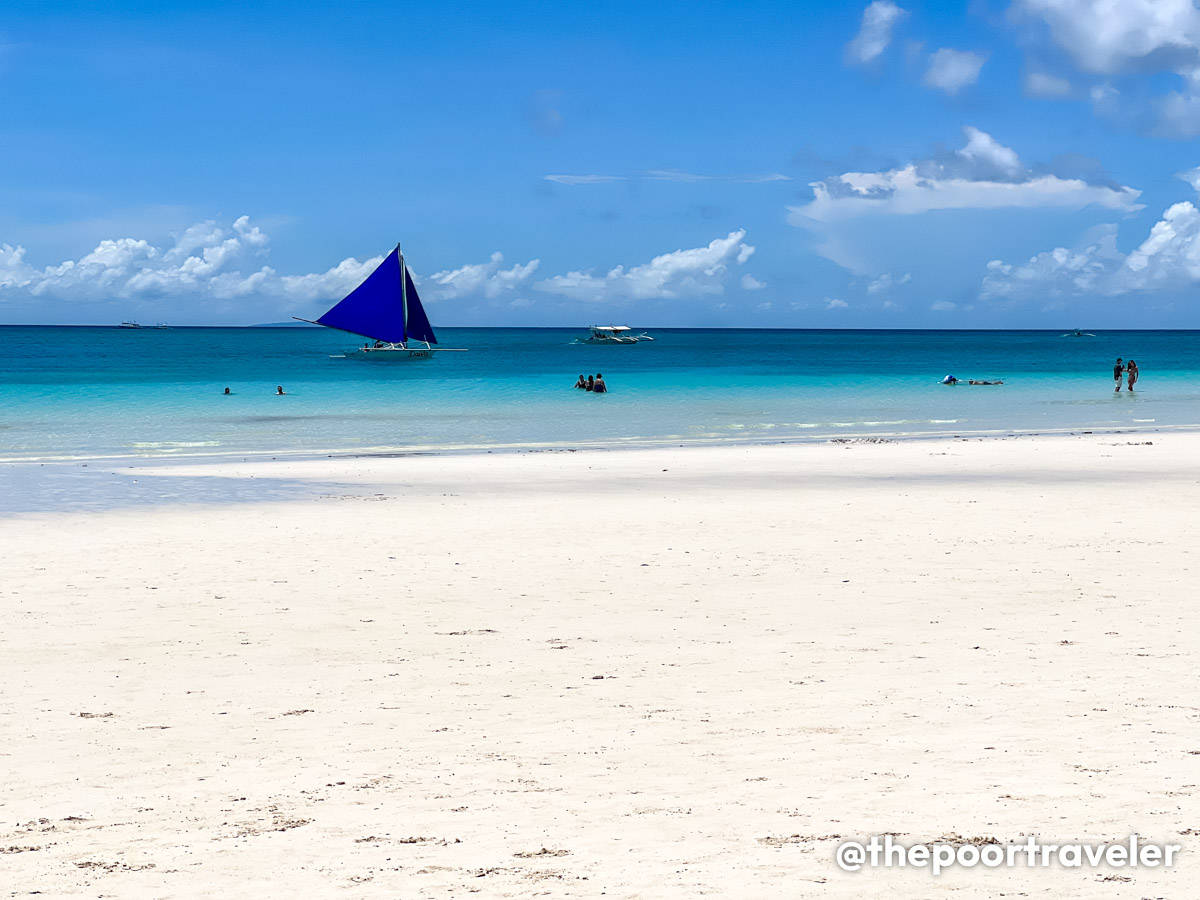 Boracay's development has also made it a destination for everyone. Whether you're a budget backpacker or a luxury traveler, young or old, solo or on a honeymoon, with friends or with family, you'll find something to fall in love with here. Plus, most conveniences that we enjoy in the city can also be found here.
Boracay Island is part of the Municipality of Malay, which is a part of the Province of Aklan, which is a part of Panay Island. Caticlan, the barangay on the mainland closest to Boracay, serves as the gateway to the island. Both the Caticlan Airport and the Caticlan Jetty Port are located here.
Here are more bits about Boracay.
Location: Boracay is within the municipality of Malay, province of Aklan in the Philippines. Mainland Aklan is part of Panay Island.
Languages: Aklanon and Ati are the native languages. But locals, especially those working in the tourism industry, can fluently speak and understand Tagalog and English.
Time Zone: UTC+8 (Philippine Standard Time). The Philippines is in the same time zone as Singapore and Beijing, one hour ahead of Thailand, and one hour behind Japan.
Currency: Philippine peso (PHP, ₱). PHP100 is around USD 1.81, EUR 1.66, SGD 2.45 (as of July 2023).
Modes of payment: CASH, primarily. Some establishments accept credit cards, but most smaller stores and eateries accept only cash or GCash.
---
BORACAY TRAVEL REQUIREMENTS
Because Boracay is visited by millions of tourists, the local government is monitoring and regulating the entry of visitors. Here are the requirements that you'll need to prepare and present upon entry.
Tourist Arrival Form. To be accomplished upon arrival at the Caticlan Jetty Port. I also found this online form, but in my experience, even if you accomplish this, a physical form will still be filled out on site, which makes the online form pointless.
Valid ID. For Filipinos, any valid ID will do. For foreigners, passport.
Confirmed hotel or resort booking. For tourists, you can present confirmed booking or voucher with an accredited accommodation establishment. It can be a resort, hotel, hostel, guesthouse, or inn, as long as it's accredited.
To see the complete list, check out: LIST OF ACCREDITED BORACAY RESORTS AND HOTELS!
But given the sheer number of lodging options in Boracay, where is the best place to stay?
---
WHERE TO STAY IN BORACAY
When looking for a place to stay in Boracay, it is important to be familiar with its geography. Boracay is a bone-shaped island politically divided into three barangays (villages): Balabag, Manoc-Manoc, and Yapak. Manoc-Manoc is the southernmost barangay, where the jetties are located. You'll be encountering the names of these barangays when checking out accommodations online. But for tourism purposes, it'll be easier to split the island not by barangay but by beach.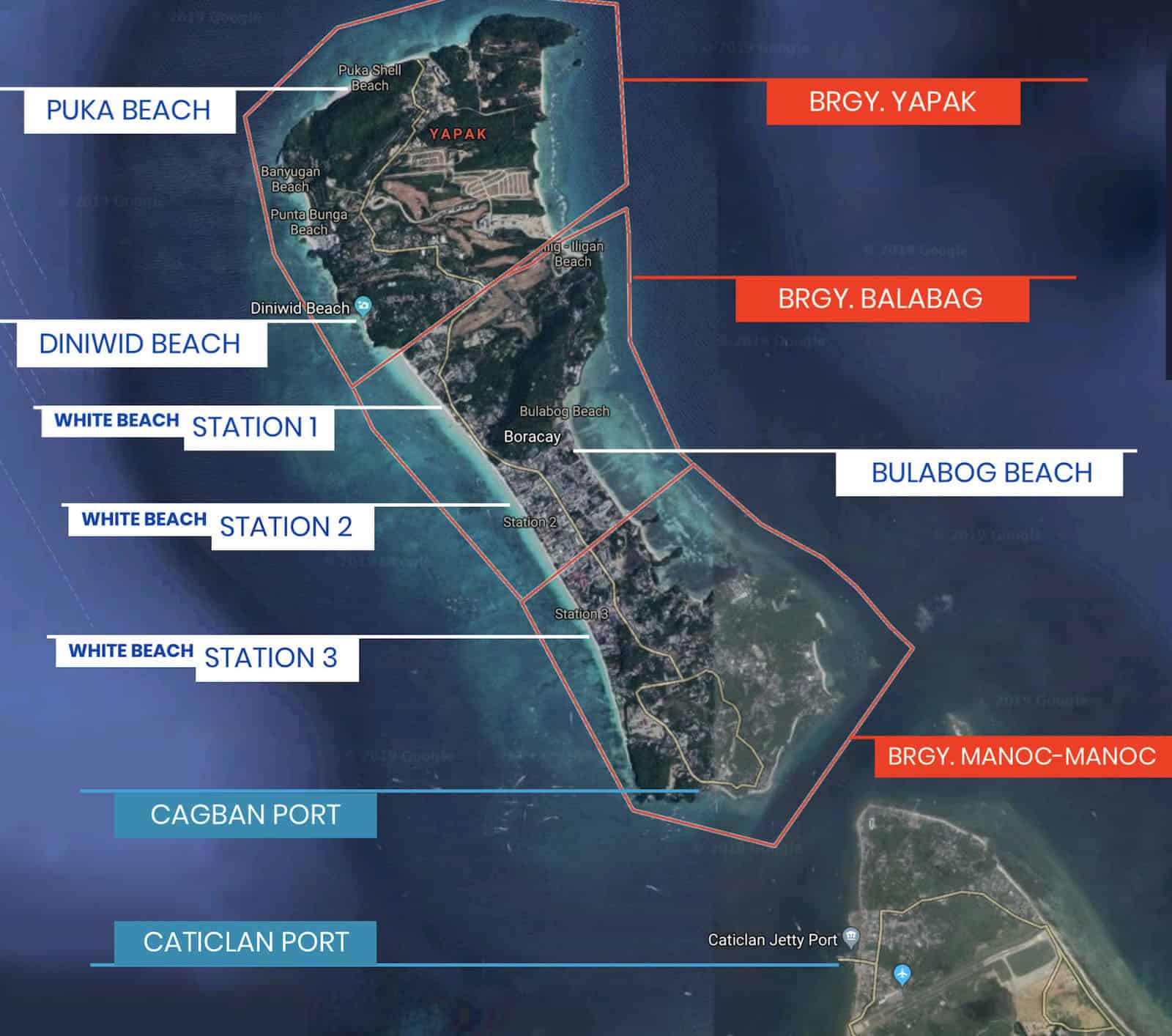 Most people who haven't been to Boracay are under the impression that it has only one beach because most media features focus on its main stretch — White Beach. And while it is the longest and most popular, it is not the only strip of sand here. The island is hemmed by over a dozen beaches!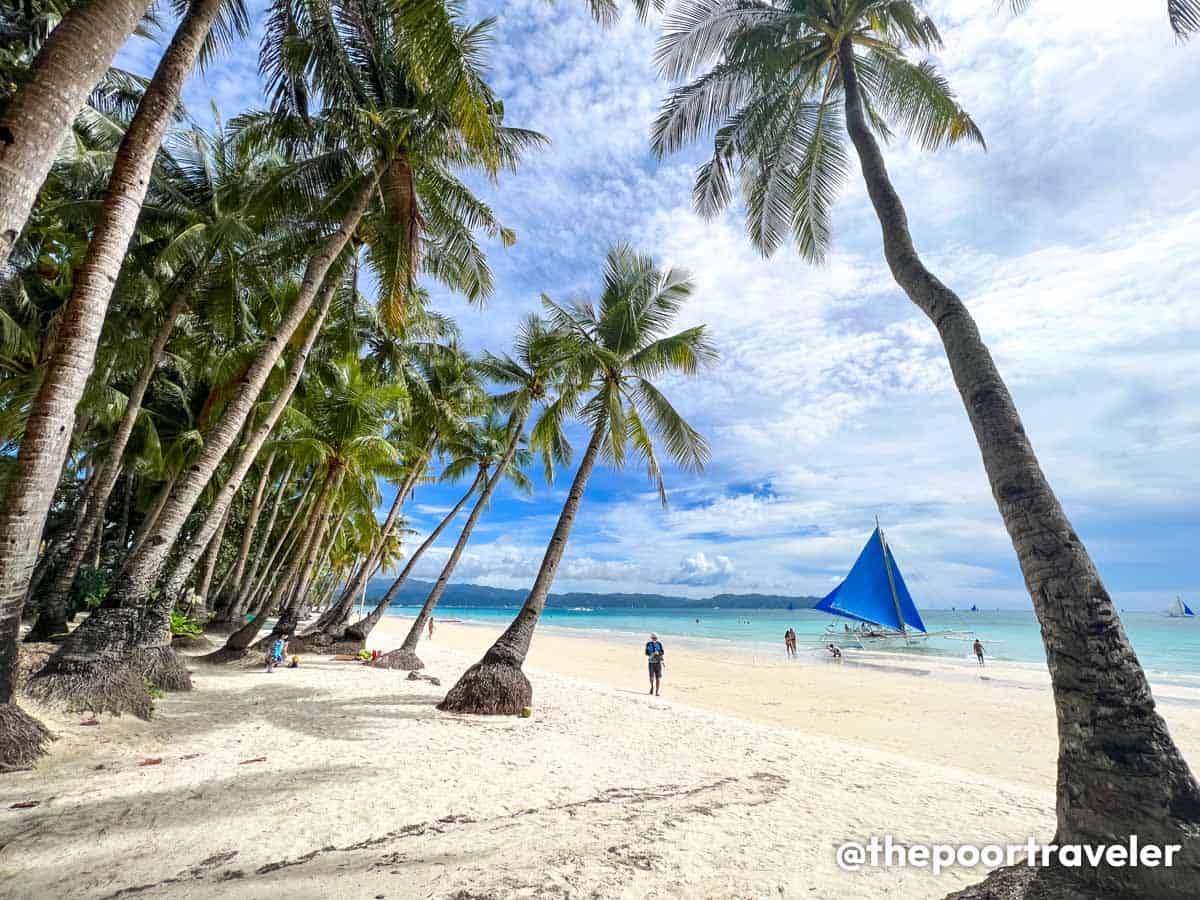 White Beach, the busiest, most crowded, and the most stunning beach on the island. This has the highest concentration of accommodations. It is also the longest beach, split into three boat stations:
Station 1 is the northern section of White Beach, in Barangay Balabag. It is the quietest of the three stations and what many regard as the most beautiful, thanks to its wide bed of white sand. It's also where you'll find the iconic Willy's Rock (grotto). However, while there are a few budget-friendly options, most resorts here are on the more upscale end of the spectrum.
Station 2 is the epicenter of all the action in Boracay. It is the busiest part of the island, where you'll find the greatest concentration of lodging, dining, and shopping establishments including D'Mall, arguably the most visited area here. It's also the most accessible and most connected part of the island. The catch is, it's loud, crowded and always abuzz with activities.
Station 3 is tucked in the southernmost end of White Beach. Because the sand here is narrower and steeper, it is not as popular or as crowded as Station 2, but it is still pretty accessible. The area is also brimming with more affordable inns, hostels, and guesthouses.
Aside from White Beach, you'll also find other accommodations in other parts of the island.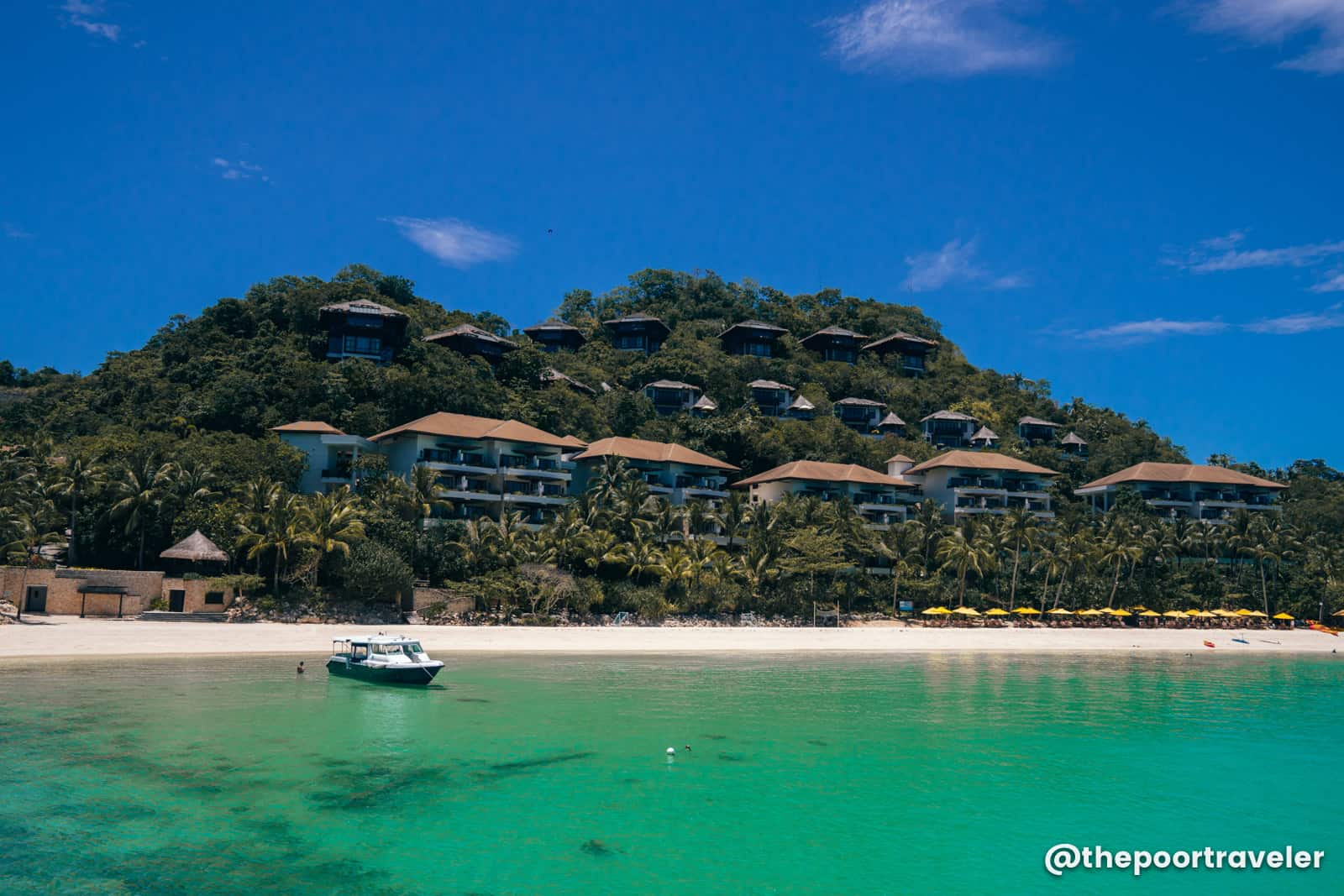 Station 0 is not part of White Beach. It is the nickname given to Punta Bunga Beach, a cove shared by Shangri-La Boracay, Crimson Resort and Spa, and Movenpick Resort and Spa. These are all high-end resorts, which means only a few guests have access to the place. Prices per night at these resorts range from PHP 11,000 for a room to PHP 30,000 for suites to PHP 70,000 for super posh villas.
Diniwid Beach is a short patch of sand north of White Beach, separated only by a promontory. Although seemingly isolated, there is a cemented walking trail along the beach that connects Diniwid to White Beach. Some of the establishments you'll find here are Microtel by Wyndham and Dinibeach Bar & Restaurant.
Banyugan Beach serves as the private cove of Shangri-La Boracay. Yes, Shangri-la has access to two coves.
Boracay Newcoast is a 150-hectare township-style property occupying the northeastern edges of the island, between Lapuz-Lapuz Beach and Ilig-iligan Beach. Located here are Savoy Hotel and Belmont Hotel, among others. If you're looking for some peace and quiet away from the crowd, it's something to consider. It's not the most accessible, but the hotels here provide free shuttle service to White Beach.
Bulabog Beach is another long stretch hugging the eastern side of the island, almost parallel to White Beach. The sand here isn't fine, but it is also very accessible and is most well-known as the jump off point for many exciting water activities and great for sunrise watching.
If you're on a budget, another place to consider is the inland area between White Beach and Bulabog Beach. You'll find many pleasant guesthouses and apartments for rent here like Dakong Amihan and Villa D'enghien.
---
Best Neighborhood to Stay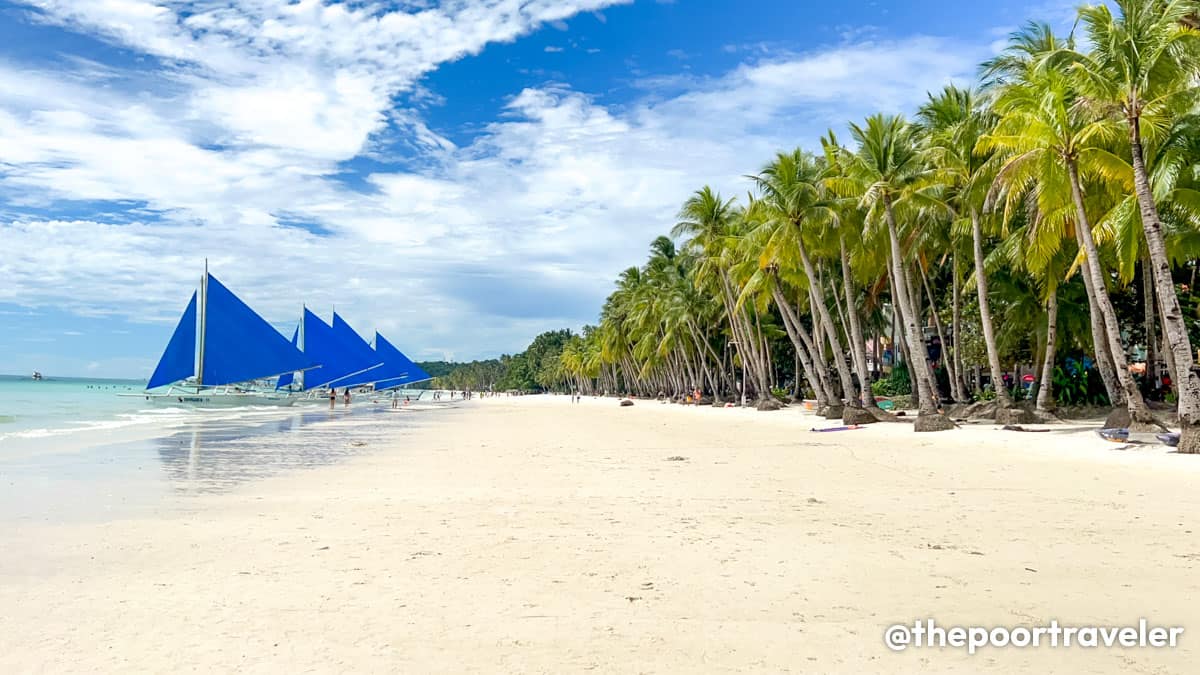 What's best depends on why you're in Boracay in the first place and how much you're willing to shell out for accommodations. We wrote a more detailed comparison of each area here: BEST AREA TO STAY IN BORACAY!
But here's a quick summary:
If it's your first time, any of White Beach's three stations is ideal. This will give you easy access to everything.
If you're on a budget, try looking for affordable places to stay in Station 3 and in inland areas. Beachfront properties tend to be much more expensive. The border between Stations 1 and 2 have a number of relatively cheap backpacking hostels, too.
If you're after peace and quiet or you're celebrating a special occasion, Boracay New Coast and Diniwid Beach may be worth a look.
I personally prefer White Beach Station 1 because it is the quietest but still very accessible. But Stations 2 and 3 are also good and have more pocket-friendly options.
IMPORTANT! If you wish to stay in Boracay, NO BOOKING, NO ENTRY. You must show proof of booking or reservation with any of the accredited hotels.
To see the complete list, check out: DOT-APPROVED BORACAY RESORTS AND HOTELS! ✅
---
Top Boracay Budget Hotels & Guesthouses
Below are the top Boracay budget hotels and hostels on Agoda and Booking.com, as ranked by users. Most of these are NOT beachfront.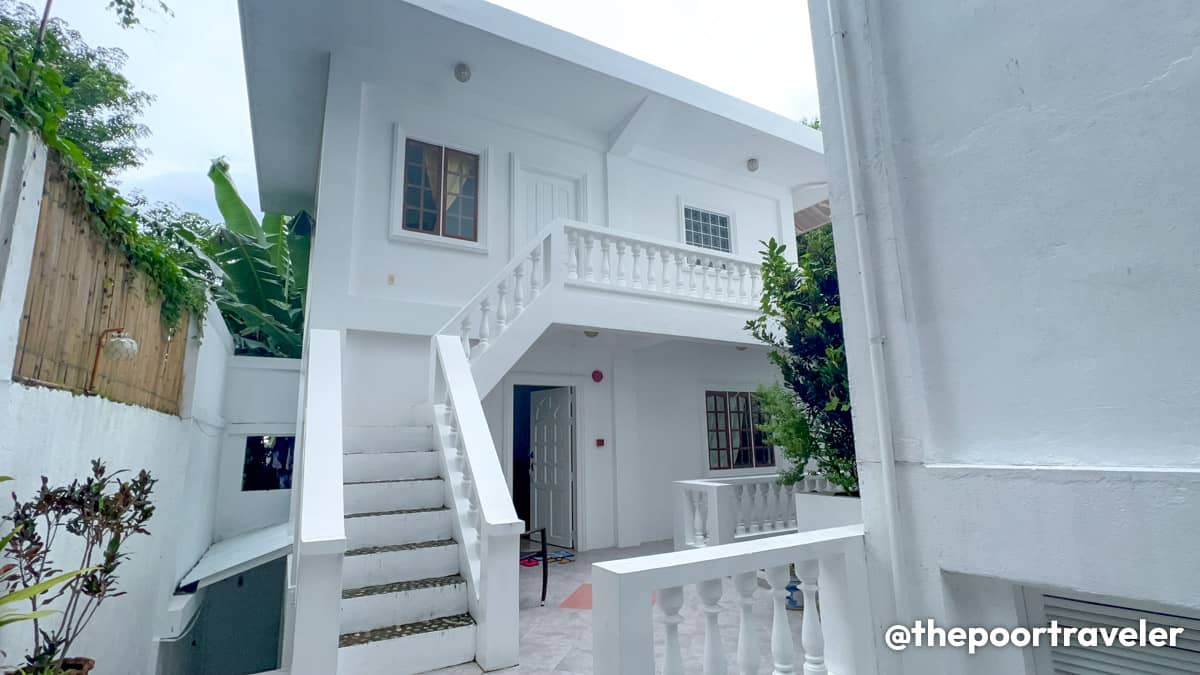 ---
Top Boracay Hostels
If you're a backpacker or a solo traveler, here are some hostels to consider:
---
Top Boracay Hotels for Families and Groups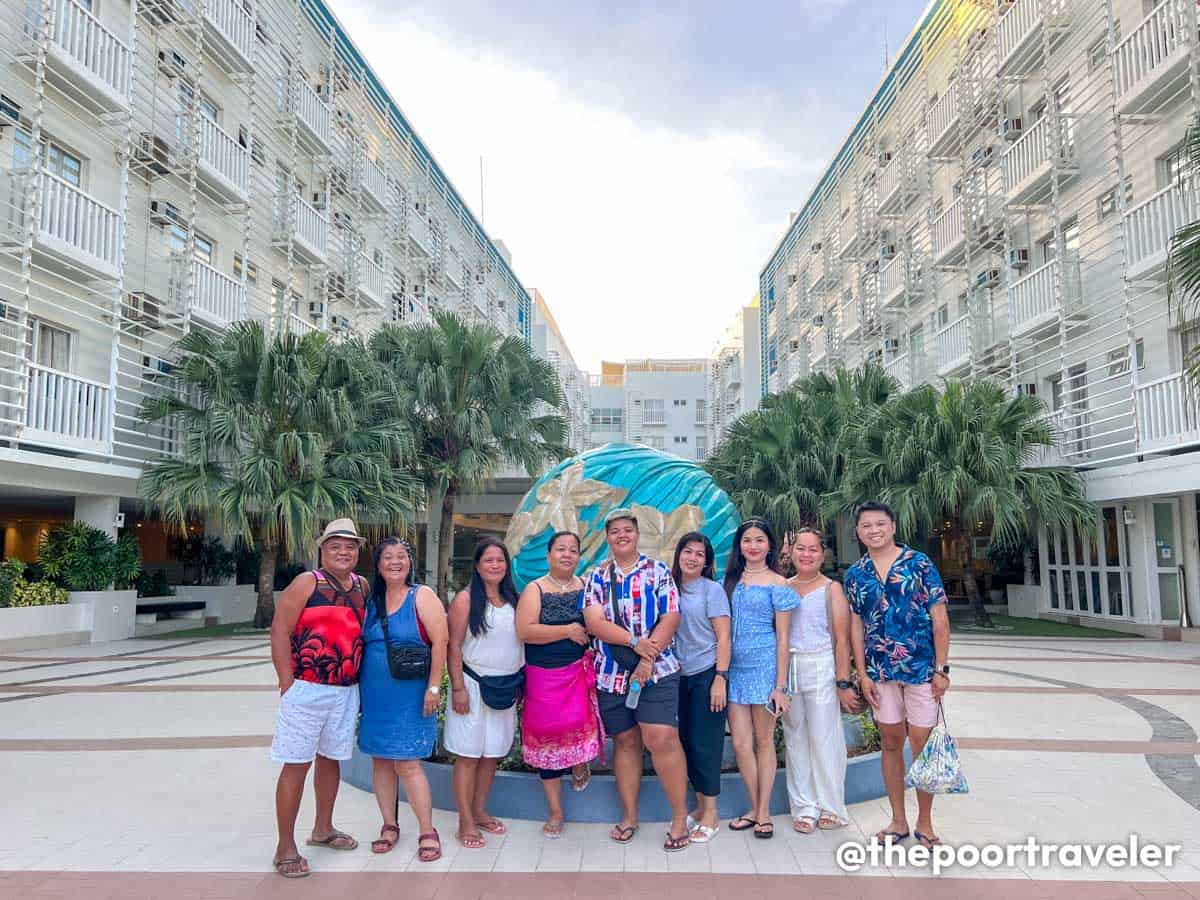 Traveling with family or barkada? Here's a list of properties in Boracay that have rooms that can accommodate groups of four or more. Out of all of these, we have tried Azalea Hotel, Le Soleil de Boracay, and Henann Park Resort, and we enjoyed our stay.
---
---
HOW TO GET TO BORACAY
All tourists traveling to Boracay must pass through Caticlan, a barangay in mainland Aklan. It has two ports that passengers may use to get to the island, depending on the season: Caticlan Jetty Port and Tabon Port. You don't need to worry about it because they are not too far apart and every driver in Caticlan knows which port is operational at any given time.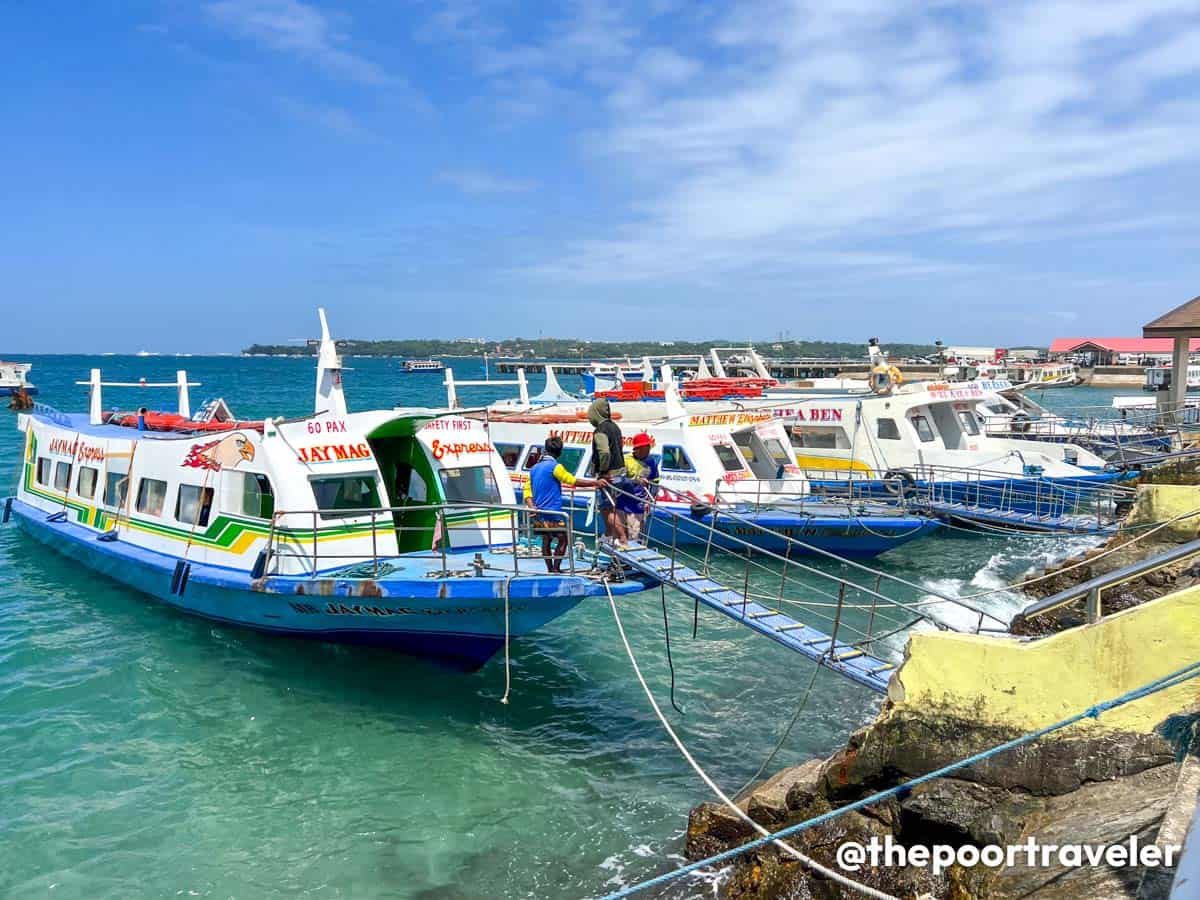 The first step to reach Boracay is to make your way to Caticlan. You have several options.
By plane, via Caticlan Airport
By plane, via Kalibo Airport
By ferry, via 2GO Travel
The island is served by two airports: Kalibo International Airport (KLO), which involves around 2 hours of travel time; and Caticlan International Airport (MPH) aka Boracay Airport, which is just 15 minutes away from either sea port. All major airline in the country flies to both airports, but Caticlan offers more options from morning to evening.
Hence, if you're coming from Manila, the fastest and easiest way to Boracay is by flying to Caticlan Airport.
But if budget is limited and you have a lot of time, you may take an overnight ferry from Batangas Port to Caticlan, too.
---
Caticlan to Boracay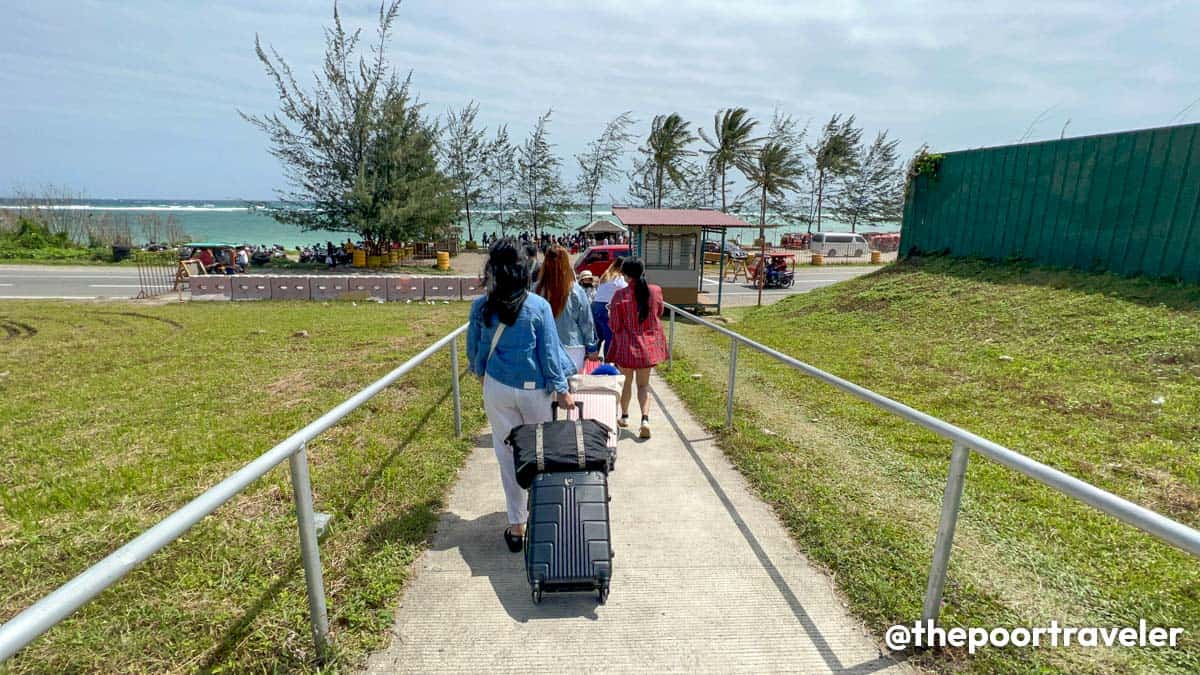 If flying to Caticlan, you will deplane at the Arrivals Terminal located on the other end and on the other side of the runway, far from the Departures Terminal. After collecting your luggage, exit the terminal building and book a tricycle to Caticlan Jetty Port or Tabon Port. The driver knows which port to go to. We have a more detailed transfer guide here: Caticlan Airport to Boracay.
Fare: PHP 150 per tricycle, maximum of 2 passengers or PHP 75 per person.
Travel time: 10 minutes.
It doesn't need to be a tricycle ride. If you want a more comfortable, hassle-free experience, consider booking a packaged transfer service. Aside from the air-conditioned van transfer from Caticlan Airport to the jetty port, you will also be assisted through the port processes and the driver can help you with your luggage. The price already includes the van airport transfer, boat crossing, and multi-cab hotel transfer.
✅ CHECK TRANSFER PACKAGE RATES HERE!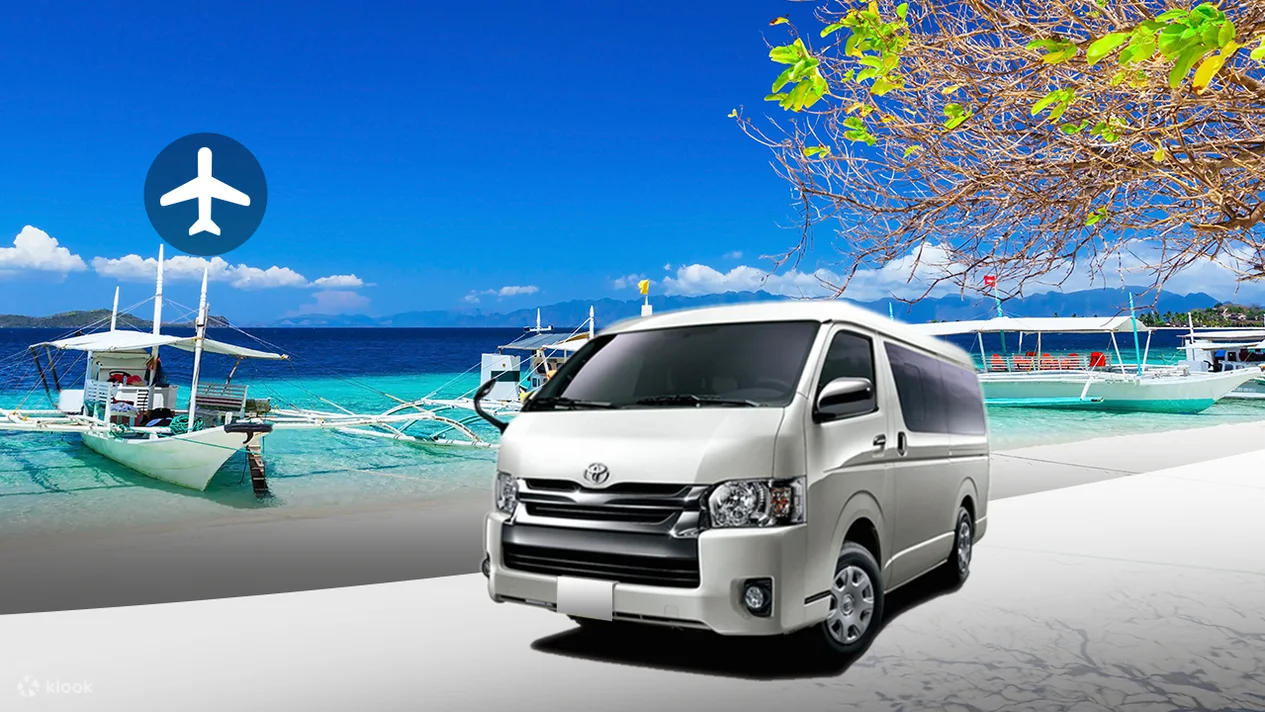 If you'd rather travel on your own, upon arrival at the jetty port, enter the building and follow these steps:
Find the Documents Check counter and fill out the Tourist Arrival Form. Only one per group is needed to queue up and accomplish the form. But the staff will check the IDs of ALL passengers and hotel booking. The number of passengers must match the number of guests in the hotel booking. Once cleared, you'll be given a slip.
Pay the fees. Here are the current rates:
– Terminal Fee: Regular, PHP 150; Seniors/PWD/Student, PHP 120; Kids 5yo and below, FREE
– Environmental Fee: Local, PHP 150; Foreigner, PHP 300
– Boat Fee: PHP 50
For a regular domestic tourist, the total amounts to P350, one-way.
Proceed to the Boarding Area. You'll need to fill out the form on the boat stub. Once accomplished, exchange the boat stub with a boat seat number.
Board your assigned boat and find your seat. The ride to the island should not take more than 20 minutes. Depending on the season and the weather, the boat will land at either Cagban Port or Tambisaan Port. The process is the same regardless.
Ride an e-Trike or multi-cab to your hotel. The fare depends on the location of your hotel.
– e-Trike fare: If shared, PHP 15-50 per person. If special/chartered trip, PHP 100-400 per e-trike. You'll find the full fare matrix for e-trikes below.
– Multi-cab fare: PHP 250 to Station 2 per vehicle, maximum of 10 pax.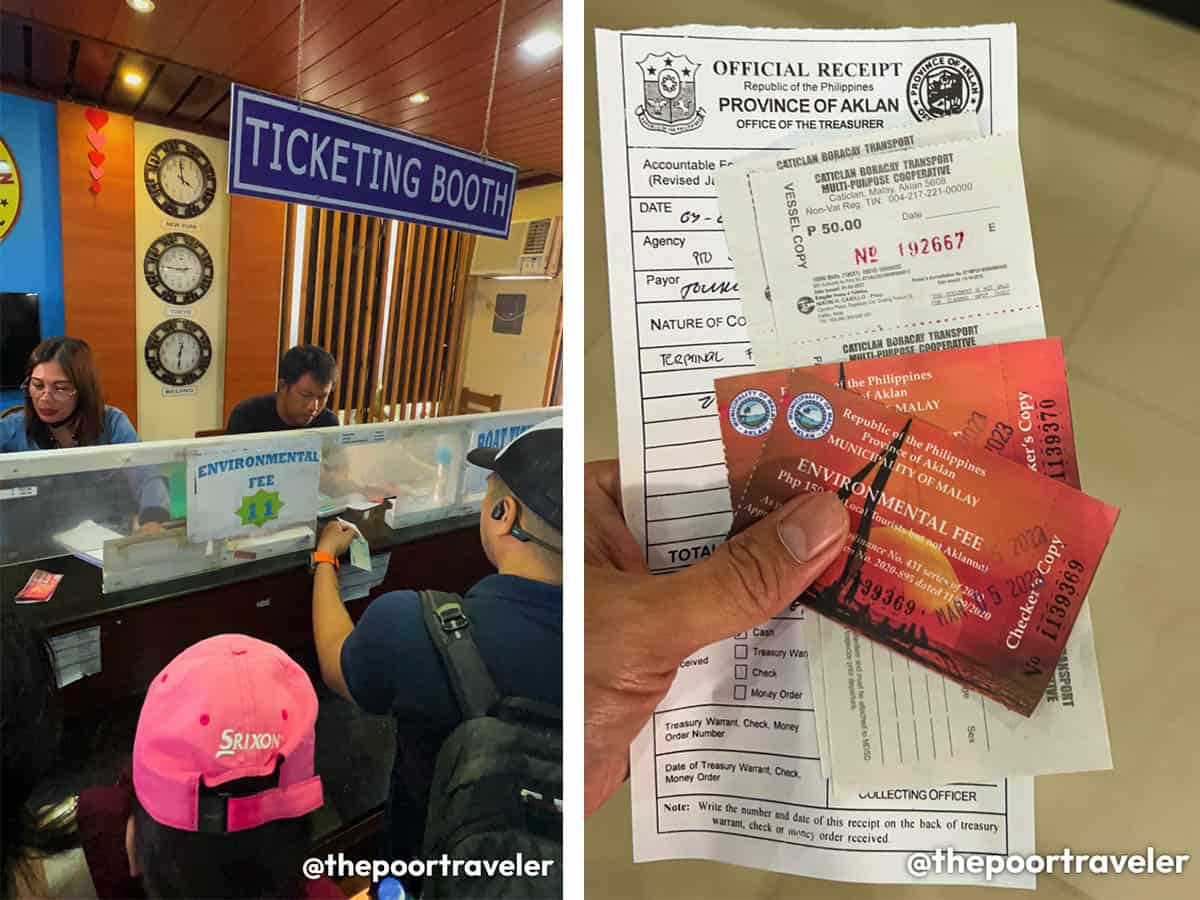 ---
Kalibo Airport to Boracay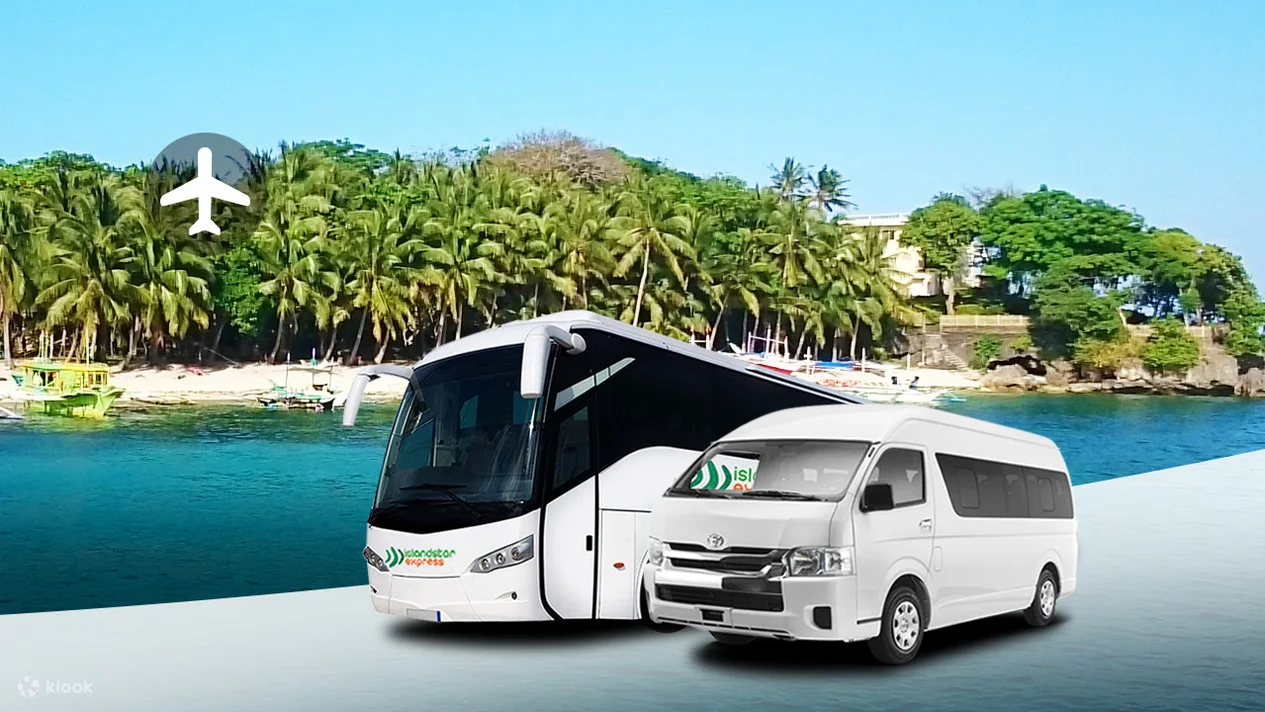 If you're coming in via Kalibo, the first step is to make it to Caticlan Jetty Port, and from there, the process is the same. Here are your options to get from Kalibo Airport to Caticlan:
OPTION A: LOCAL BUS. Take a tricycle to the bus terminal and board a Ceres bus bound for Caticlan. Fare: PHP 147. This is the cheapest way to reach Caticlan from Kalibo. Once at Caticlan Jetty Port, follow the steps at the previous section (Caticlan to Boracay).
OPTION B: TOURIST BUS/VAN. Look for "non-packaged" vans or buses that can take you directly to Caticlan Jetty Port. Fare should be only around P250. Travel time: around 2 hours. Once at Caticlan Jetty Port, follow the steps at Caticlan to Boracay section above.
OPTION C: PACKAGED BUS/VAN TRANSFER SERVICE. If, for whatever reason, you don't want to do the transfers on your own, a good option is to book a packaged transfer service. Aside from the comfortable transfer from Kalibo Airport to Caticlan, the price also covers the boat crossing, terminal fee, environmental fee and HOTEL transfer. You will also be assisted through the sometimes confusing process at the jetty port. This is great for those traveling to Boracay for the first time and traveling with kids, PWDs, or elderly. You can book them on Klook, too.
Below are where you can book packaged bus/van transfer services.
✅ RESERVE BUS TRANSFER HERE!
✅ RESERVE VAN SERVICE HERE!
---
Manila to Boracay by 2GO Ferry
If you don't like flying or the airfare is too much, you can also travel by sea. Caticlan is also the gateway to Boracay for those traveling by ferry. However, there is no direct ferry from Manila to Caticlan. Instead, you'd need to make your way to Batangas Port first.
2GO Travel has overnight sailings from Batangas to Caticlan every day. The ferry leaves Batangas Port at 9pm and arrives in Caticlan at either 8am or 11am, depending on your chosen route. Some sailings involve a stop in Odiangan, Romblon, but others go directly to Caticlan.
Departure: 9:00 PM
Arrival: 8:00 AM or 11:00 AM (the next day)
Travel time: 11-14 hours (overnight)
We created a video showing the entire ferry process on our YouTube channel. You can also watch it below.
---
HOW TO GET AROUND
By E-Trike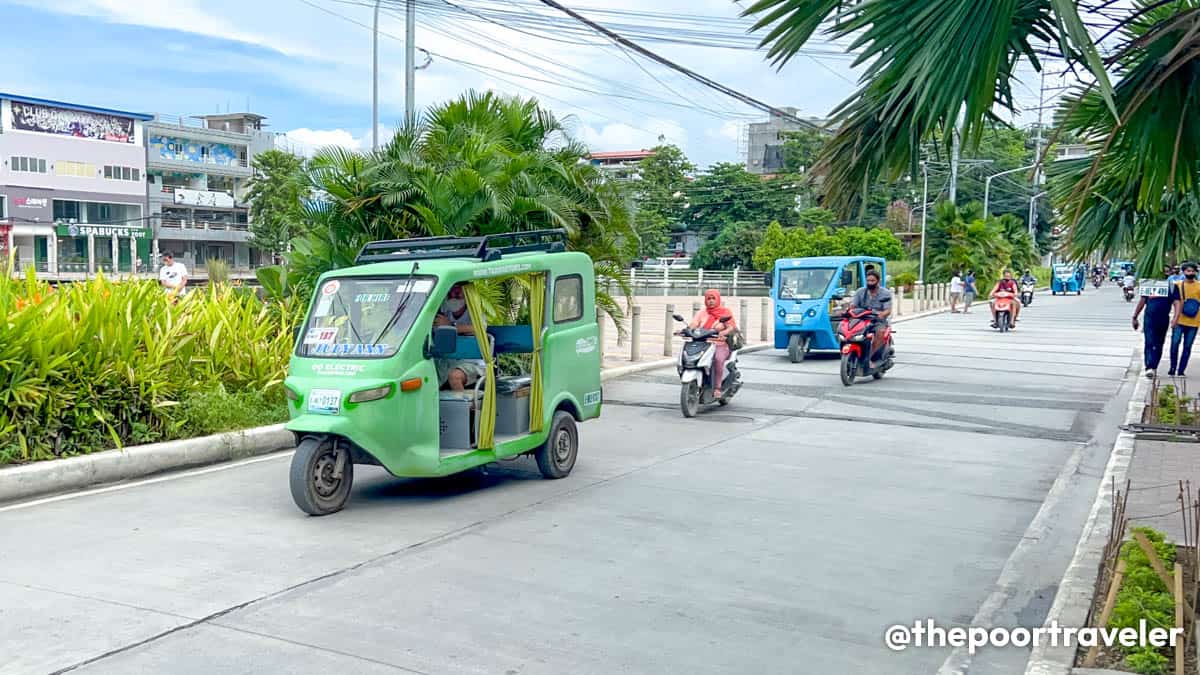 The e-tricycle or e-trike is the primary mode of transportation around the island. Most tricycles have fixed routes and will pick up or drop off passengers along the way, UNLESS you charter the entire vehicle for a "special" trip. A special trip means you'll have the entire vehicle to yourself.
Here's the approved e-trike fare matrix: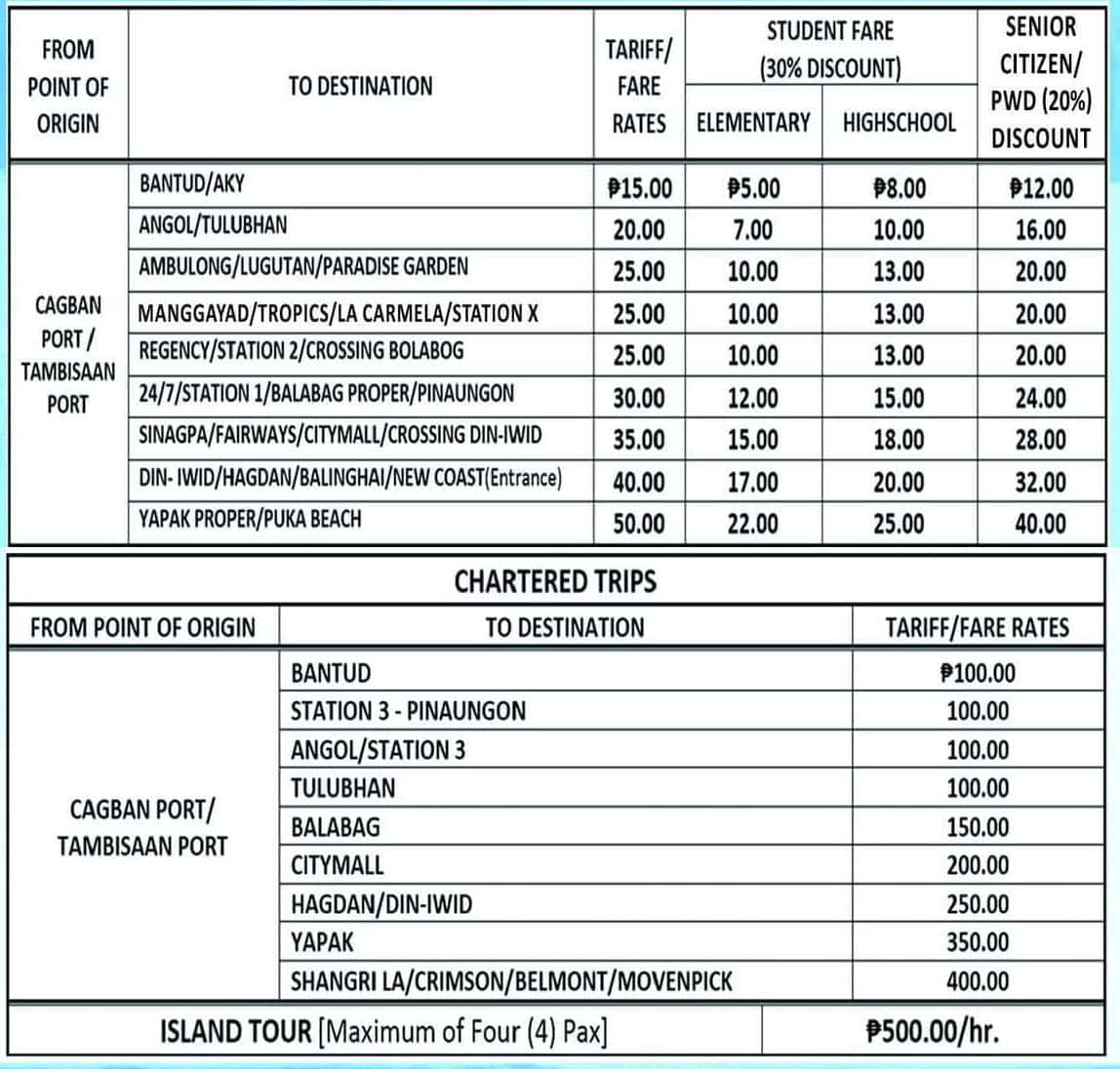 If you're on a budget, be willing to share the tricycle with other passengers. Tell the driver "individual" and they'll know you're not arranging a private ride. Fare should be between PHP 15 and 20, depending on the distance.
That said, if you'll be an inconvenience to other passengers — e.g. you're soaking wet from swimming or you have a big luggage in tow — just charter a special trip.
You may also arrange an e-trike tour of the island. Although drivers usually have a suggested itinerary, it is completely up to you. Rate is per hour, anyway. However, for island tours, only 4 pax are allowed per vehicle.
Here are the details.
Fare: P500/hour (per vehicle)
Maximum of 4 pax per e-trike
Usual Stops:
Puka Beach
Diniwid Beach
Bulabog Beach
Ilig-iligan Beach
Mangroves
Keyhole
---
By Hop-On Hop Off (HOHO)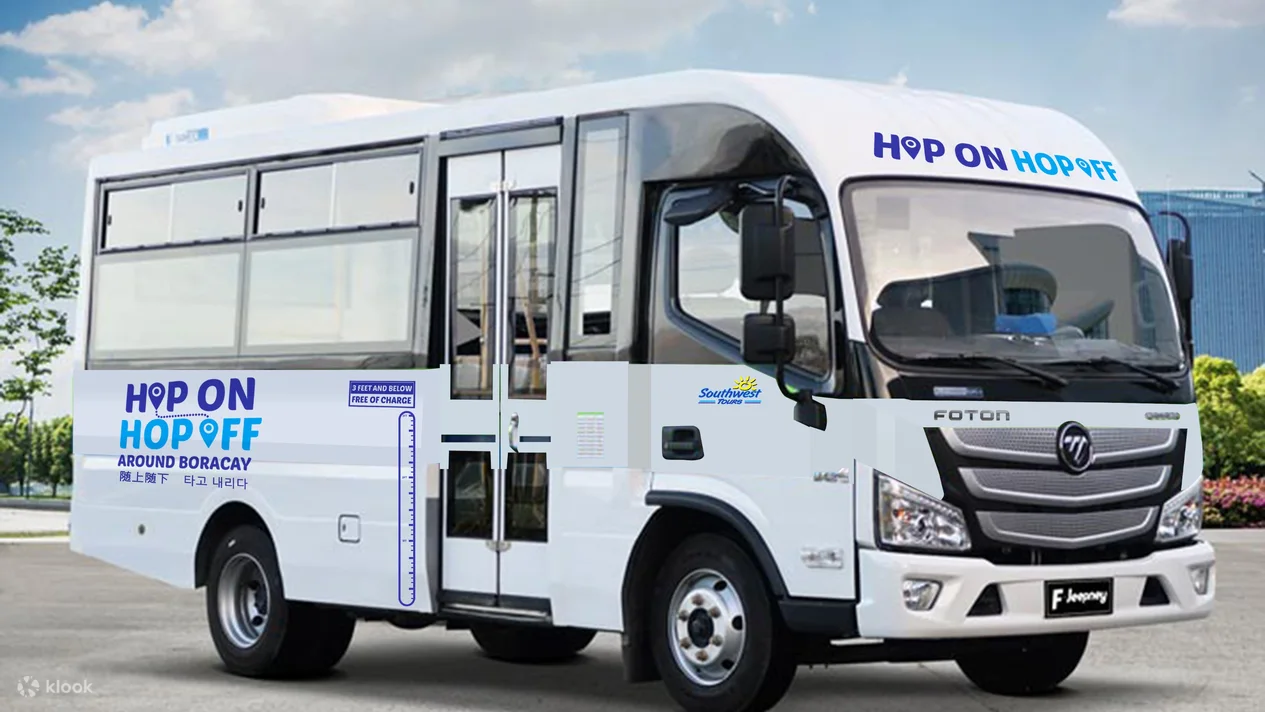 Boracay now has a Hop-On Hop Off (HOHO) service, operated by Southwest Tours in partnership with Top.ph. The HOHO uses air-conditioned shuttle or mini-bus units with CCTV cameras and wi-fi. It runs from Tambisaan and Cagban ports on the southern edge of the island all the way to Puka Beach in the north, making stops in Stations 1 to 3 and even Newcoast along the way. Here are the stops.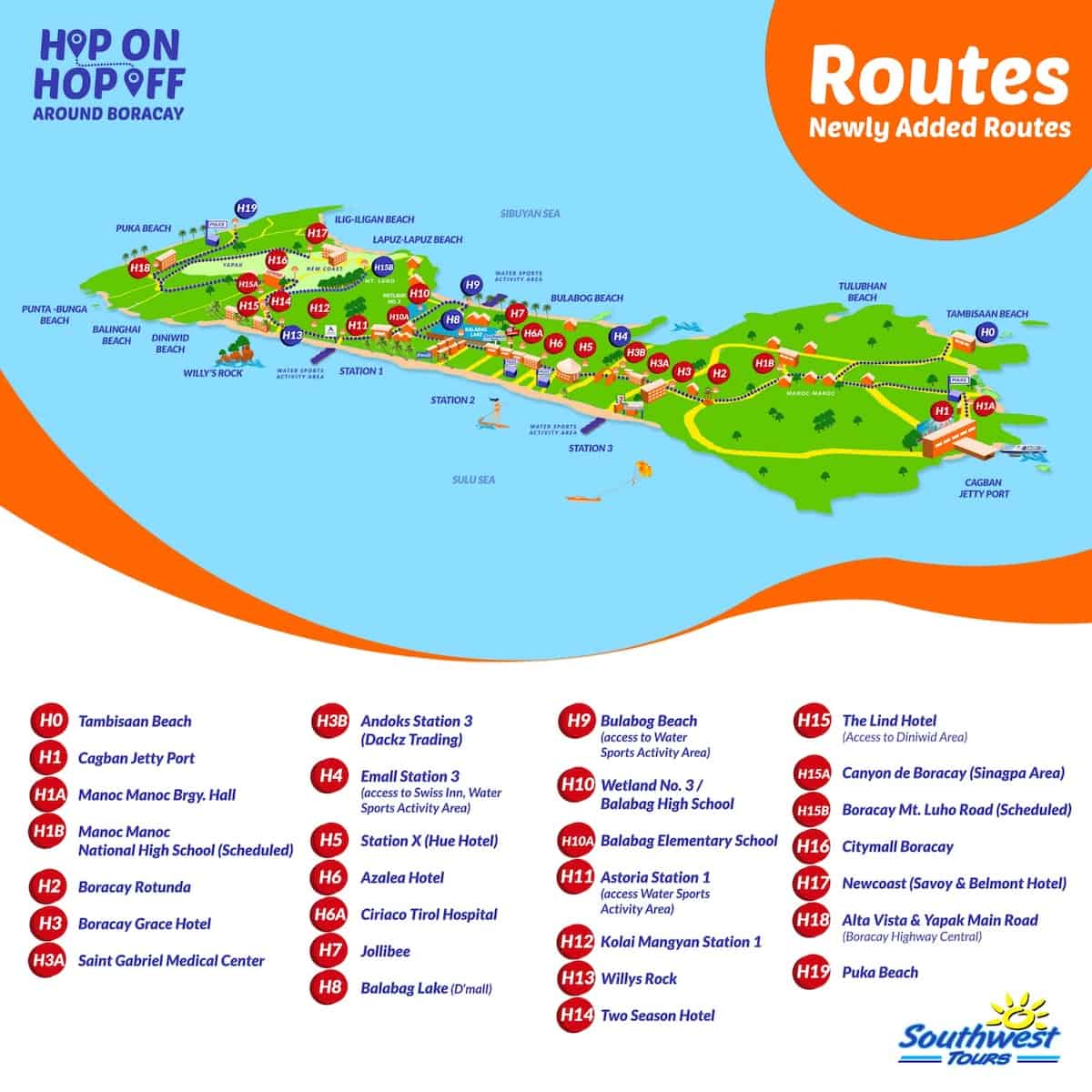 Fare: PHP 13-32, depending on distance/stop.
Schedule: Ideally, there's a mini-bus at any given stop every 15 minutes, from 5:00 AM to 9:00 PM.
Only cashless transactions are accepted, so you need to purchase a HOHO QR Pass before using the service. But if you feel like you'll be using it multiple times a day, consider getting a 1-Day HOHO Unlimited Pass Card. It normally costs PHP 200, but you can get a discount if you book with Klook.
✅ Buy HOHO Unli Pass Card here!
---
THINGS TO DO IN BORACAY
Boracay may be a small island but it is packed with natural attractions and exciting activities that travelers of all ages could enjoy. In this post, we'll enumerate these briefly, but if you want a more detailed description of each tourist spot, you may check out our dedicated post about it: THINGS TO DO IN BORACAY.
White Beach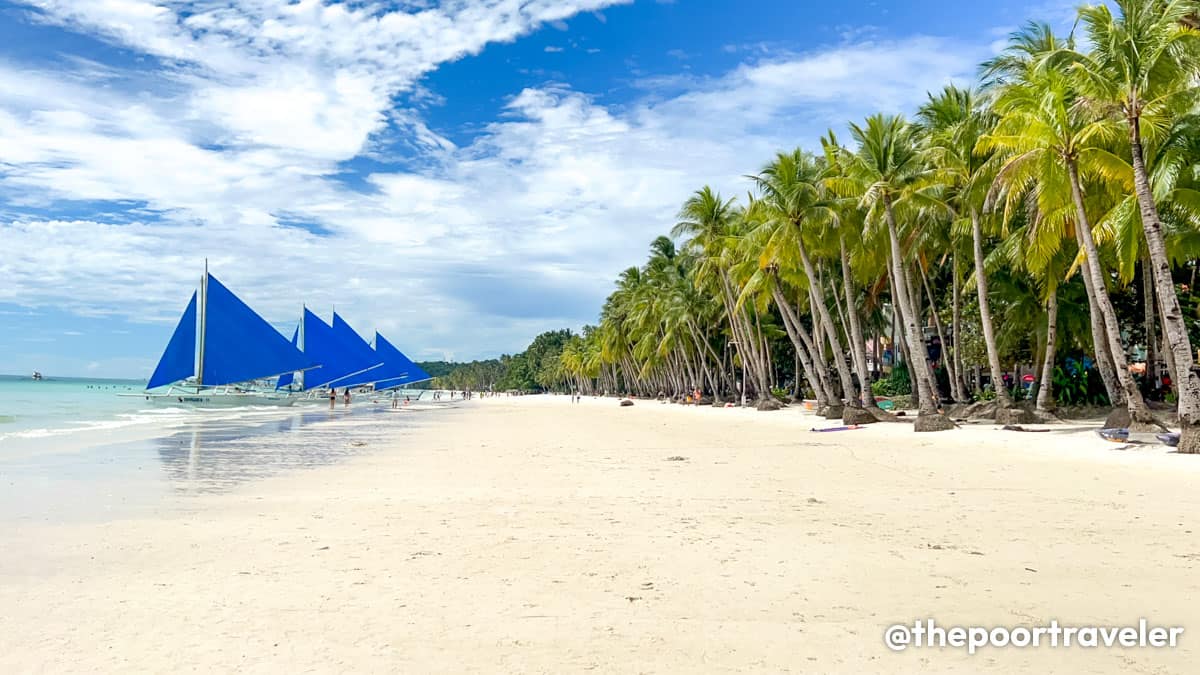 Boracay's greatest treasure. This shining, shimmering, splendid beach is perhaps the first to come to mind when we think of Boracay. It is the island's longest beach, measuring about 4 kilometers (2.5 miles), lined with picture-perfect coconut trees. Its biggest asset is its fine, white sand, something only a few can rival or come close to. Here are some of the activities you could enjoy at Boracay's White Beach:
Swim and laze on the sand, of course.
Check out Willy's Rock, the island's iconic grotto.
Watch the sunset. White Beach faces west, so it's a magnificent sunset spot.
Standup paddle. Rates: 30-Minute, PHP 500; 1-Hour, PHP 700. Book here!
Crystal kayak. Rates: PHP 250/person for 15-20 minutes.
Although crystal kayak is available at White Beach, you could enjoy it for a much lower fare at other beaches like Puka Beach.
And because White Beach faces west, it's also a fantastic sunset watching spot! Boracay displays some of the most gorgeous sunsets in the world. No wonder a lot of tourists come waiting for it on the beach every single day.
---
Photo and Video Session
Boracay is a fantastic place to capture wonderful moments and immortalize them in photos or videos. And now, you can easily hire a professional for a 2-hour photo/video shoot at any Station along White Beach! The bright turquoise waters in the background will make each shot breathtaking. Great for couples, families, and friends (barkada)!
---
Island Hopping
One of the most popular activities in Boracay. Most of the island hopping packages offered are on group tour basis — meaning, you'll be sharing a big boat with other tourists as you visit other beaches and snorkeling sites. You'll be following a strict itinerary that you must follow, around 40-60 minutes per stop.
Tours usually start and end at Station 1 and/or Station 3. Operators also use almost identical itineraries, with only a couple of variations, usually the lunch stop and the snorkeling site. Here are the common stops and the corresponding entrance fees: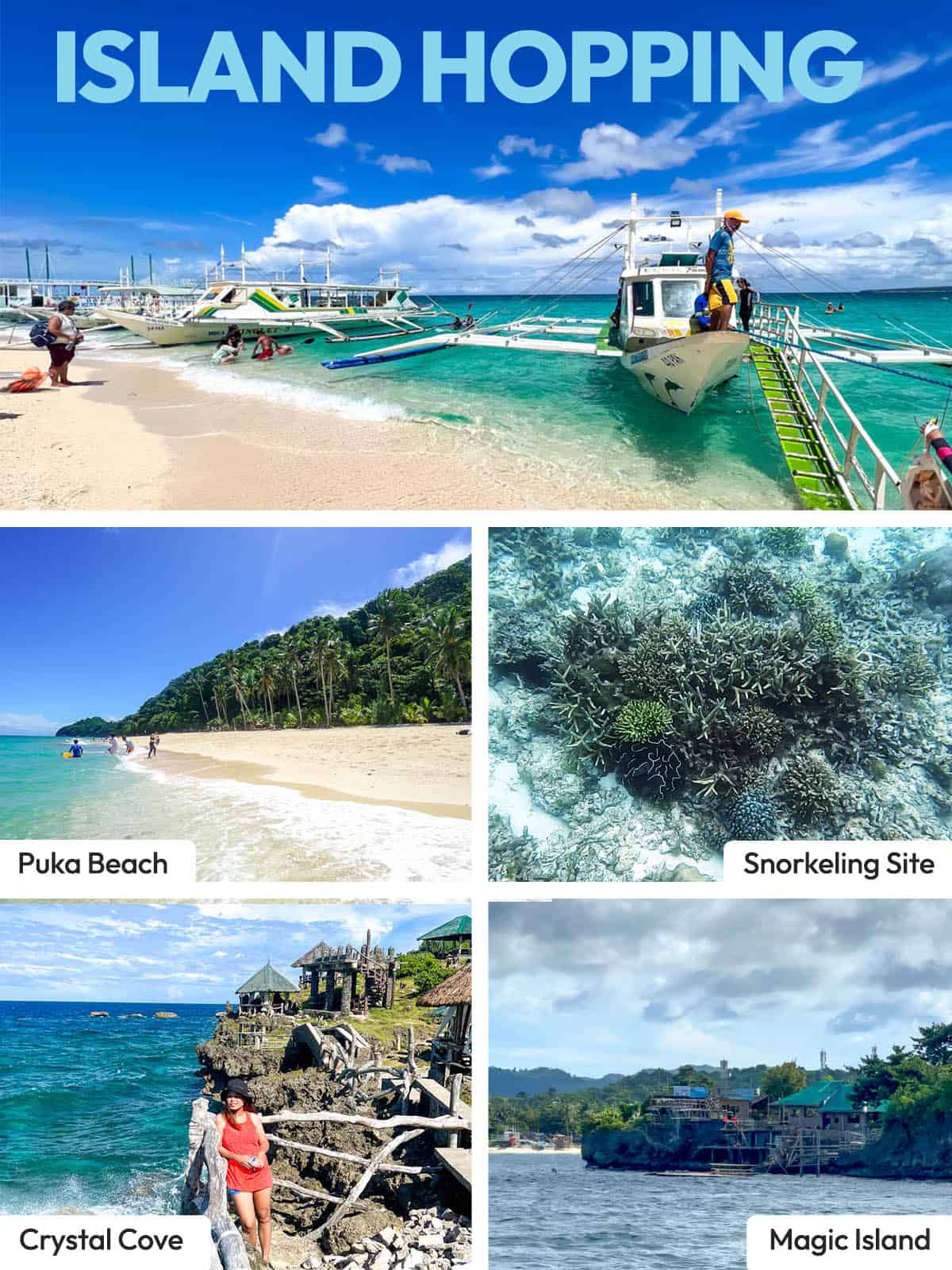 Puka Beach, no entrance fee
Snorkeling Site, PHP 45
Lunch
Crystal Cove, PHP 300
Magic Island (not all tours), PHP 250
Price: PHP 800-900 per person, inclusive of buffet lunch and sometimes, use of mask. However, this does not include entrance fees and snorkeling fee.
Jump off point: Station 1 or Station 3
If it's your first time in Boracay, go ahead and join an island hopping tour. But to be honest, if you've tried island hopping in other Philippine destinations like Palawan, Bohol, or Cebu, you might get a bit underwhelmed. Boracay's key assets are within the main island itself, not so much in the smaller isles surrounding it.
✅ RESERVE A SLOT ON THIS TOUR HERE!
---
Land Tour (e-Trike or Multicab)
Another way to explore Boracay is by land. For this, you need to charter an e-trike, which costs P500 per hour (approved tariff). For an island tour, an e-trike driver is only allowed to accommodate up to 4 passengers per vehicle.
If you're part of a bigger group, instead of hiring multiple e-trikes, consider a multi-cab instead. This was what we did on our most recent trip. A multi-cab is allowed up to 10 passengers. At P700 per hour, this ends up much cheaper and efficient.
E-Trike Tour
PHP 500/hour
Maximum of 4 pax
Multi-cab Tour
PHP 700/hour
Maximum of 10 pax
Just hail an e-trike or multi-cab at any time and tell the driver you're interested in an island tour. Or if you'd rather have a tour arranged beforehand, here's the contact number of the drivers we booked when we were in Boracay:
E-trike: Kuya Ambro
+63 943 1304164
Multi-cab: Kuya Bong
+63 939 823 8198
Unlike island hopping which has a fixed itinerary, on an e-trike or multi-cab tour, you have total control of the stops and duration. The driver usually has a suggested route, but it is completely up to you. Here are the usual stops: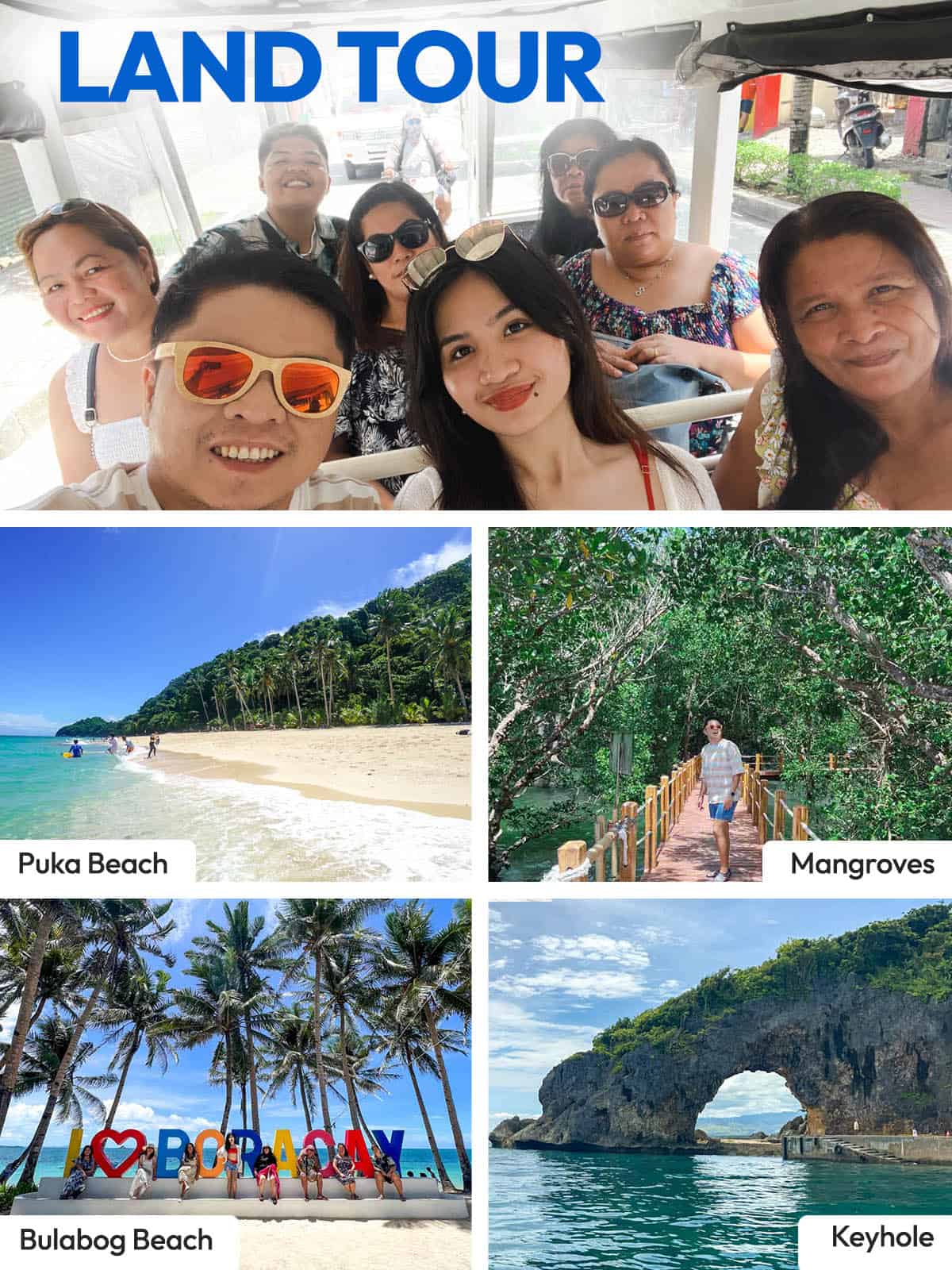 Lugutan Mangrove Park
Bulabog Beach
Sinagpa Beach
Diniwid Beach
Cujo's Keyhole
Puka Beach
None of these sites charge an entrance fee. For Lugutan Mangrove Park, however, you must register first before setting foot into the site.
---
Watersports & Other Activities
Boracay is also a giant playground for thrill-seekers and adventurers! Here are the rates of the most popular water activities: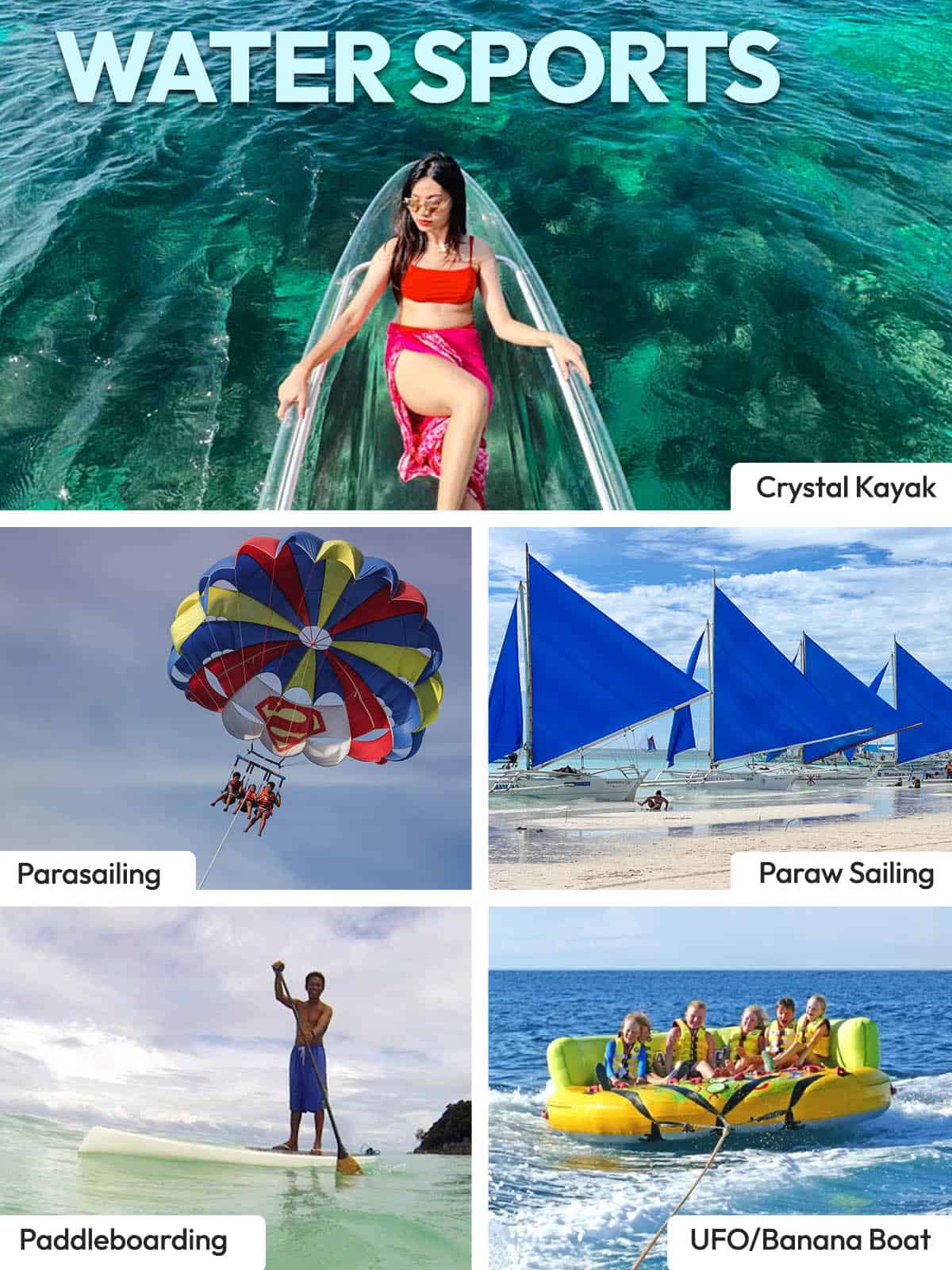 ---
Massage and Spa Services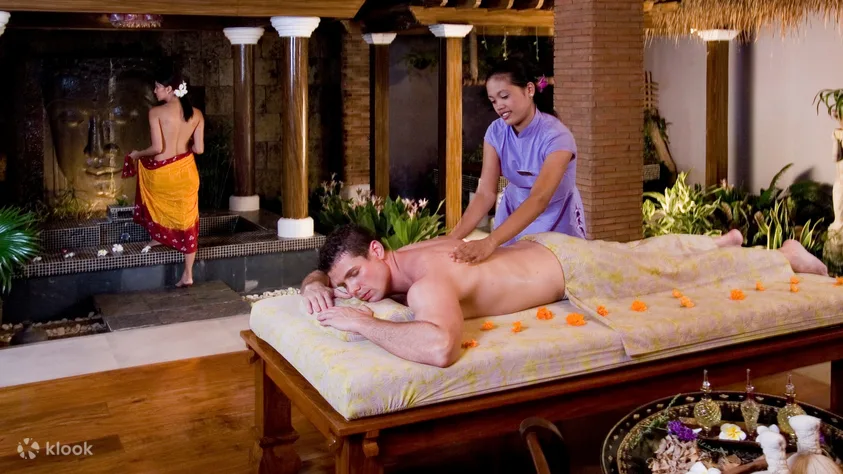 Rates may vary depending on the scope and length of each massage. Budget-friendly options abound along White Beach and the main road. As you walk along, you'll probably be approached by spa staff offering various massage services.
But for more premium spa experiences, here are some options that you could book on Klook:
---
D'Mall
This is the center of all the action in Boracay. Located sa Station 2, D'Mall has the greatest concentration of commercial establishments, including countless shops and restaurants. As you walk across this open-air mall, you'll be tempted by stores selling all sorts of "essentials" from souvenirs to swimming gear, and a smorgasbord of iconic snacks, from Mango Halo to Coco Mama.
---
Nightlife
One thing Boracay has that many other beach destinations in the Philippines don't is vibrant nightlife. While it's no longer as wild as the pre-2018 era, it's still quite fun; thanks to its roster of party places, many of which are beachfront.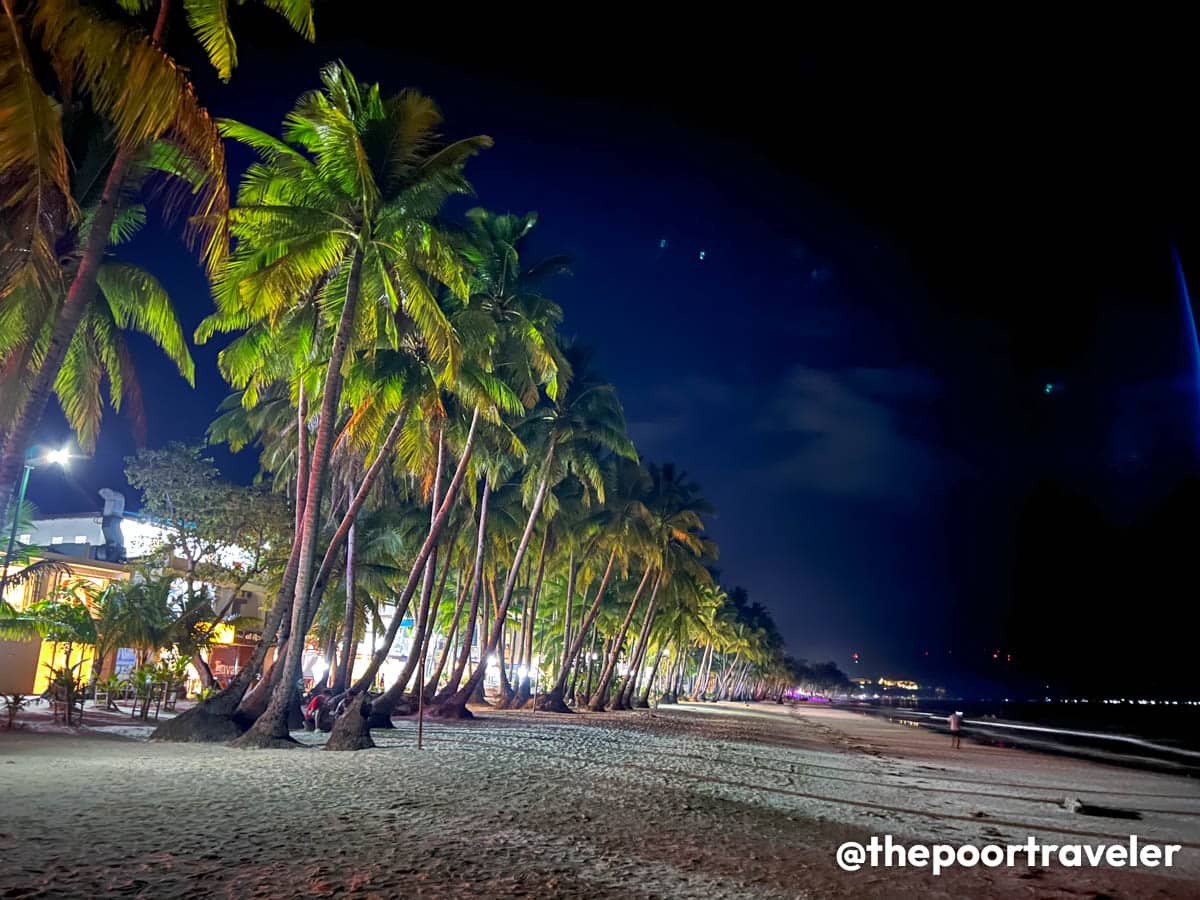 Some of the most popular bars and clubs are:
Om Boracay
Epic Bar
Paraw Beach Club
Summer Place
Two Brown Boys. Get 5% OFF here!
Our favorite drinking spot is Two Brown Boys, located along an inner alley near D'Mall (on the other side of the main road). It's an island institution whipping out servings of its signature cocktails alongside giant burgers.
---
WHERE TO EAT IN BORACAY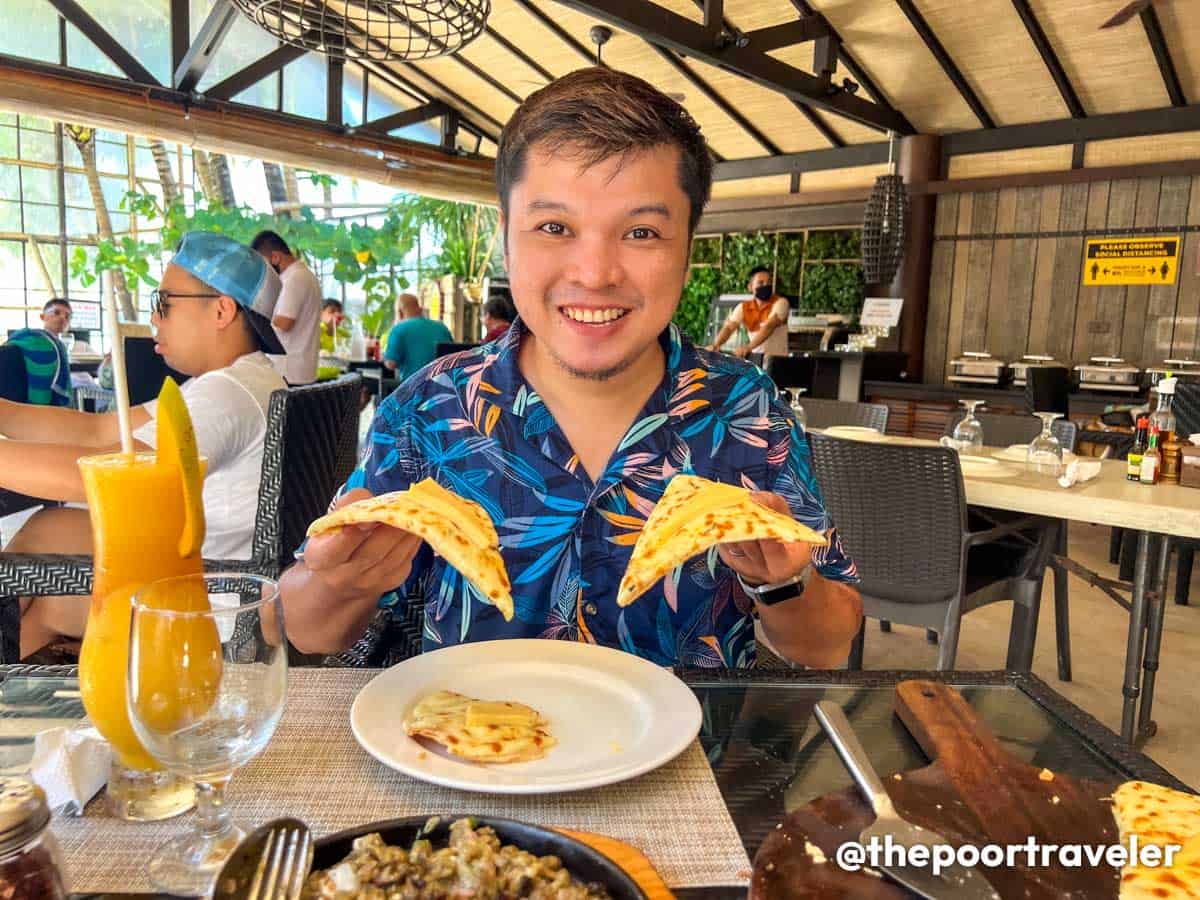 If there's one reason I love coming back to Boracay — other than the beach itself — it's absolutely the food. While the island doesn't have a globally revered traditional cuisine, it is bursting at the seams with reputable restaurants and food spots. Whatever you're craving, you'll probably find it in the island: Spanish, Portuguese, Italian, Indian, East Asian, Middle Eastern, and of course, Filipino food.
We wrote a separate, more comprehensive article describing some of the most popular restaurants in the island that we were able to try. READ: BORACAY TOP RESTAURANTS!
But here's a short list of our top recommendations. We're also including links to discount vouchers that you could avail of via Klook:
BarLo's four-cheese pizza and sizzling oyster sisig are especially popular, so make sure you arrive early if you want to try it.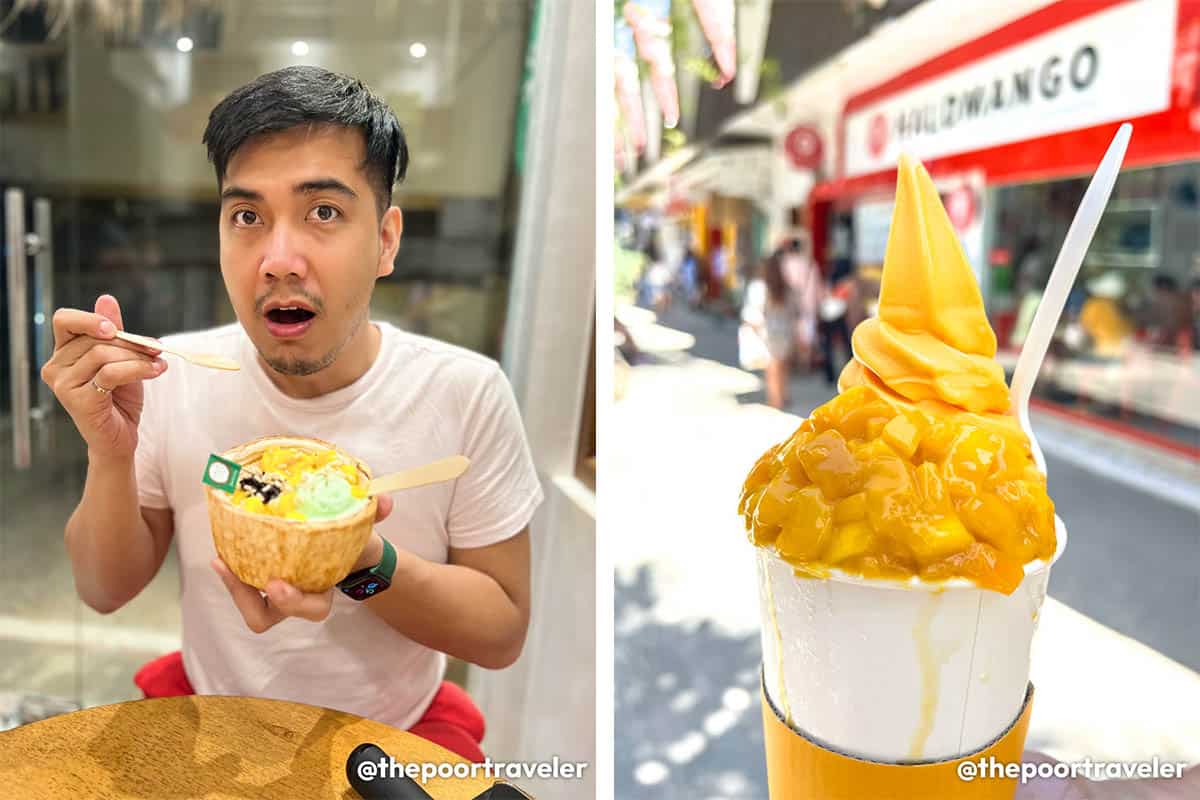 Boracay is also known for its iconic desserts and snacks, including:
Ice Flakes. Our favorite! Order the mango or coconut bowls. Get 10% OFF here! ✅
Halo Mango. Order mango ice cup (P250), crushed ice topped with real mango chunks and mango soft serve.
Jonah's Fruit Shake. Has several stores along White Beach.
Coco Mama. Vegan coconut ice cream with real coconut strands and mango chunks, sprinkled with rice crispies.
Ube Mama. Ube ice cream with ube pudding strands and palitaw balls, crowned with cornflakes.
Real Coffee and Tea. Try its calamansi muffins (P70 apiece).
Admittedly, however, most of the well-known Boracay restaurants are on the expensive side. But it doesn't mean you won't be able to find budget eateries. We created a dedicated post enumerating affordable food spots in the island. READ: BORACAY AFFORDABLE RESTAURANTS!
---
HOW EXPENSIVE IS BORACAY?
While Boracay may be considered cheap by Western standards, it is much pricier than most other island destinations in the Philippines.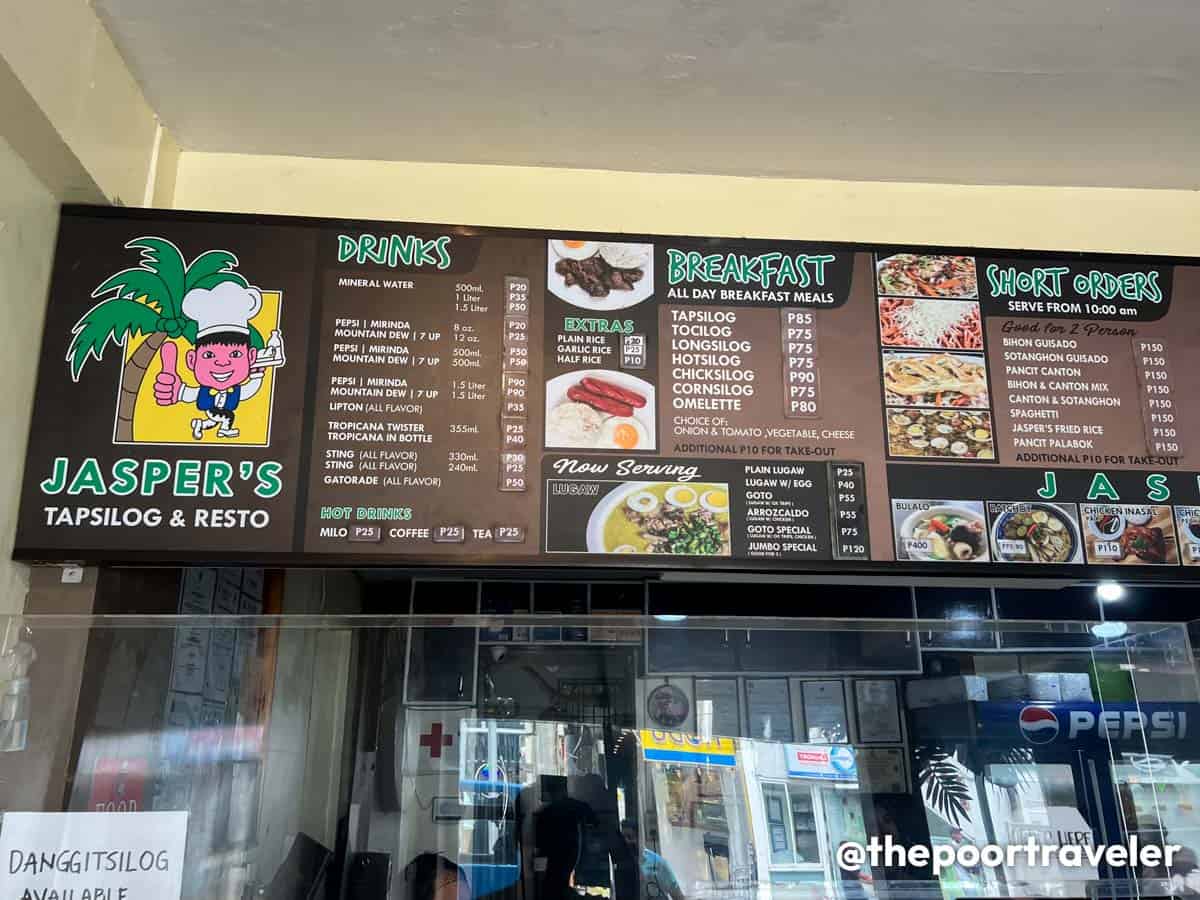 Here are the usual prices of common items in Boracay.
FOOD
Restaurant meal, average: around PHP 250
Restaurant meal, upscale: around PHP 500
Restaurant meal, budget eatery: PHP 50-150
Street food (BBQ, isaw, etc): PHP 10-25 per stick
Cocktails: around PHP 200 per glass
McDonald's Big Mac: PHP 188 (USD 3.45)
Andok's whole chicken: PHP 405
Random street side roasted chicken: PHP 295
GROCERY ITEMS
Bottled water, 1L: PHP 45
Bottled water, 330-500 mL: PHP 17-35
Softdrink in can, 320 mL: PHP 48
Softdrink in bottle, 1.5L: PHP 90
Softdrink in bottle, 2L: PHP 104
Cup noodles: PHP 50-55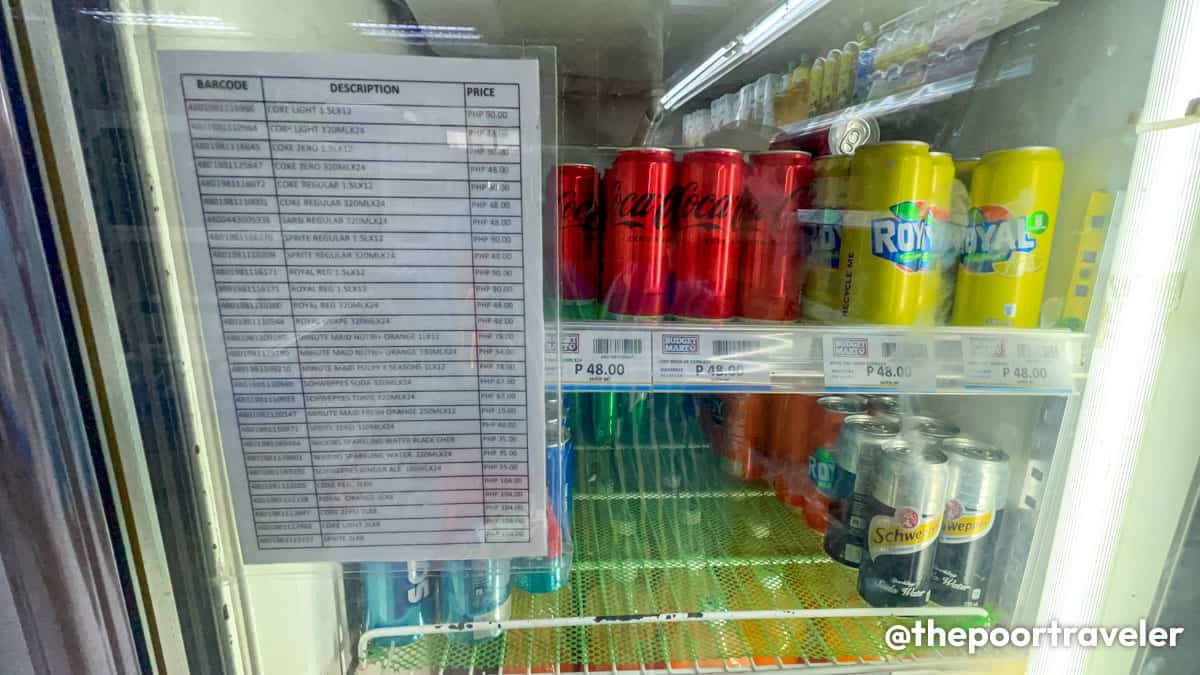 To compare, let's use the Big Mac Index. In Boracay, the price of a Big Mac (solo) at McDonald's is PHP 188, which is PHP 17 costlier than the price in Manila and PHP 33 higher than in Batangas.
Same with Andok's whole chicken, which costs PHP 405 in Boracay but only PHP 365 in many other places in the Philippines.
---
BORACAY BEACH SAFETY & RULES
Authorities strictly implement a number of policies throughout White Beach, including:
NO smoking
NO drinking of alcohol
NO illegal drugs
NO pets
NO littering
NO loud music
NO fire dancing
NO pitching of umbrella
NO beach beds/chairs
NO taking home of sand
Safety first, so don't dismiss the warning flags that are raised at specific spots along the beach. Here's what each color means: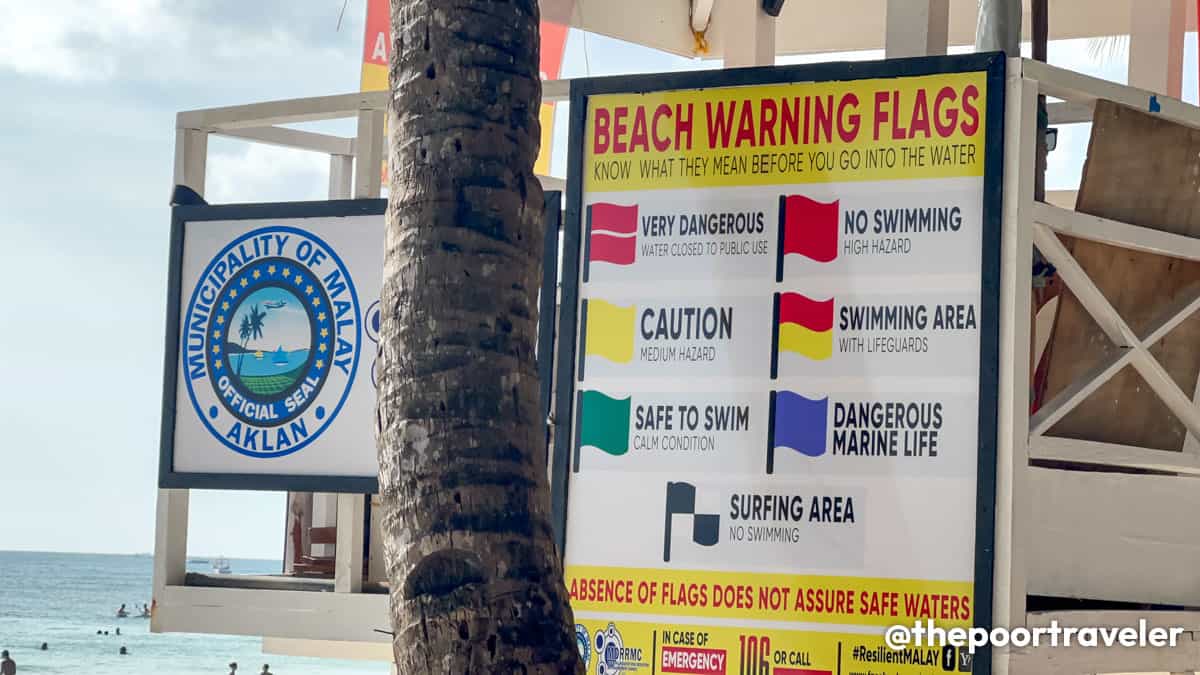 Red with white line: No swimming (water closed to the public)
Plain red: No swimming (high hazard)
Purple: Dangerous marine life
Yellow: Be cautious (medium hazard)
Green: Safe to swim
Stating the obvious: if you don't know how to swim, always wear a life vest!
Boracay has a hospital. And you'll find a number of tourist police stations along White Beach and other areas. But take note of these emergency numbers:
Hotline: 106
Globe: 09630359648
Smart: 09198514102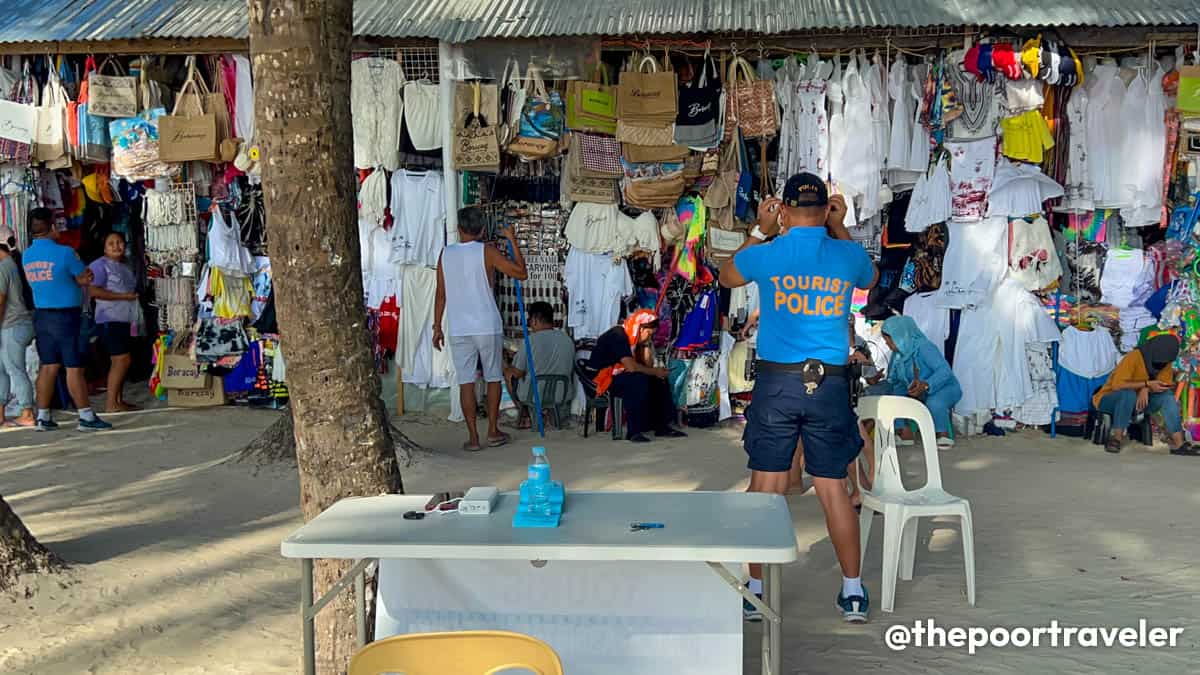 ---
SAMPLE BORACAY ITINERARY
Here's a sample Boracay long weekend itinerary that you may pattern your own after. It assumes you're a party of 4, splitting the cost of accommodations and other expenses. Feel free to adjust in order to match your flight schedules, tastes, and needs.
DAY 1: ARRIVAL & LAND TOUR
09:00 am – Arrival at Caticlan Airport
09:20 am – Tricycle to Jetty Port, P75
09:40 am – Go through registration/verification
09:50 am – Pay fees: P150 terminal fee, P50 ticket, P150 environmental fee
10:10 am – Boarding
10:30 am – Arrival in Boracay
10:45 am – E-trike to resort, P37.50 (P150/4pax)
11:00 am – Hotel checkin or drop bags
11:30 am – Lunch, P200
01:00 pm – Land Tour for 4 hours, P500/pax
05:00 pm – Back to hotel, freshen up
07:00 pm – Dinner, P200
08:00 pm – Back to hotel
DAY 2: ISLAND HOPPING
08:00 am – Wake up call, breakfast
09:30 am – Island hopping tour, P1245, Book here!
03:00 pm – End tour
03:30 pm – Crystal kayak, P250
04:30 pm – Swim and watch sunset
06:30 pm – Back to hotel, freshen up
07:30 pm – Dinner, P200
09:00 pm – Pasalubong shopping
10:30 pm – Back to hotel
DAY 3: WHITE BEACH & DEPARTURE
6:00 am – Wake up call
07:00 am – Swimming at Station 1, Photo at Willy's Rock
8:30 am – Jonah's fruit shake, P175
09:00 am – Back to hotel, freshen up
10:00 am – Breakfast at hotel
11:45 am – Pick up bags at hotel reception
12:00 pm – E-trike to port, P37.50 (P150/4pax)
12:30 pm – Pay terminal fee and boat fee, P150 + P50
1:45 pm – Tricycle to Caticlan Airport, P20
2:00 pm – Flight check in
3:30 pm – Flight out
The itinerary above will cost you a minimum of PHP 3490 (USD 63, EUR 57.75, SGD 85), excluding flights and hotel.
But please add plenty of allowance to accommodate any price adjustments and other possible incidental expenses. I recommend allocating at least PHP 3,990 (USD 72, EUR 66, SGD 97) for this itinerary.
If you're able to snag a room with daily breakfast for PHP 1500/night/person, prepare a total of PHP 6990 (USD 126.20, EUR 115.60, SGD 169.60), excluding airfare.
You can still reduce the costs further if you skip the island hopping altogether and have a full-day land tour instead on DAY 2.
---
FREQUENTLY ASKED QUESTIONS
When is the best time to visit Boracay?
November to May is the best time to visit Boracay.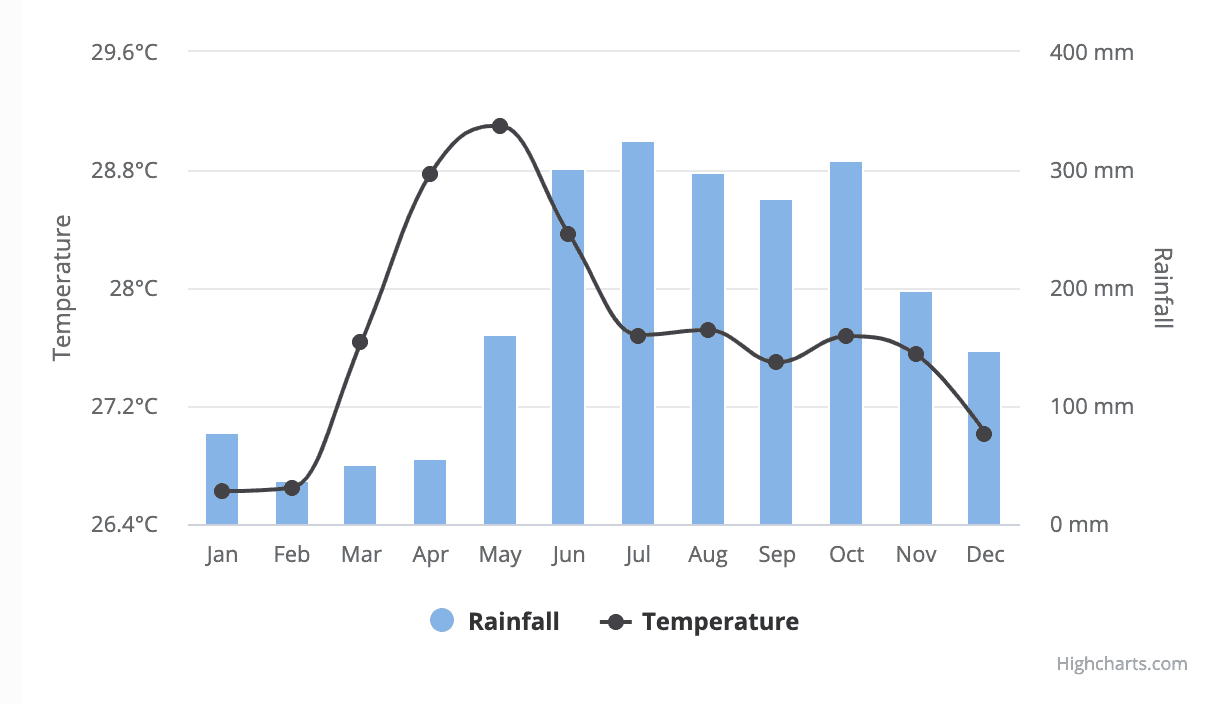 Weather-wise, the months of February to May are the driest, which means there's very little chance that unexpected showers would ruin your itinerary. However, it is also considered high season (peaking during Holy Week), so prepare to share the island with thousands of tourists!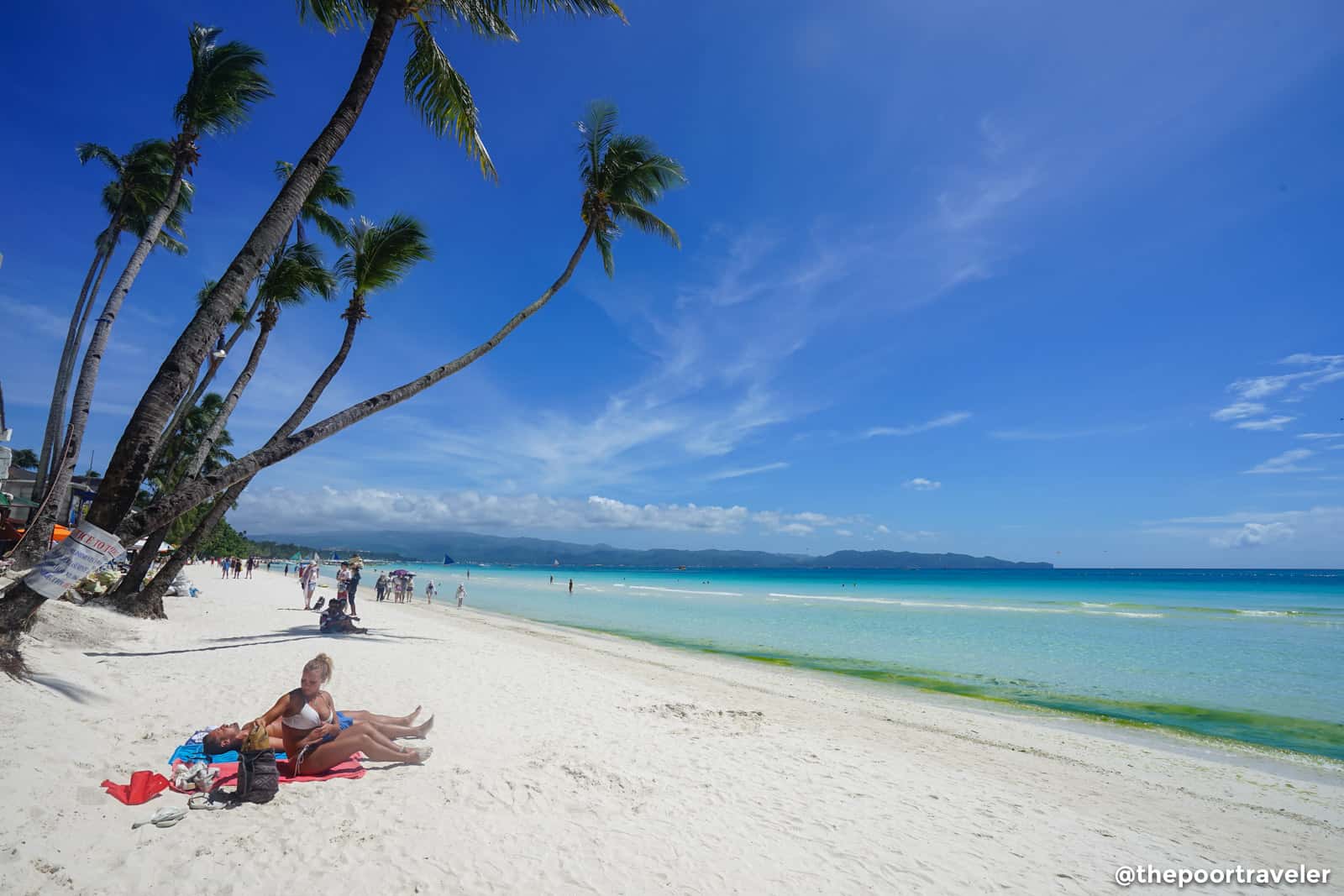 The April-June period is also the peak of algal bloom at White Beach. In these months, the waters near the shore are covered by algae. Based on our most recent visits, March is when the algae is starting to make an appearance although not yet noticeable. It's totally inescapable in April and May. By early July, the algae should be gone.
If you don't like big crowds and algal bloom but you also want a relatively pleasant weather, November to February is the most ideal time to visit as long as you stay away from the days leading to Christmas and New Year.
---
Is Boracay safe?
Yes, Boracay is generally safe.
Like many touristy destinations, there are overcharging practices here and there, but scams are not as rampant as in other beach destinations in Southeast Asia. It's also best to keep an eye on your belongings and don't leave them just anywhere.
Again, take note of these emergency contact numbers:
Hotline: 106
Globe: 09630359648
Smart: 09198514102
---
What type of power plug / socket is used in Boracay?
Electricity Info: 220V, 60Hz. Plug and socket Type A.

---
What is the tipping custom in Boracay?
Just like in other places in the Philippines, tipping is NOT mandatory in Boracay. Restaurant bills usually include a service charge but it does not always go to the servers.
If you enjoyed the service, feel free to tip. A tip of 5-10% of the bill is generally well-appreciated.
---
Are there ATMs in Boracay?
YES, lots. You'll fine most of them along the main road near Stations 1-3 and around D'Mall.
There are also money changers and Western Union branches throughout the same area.
---
Are drones allowed in Boracay?
YES, but you need to secure a special permit from the local government. The permit will specify the dates and times when and the areas where you can use your drone.
Example: This special permit is granted to Yosh Dimen to use his drone only at the front beach on June 15 and 17, from 6am to 6pm only.
The last time we checked, permit fee was PHP 1300 per day. It's a bit steep, but you know what's steeper? Fines. If you're caught flying your drone without a permit, you'll be fined around double the permit fee.
Only a limited number of drone permits are issued per day.
---
How to get back from Boracay to Caticlan Airport?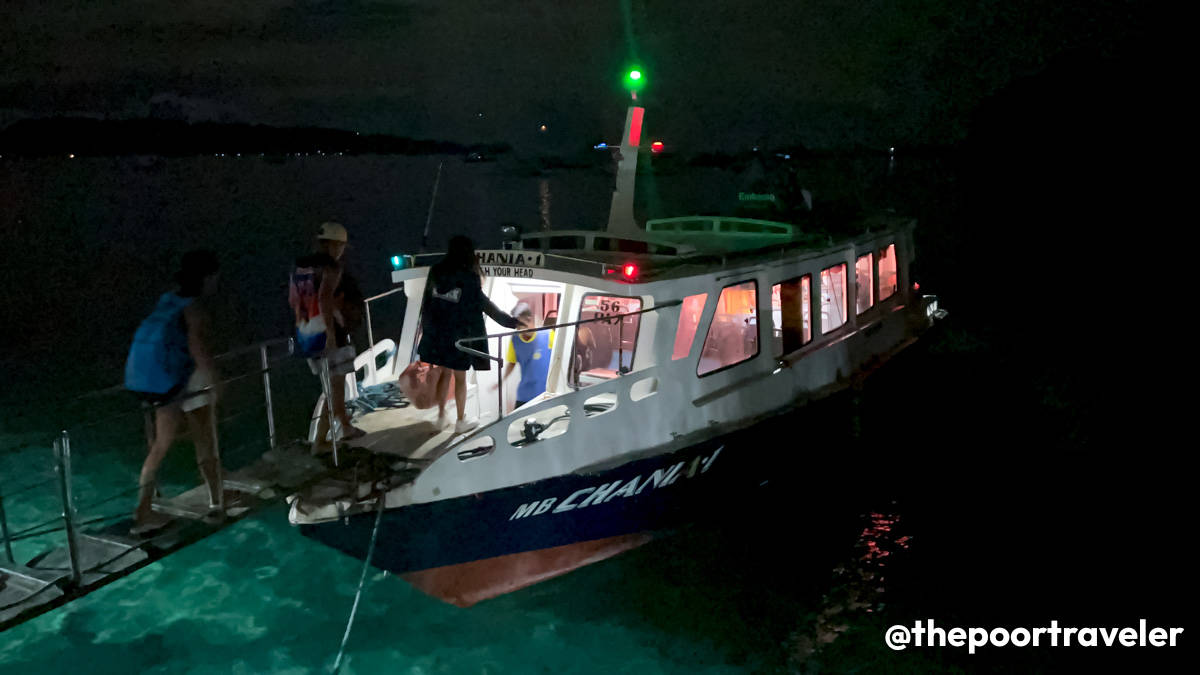 It's easy. Just trace your steps back:
Ride an e-trike to either Tambisaan or Cagban Port, whichever is operational at the time. If you're coming from Station 2, it should be PHP 150 for a private ride.
At the port, pay the terminal fee and boat fare, which cost PHP 150 and PHP 50 respectively. You'll be given a boat card with a seat number.
Board the assigned boat and find your seat on board. Travel time is 20 minutes.
At Caticlan Jetty Port, find the tricycle terminal and ride one to Caticlan Airport. It should take just 2-3 minutes because the airport's departure terminal is very close. If you don't have heavy luggage in tow, you could even travel on foot to get there.
It just gets more complicated at night. If your flight is scheduled in the late evening or early morning, expect to wait longer at the Cagban/Tambisaan Port. Within these hours, boats to the mainland are few and far between. Below was the timetable when we visited in July 2023. This may have changed already.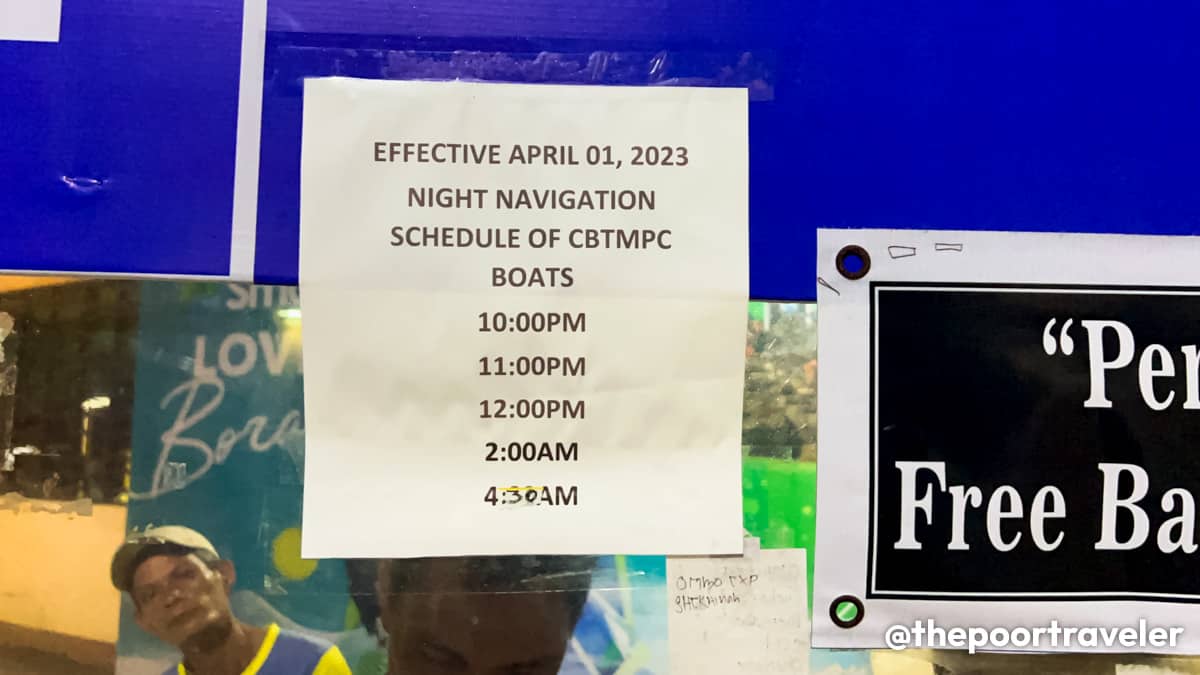 That said, if there are enough passengers, the boat will leave as soon as it is full.
Bottom line, add plenty of time allowance when traveling back to the mainland at night.
---
Updates Log
2023 11 20 – First uploaded
---